Disney Channel Releases Trailer for Live-Action Kim Possible Movie
Image via Disney Channel/YouTube
Movies
News
Kim Possible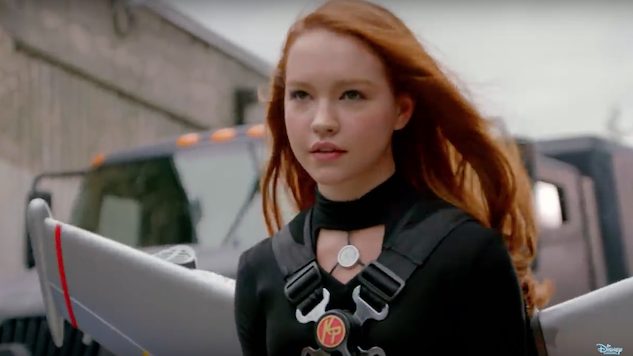 Disney Channel has revealed the trailer for its live-action reboot of early-2000s series Kim Possible, with Sadie Stanley stepping in as the titular crime-fighting cheerleader.
The original animated series ran from 2002 to 2007, tracing the day-to-day life of Possible, her sidekick-turned-boyfriend Ron Stoppable and man in the chair Wade Load, all aided by naked mole rat Rufus, of course. Battling villains like the ill-colored Dr. Drakken and best-dressed Shego, Possible always managed to save the day and her social life.
In the trailer, all of the expected shots—Possible navigating a jetpack, dropping (literally) into school just behind the late bell and drop-kicking Shego—are shown. We get a first look at Stoppable (Sean Giambrone), Load (Isaac Ryan Brown), Drakken (Todd Stashwick) and Professor Dementor (Patton Oswalt). Though not shown, it's also been announced that Alyson Hannigan (How I Met Your Mother) is set to play Possible's scientist mother, Dr. Ann Possible.
The trailer appears a bit low-budget, but that's almost to be expected from a DCOM—it's part of the charm. While fans of the original series, now well past Disney Channel age, may be resistant to the new adaptation, the movie does seem to be sticking closely to the original concept with details such as the Bueno Nacho, seen catching fire toward the end of the trailer, making the cut. Further, it appears Disney has finally started learning from its mistakes and is casting actual children, rather than 30-something actors, in the teenage roles, making for a refreshing change.
Check out the trailer below and keep an eye out for the movie, premiering on Disney Channel on Feb. 15, 2019.