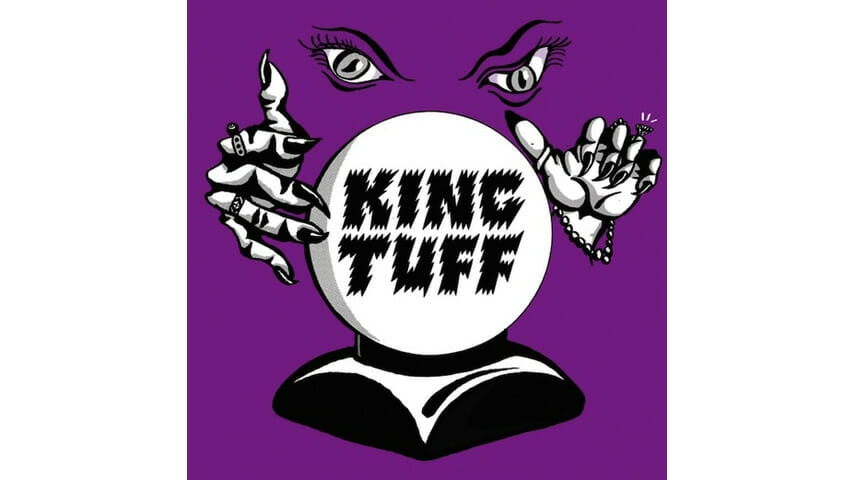 When Kyle Thomas was writing what would eventually become his first record as King Tuff—in a musty basement in Brattleboro, Vermont—he crafted a perfectly catchy debut that achieved cult status by record collectors thanks to its limited pressing and sunshine hooks, and serendipitously would lead him to King Tuff, the band, almost a decade later.
A high-voiced hippie punk in a studded jacket and sun medallion who likes positive vibes and screaming guitar solos, he has played stoner metal with J Mascis in Witch, and spent time in bands Feathers and Happy Birthday, but finally found his groove here as the madcap leader of this L.A.-based trio with bassist Magic Jake and drummer Old Gary. Visually, none of them seem to come from the same decade, much less the same planet. Musically, you could even say the same.
If 2012's King Tuff and last year's Burger Records reissue of Was Dead proved we were riding the wave of yet another garage rock revival, this time instead of competing for the throne, if feels more like a party with open guest list. (Thomas toured with members of another great California pop punk band, Audacity, as support before his new band was formed.)
For this third release, his second with producer Bobby Harlow for Sub Pop, King Tuff describes Black Moon Spell as a "heavily weird, heavenly dark, hysterically magical Rock & Roll Sexperience," and the 14 songs are tinged with power-pop riffs and sweet harmonies. Some of the influences are obvious but come in various lengths and genres with many songs just under two minutes, to the psychedelic "Staircase of Diamonds" drifting closer to five-minute territory.
"I feel a sickness in your heart/cuz you drank my witch's brew/you were doomed right from the start/And you know I feel it too," he warns on the title track, the longest on the record, which opens with fuzzed-out guitar and features fellow rock hero Ty Segall sitting in on drums. The record is stacked with sing-along choruses (the excellent "Headbanger") about heavy metal-loving lovers, and sexually charged ("Rainbows Run"), leaving enough room for screeching guitar solos, while standouts like "Sick Mind" and the sunny, '70s-inspired "Eyes of the Muse" feel designed for long drives with the windows down.
King Tuff invite us into their goofy world of weird and infectious garage pop, where songs like "Madness," with its thumping bass line and sludgy guitar, and "Demon From Hell," full of handclaps and surfy vibes, seem to sum up the playfulness that makes their live shows—jubilant dance parties where no one takes themselves too seriously—so great.