A New Empire Rises in First Teaser for Narcos: Mexico, Coming to Netflix in November
Michael Peña and Diego Luna are on opposite sides of the drug war in the new Narcos
Photos by Carlos Somonte/Netflix
TV
News
Narcos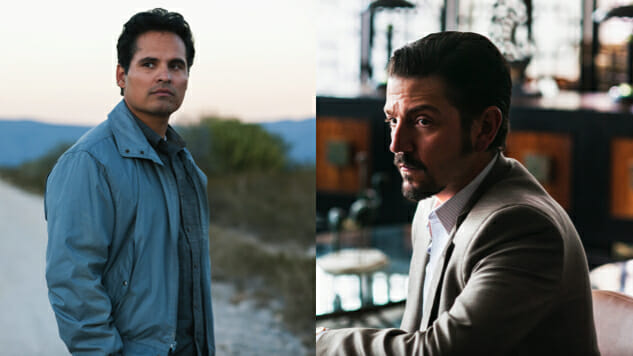 What began as the story of Pablo Escobar has since shifted its focus to the global drug war, as Netflix original drama Narcos will return for its fourth season in the form of Narcos: Mexico. The streamer released the snappy first teaser for the Spanish-language new season on Thursday, revealing a premiere date of Nov. 16, and offering our first look at stars Diego Luna and Michael Peña in action.
Narcos: Mexico "will explore the origins of the modern drug war by going back to its roots, beginning at a time when the Mexican trafficking world was a loose and disorganized confederation of independent growers and dealers," per Netflix. The season centers on the 1980s rise of the Guadalajara Cartel, led by empire builder Félix Gallardo (Luna), and opposed by DEA agent Kiki Camarena (Peña), who gets in over his head after relocating his family to Mexico to take on his new assignment. As Camarena digs deeper into Gallardo's operations, he grows dangerously entangled, spurring a tragic chain of events that will affect the drug trade and those who wage war against it for years to come.
The explosive and highly stylized teaser uses lightning-quick cuts, rhythmic editing and block-letter subtitles to make the most of its 30-some-odd seconds, deftly establishing Narcos' new battlefield, as well as its principle combatants. The opening shot of a terrified Kiki Camarena suggests that Peña's embattled DEA agent will sooner or later find himself at the mercy of the Guadalajara Cartel, while Luna's steely Félix Gallardo presents as Escobar's heir apparent, a charismatic and ambitious criminal figure who will stop at nothing to make his mark on the world.
Watch the first teaser below and come November, you can stream Narcos: Mexico via Netflix right here. Find out where we rank the show among Netflix's best original series right here.