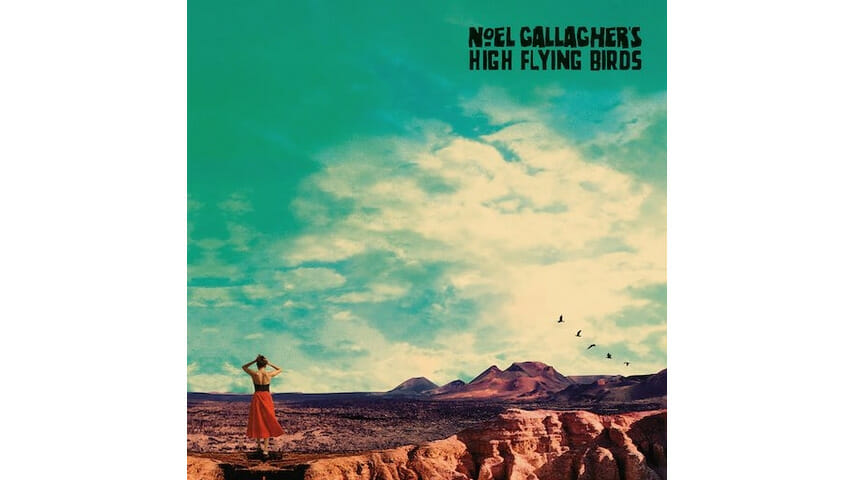 There's a theory floating around—an unlikely but gripping conspiracy—that the famous feud between Oasis founders Noel and Liam Gallagher is nothing more than a publicity stunt, an ingeniously manufactured tiff to keep both their names in the press. If that's the case, the surely-intended marketing coup of having the battling brothers release solo LPs within weeks of each other is brilliant. If it isn't the case, it's still brilliant. Another scrappy, petty jab in an endlessly entertaining saga.
In big brother Noel's corner we have his High Flying Birds—or as Liam calls them, "The High Flying Turds"—charging through their third LP with a knowing swagger. "You gotta get yourself together" he sings on the largely instrumental opener, "Fort Knox"—its massive beat and ring-the-alarm strings signaling that Gallagher intends to do just that, as he paints with a broader sonic palette than he has in years.
Read: Noel Gallagher: Flying Solo and Hoping Liam Is 'Having the Shittiest Time of His Life'
Right out of the gate, he hits us with the honking sax and glam-rock rave-up of the irresistible "Holy Mountain" that has him chasing a bird who "smelled like 1969" (does that mean she smells like patchouli? Richard Nixon?) backing it right up against the heady swirl of Primal Scream/Rolling Stones horn punches and gospel-tinged backup vocals of "Keep On Reaching." It's a bracing one-two punch that, with every vicious stomp of Jeremy Stacey's kick drum, batters away the accepted notion that this Gallagher only does mid-tempo acoustic numbers.
Gallagher chose wisely with producer David Holmes, the slightly left-of-center choices and film score-sweep he brings to the tracks making sure they sound nothing but modern, even if Gallagher seems to be mining the same influences as always. Holmes adds a metallic, disco shimmer to "She Taught Me How To Fly," steering it away from pop cheese even as Gallagher gushes over his "divine" object of affection. He does the same for "If Love Is The Law," a harmonica-accented jaunt that takes the kind of economical pop song that Gallagher can write in his sleep, and elevates it the bright spot of the album's back half. The overall standout besides "Holy Mountain" is the cautionary "Be Careful What You Wish For," which has Gallagher dishing out biting heeds over a killer, loop-like blues riff. "They'll let you play the game, son/But they'll never let you win," he sings, cooly, passing off cynical advice with the tone of first-hand experience.
There's a duo of moody, cinematic instrumentals toward the end that are of interest but little consequence, as well as the bonus track "Dead In The Water (Live at RTE 2FM Studios, Dublin)," which proves he's still the king of encore-ready, acoustic bruisers. What these anomalies don't do is throw off the unity of the album, a real feat considering the amount of moods and modes Who Built The Moon? covers. Regardless of which brother is your favorite—aren't we just rooting for the bickering itself at this point?—most would agree that this is Noel's strongest work post-Oasis. Maybe even Liam.