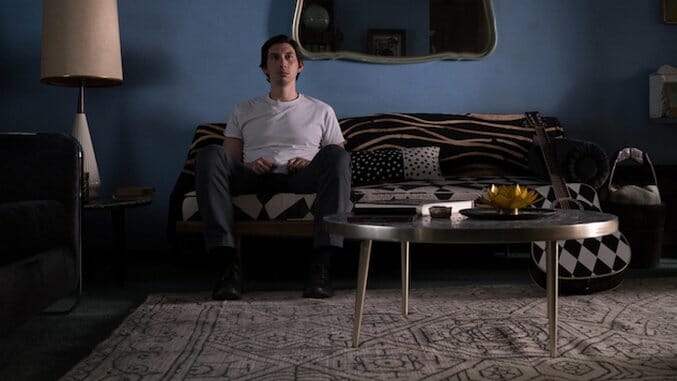 Like Chantal Akerman's ascetic classic Jeanne Dielman, 23 Quai du Commerce, 1080 Bruxelles, Jim Jarmusch's Paterson concerns itself with routine. The film conditions you to jive with its particular rhythm, in part so you might feel the impact experienced by our hero when the unexpected punctuates what's regular in this average person's life. Only where Jeanne Dielman depicted the day-in-day-out of working-class life as a monotonous horror show, Paterson takes an altogether different tack. To Jarmusch, the everyday existence of blue-collar individuals like bus driver-poet Paterson (Adam Driver)—whom we observe across a single week—is so simple as to be near transcendent.
In Paterson, the repetition is soothingly reassuring—or played for comedic effect, such as when the crooked mail box that Paterson replants upright each day he arrives home is revealed to have been knocked down by his wife Laura's (Golshifteh Farahani) dog all along. Paterson wakes, eats his cereal, walks to work through the quiet New Jersey town with which he shares a name, writes poetry in the bus depot, shuttles commuters around while his words play out in his head, then he clocks off, has dinner with his wife, takes the dog for a walk and gets a beer at the local bar. He repeats this pattern, almost uninterrupted, every day. When he's thrown off by something out of the ordinary occurring, we understand what drama means to most people. Paterson isn't a superhero, just a guy who like millions each day keeps it predictable so that everything may run according to plan.
Appropriately for one so austere, Paterson is a film driven less by music than Jarmusch's other works. Composer Carter Logan provides a fine minimalist background score, but it's the silence, and the constant faint clattering of the streets one notices. This is a deeply human film, one that uses sound to remind us that there are always other stories happening, other lives being lived out there. Paterson is a man fascinated by the people all around him, like the two students who ride his bus and discuss anarchism, or the young girl who recites to him a poem as he makes his way home one Thursday. When he isn't silently observing the world, Paterson ponders his own poetry, beautifully mundane observations written for the film by Ron Padgett and spoken in matter-of-fact voiceover by Driver. These speak of Blue Tip matches and the fourth dimension; they reveal Paterson's nostalgic bent and, crucial to this story, his fathomless love for his partner.
The passion of a meet-cute or whirlwind love affair is relatively easy to portray on the screen, but the mostly silent bond of the lived-in married couple? That's much harder. If done wrong it could come across like boredom, and sure Paterson and Farahani's Laura experience some of that, but Jarmusch also lingers long enough to take in the tender moments at this slower stage of romance. Domestic bliss isn't about constant bouts of passion, it's about slotting together so that each complements the other. Jarmusch risks over-egging his delicate pudding by giving too many quirks to Laura—her obsessions include baking cupcakes, bizarre culinary experiments and the color combo of black and white—but Farahani and, especially, Driver always keep Paterson's central relationship grounded in sweet, uncomplicated reality.
As anyone who has tracked his career over these few great years of his will have come to expect by now, Driver is terrific. Here, in his least complicated role, he gives his best performance. It takes real skill to sell a character so straightforwardly wholesome—think the magic Philip Seymour Hoffman conjured in Magnolia—but Driver steps up, fresh off sneering villain duties in a behemoth sci-fi franchise, to make a quiet man compelling. He conveys it all wordlessly: Paterson's frustration at Laura buying a novelty guitar they can barely afford, his panic at his bus suddenly breaking down, his riveted amusement while eavesdropping on his passengers' stories.
Paterson's a classic nice guy, but Driver helps us realize there's more going on beneath that exterior that's so cautious to offend. It's a turn of minor gestures that lacks the obvious Best Actor grandstanding to, say, win an Oscar, but rest assured Driver's performance is one of the most impressive given this year. As with Jarmusch's beguiling film on the whole, once acclimated, you continue to feel it long after you've left the cinema.
Director: Jim Jarmusch
Writer: Jim Jarmusch
Starring: Adam Driver, Golshifteh Farahani
Release Date: Dec. 28, 2016