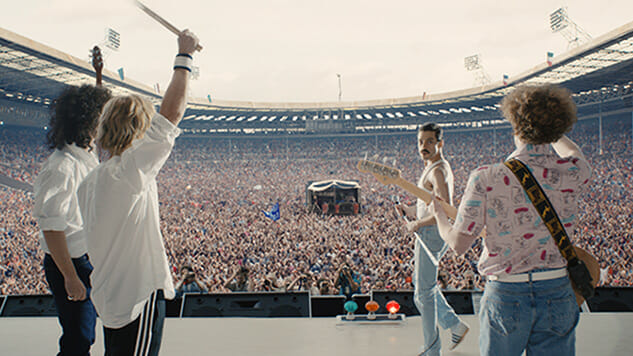 Taking on the role of legendary rock star and over-the-top performer Freddie Mercury is no easy task. Aside from Mercury's four-octave vocal range, the Queen frontman boasted a grandiose personality that we imagine would be really intimidating to portray. But Rami Malek is the man for the job, and in the new trailer for Bohemian Rhapsody, he's a damn champion.
The film, set to finally hit theaters on Nov. 2, focuses on the 15-year period from the formation of Queen up to their performance at Live Aid in 1985, six years before Mercury's death.
Tuesday's two-minute new look into the movie darts between music business trials and tribulations and the genesis of some of Queen's most iconic songs. Apparently, "We Will Rock You" came to fruition because Brian May wanted a song that the audience could perform with them—who knew? Throughout the trailer, there's also a mash-up of "We Will Rock You," "Bohemian Rhapsody" and "Another One Bites the Dust."
Ben Hardy (drummer Roger Taylor), Gwilym Lee (guitarist Brian May) and Joseph Mazzello (bassist John Deacon) star alongside Malek in the Anthony McCarten-scripted film. Bryan Singer was originally hired to direct the film but was fired after clashes with the cast and crew. Dexter Fletcher was brought in to finish out filming and post-production.
Talk of a Freddie Mercury and Queen biopic has been going on for a least a decade prior to the announcement of Bohemian Rhapsody. It was originally suggested that Sacha Baron Cohen, who's been making news by trolling politicians with his new Showtime original series, play Mercury, but he distanced himself from the film when the living members of Queen suggested the film shy away from the darker aspects of Mercury's life. Ultimately the producers landed on Malek, who is famous for his role as Elliot in USA's Mr. Robot.
You can watch the film's new trailer and hear Malek's not-half-bad British accent below, and revisit a previous trailer here.