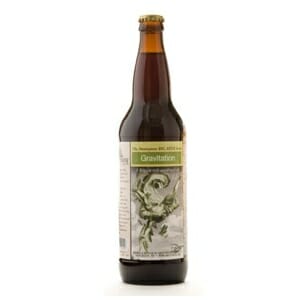 Brewery: Smuttynose
City: Portsmouth, N.H.
ABV: Unknown (but pretty damn high)
Part of Smuttynose's Big Beer series, Gravitation is a Belgian style quadrupel ale that isn't interested in subtlety. It claims to have "character of audacious proportions" and backs that claim with an extra-sweet malt profile, the conspicuous presence of Belgian yeasts and 200 pounds of raisin puree in each batch.
Pouring much redder than a typical quad, the 2013 edition doesn't list its alcohol by volume, but the 2010 version was a whopping 12%—big even for the style. Let's just say I can feel it 1/3 of the way into the bomber we just opened and the taste is plenty boozy—it tastes like it was aged in rum barrels.
The presence of the raisins give it a dark caramel/toffee flavor and more fruitiness than a typical quad. It's clear the New Hampshire brewery was aiming at giant flavor and hitting that target. It's a bright, in-your-face beer that might put off Quad purists, but hook anyone chasing that next big, complex beer. I guess that makes it a particularly American quad, for better or worse.
One thing is for sure—you're not likely to forget this beer.