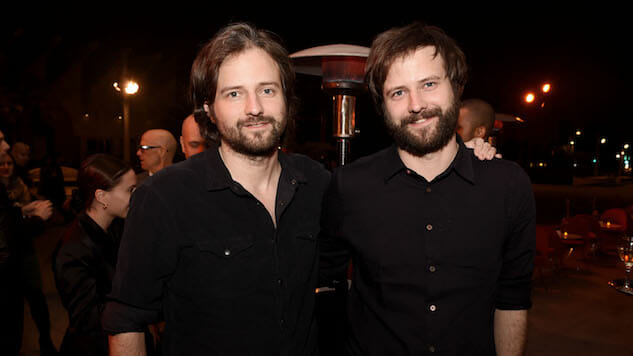 The plagiarism suit against Stranger Things creators Matt and Ross Duffer has been dropped mere days before the pair were set to begin their trial in Los Angeles Superior Court on May 7. According to Deadline, the plaintiff Charles Kessler withdrew his suit for damages after hearing new deposition testimony.
"It is now apparent to me that, whatever I may have believed in the past, my work had nothing to do with the creation of Stranger Things," Kessler said in a statement on Sunday. "Documents from 2010 and 2013 prove that the Duffers independently created their show. As a result, I have withdrawn my claim and I will be making no further comment on this matter."
Netflix also responded to Kessler's decision to drop the suit, saying, "We are glad to be able to put this baseless lawsuit behind us. As we have said all along, Stranger Things is a ground-breaking original creation by The Duffer Brothers. We are proud of this show and of our friends Matt and Ross, whose artistic vision gave life to Stranger Things, and whose passion, imagination and relentless hard work alongside our talented cast and crew made it a wildly successful, award-winning series beloved by viewers around the world."
Kessler reportedly claimed in his original filing that he pitched the idea for Stranger Things to the Duffers at the 2014 Tribeca Film Festival. Kessler's suit for breach of implied contract argued that the pair used the material he gave them to make the pilot episode for the series. Lawyers for both parties met earlier this week to try to whittle down the subjects covered by the case, and decided to exclude all episodes of Stranger Things past the pilot, as they were not the sole creation of the defendants Matt and Ross Duffer. However, Kessler's own lawyers' expert uncovered documents that clearly undermined his argument that the Duffers did not arrive at the idea for the show independently, and the case was dropped soon after.
Kessler's idea for a similar show did have a lot in common with the Duffers' original script for the Stranger Things pilot. They were both originally meant to be set in Long Island, N.Y., they both involved a missing boy and a nearby military base involved in clandestine activities, and they both involved a monster from another dimension, the now infamous Demogorgon.
The third season of Stranger Things is set to arrive on Netflix on July 4. The entire main cast is set to return, and the Duffers will continue as executive producers and showrunners. Watch the trailer for season three below.