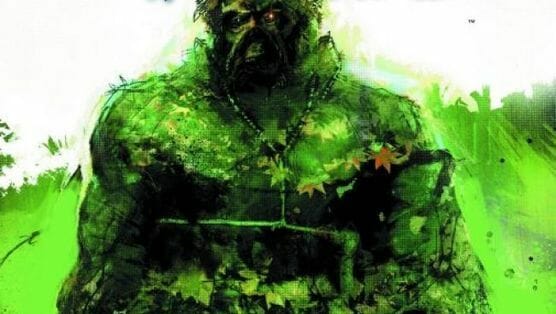 Writer: Charles Soule
Artist: Kano, David Lapham, Jesús Saíz, Alvaro Lopez
Publisher: DC
Release Date: June 4, 2014
Spoiler Alert
Swamp Thing has always been something of an outsider. As avatar of the Green, we rarely see the character's name on Justice League rosters or superhero team-ups. But in Scott Snyder's inaugural 18-issue run, ST Host Alec Holland teamed up with Animal Man, culminating in the "Rotworld" crossover event. Snyder and Animal Man scribe Jeff Lemire's scripts fundamentally changed the DC Universe's natural element trifecta — The Green, The Red and The Rot — and all of the characters under its umbrella. Now, writer Charles Soule picks up the pieces as Swamp Thing returns to his role of ostracized plant guardian loner.
Collecting issues #19-23 and the Anton Arcane #23.1 special issue, Soule's first collection — "Seeder" — welcomes a stable of artists including Kano, Jesus Saiz, Alvaro Lopez and David Lapham. The book's interiors continue the tradition of stunning visuals initially established by Yanick Paquette. But any familiarity with the series' first three collections under Paquette and Snyder's stewardship stops there.
As this trade paperback's title suggests, the arc's main antagonist is a man known only as "Seeder," a villain capable of bending The Green — the elemental force that governs all plant life (think of The Force but for flora) — to his every whim. Swamp Thing wanders alone in search of Seeder as his perversions of nature leave a noticeable trail of destruction throughout the global ecosystem.
But much like the story's titular character, the narrative also wanders. Soule opens with Swamp Thing traveling to Metropolis to talk about power and responsibility with Superman. Although this conversation has potential for captivating dialogue, Soule instead cuts away to the jarring introduction of Capucine, Soule and Kano's medieval warrior who seeks payback from a millennia-old promise. After spending a few pages delving into her backstory — which involves the Parliament of Trees and illusionary time travel — Swamp Thing then ditches this new character to continue his hunt for Seeder, now causing a ruckus in Scotland.
The narrative's constant crisscrossing to different locations and story arcs feels disjointed and frantic, producing a narrative that isn't sure which way it should go. This trade paperback develops a few threads worth exploring, particularly the struggle between unfathomable power and lost humanity, as well as Swamp Thing's role as destroyer rather than creator. But these ideas have yet to take hold and flourish in the series. Soule should be applauded for introducing such a clever new villain in the Swamp Thing mythos in his first arc, but for a volume called "Seeder," we see the new ne'er-do-well in only a handful of panels and still know little about him.
It ultimately feels like Soule's work follows some pre-determined checklist filled with elements that make a typical Swamp Thing tale. Long bouts of monologue: check. Psychedelic trips through The Green: check. John Constantine: check. If you've read any Swamp Thing story before, Seeder will feel like snapshots from other arcs sewn together.
The preceding Swamp Thing issues make Seeder feel out of place. Snyder crafted a slow-boiling epic that always headed in a discernable direction, but Soule fragments his story with frequent narrative shifts. It's this contrast that makes these first five issues feel unnatural in the world Snyder honed. Granted, these are the early issues of Soule's run and there's plenty of time to keep the narrative from withering, but with this first volume, Swamp Thing grows in the wrong direction.