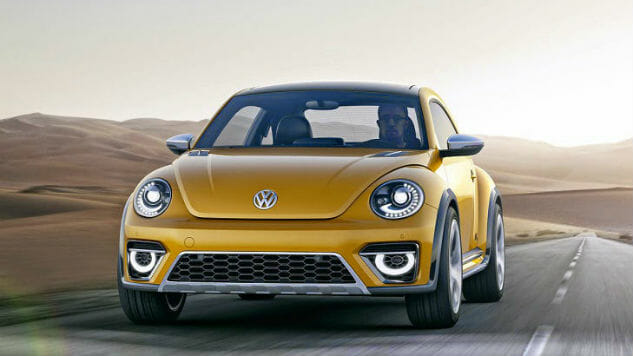 There are no sand dunes in Minnesota where I live.
Actually, I lied. There is a place called the Sand Dunes, a park situated near a state wildlife refuge that has walking trails, a pleasant outcropping of trees, and small bit of sand. You won't be filming any scenes from Star Wars there, and I didn't get a chance to drive the 2016 VW Beetle Dune over massive hills like I was in the Sahara. That's probably a good thing, since the Beetle Dune is mainly a statement car and not exactly designed for rough conditions.
I'm wholly impressed by the styling, though. It has a wider, taller stance than the typical Beetle, which was redesigned in 2013. The word "Dune" is imprinted on the doors. VW calls the color Sandstorm Yellow but it seems to have a hint of gold. When you approach the car, you almost have to laugh at how much it stands out from the crowd, in a good way. After testing cars for so many years, there are only a handful that, when I'm driving them around, I get a "thumbs up" and a smile from people in other cars and when I pull out of a parking space at Walmart.
Inside, there's even more to love. That yellow-gold color isn't "shield your eyes" bright as much as a calming and subdued hue, complimented with a liberal use of black on the seats and dash with some subtle red accents. It's cocooning, not irritating. VW did a good job making this a statement car, and the statement is: I also use an iPhone and wear designer shoes. It's a step up for the Beetle brand overall because it has a sporty, rugged look. I didn't get the sense this was a commuter car for a 17 year old girl who listens to K-Pop and works at Caribou.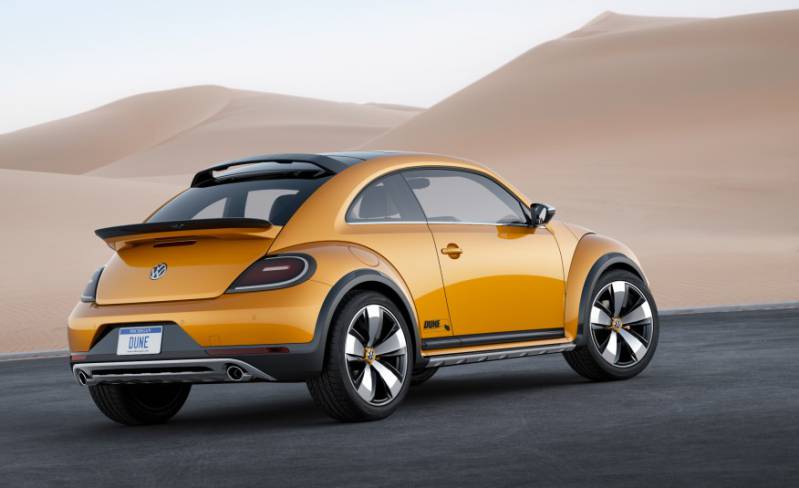 But let's talk about the ruggedness. I purposefully don't look up to many stats before a car test because I like to be surprised, sometimes by the pep or the styling, but in this case, by the ability of the car to handle quick turns and rugged terrain. I had to fight the urge. The Dune does not have AWD, which is not that surprising considering the standard Beetle itself and the Jetta and Passat that shares a similar engine don't let you go off-road.
At 170-horsepower and a turbo-charged engine, the Dune is peppy enough, but wasn't quite as fun to drive as the Fiat 500x from a few weeks ago (a car that surprised me with its agility). Also, don't mistake it for a Fiat 500 Abarth, a Mini Cooper, or anything remotely ready for an autocross.
Hold that thought, though. I'm not saying the lack of AWD or a bigger engine made the Dune a pass. It's just that you have to accept the badging and branding is mostly aesthetic. No one gave the Fiat 500x a second glance a few weeks ago—it fits in better with other small SUVs and doesn't have the personality or the prowling-lion stance of the Dune. While you should not use it to drive over an actual sand dune, or even go off-roading at all (the undercarriage would not respond well to a rock or a tree branch), you can always dream.
At $23,595, the Dune is fairly priced for the tweaks and badging. That's $3,000 more than the base Beetle, but then again, you don't get to ride in as much style.