Friendship drives so much of the emotional core of a TV show that scores of shows have led with it in the title: Think Starsky and Hutch, Scarecrow and Mrs. King, Will & Grace, Cagney & Lacey. None of those pairs made our list, but we have both staples in television history and some new characters that have already surpassed expectations. Take a look and see if you have a relationship similar to any of these.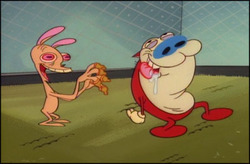 35. Ren & Stimpy
(Billy West)
The Ren & Stimpy Show, Nickelodeon, 1991-1996
Who would have thought a violently psychotic Chihuahua and a stupid, fat cat would have made such a terrific duo? The pair made children laugh at jokes they didn't truly understand and adults sometimes wish their young ones weren't watching. By today's standards their toilet humor is tame, but in a weird way, Ren and Stimpy brought families closer together.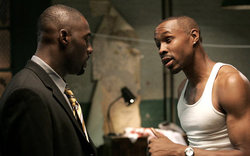 34. Avon Barksdale & Stringer Bell
(Wood Harris & Idris Elba)
The Wire, HBO, 2002-2008
A drug dealer and his second-in-command aren't great role models, but they do make for great television. Avon Barksdale and Russell "Stringer" Bell were friends since childhood and remained that way to the end…well almost.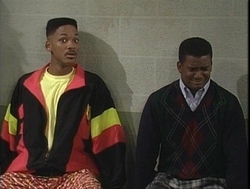 33. Will Smith and Carlton Banks
(Will Smith &Alfonso Ribeiro)
The Fresh Prince of Bel Air, NBC, 1990-1996
One is the freshest of them all. The other…not so much. These cousins butted heads, but became a dynamic duo. They didn't mix all of the time, but when they did, they almost became one person. Both had blind spots to their own flaws but were willing to point them out to each other.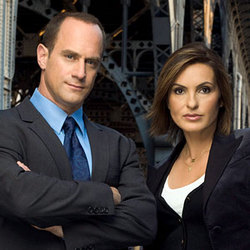 32. Olivia Benson & Elliot Stabler
(Mariska Hargitay & Christopher Meloni)
Law & Order: SVU, NBC, 1999-2011
Though a lot of the focus in Law & Order is one the case at hand, the detectives' relationship gets explored in subtle ways. The platonic relationship had plenty of underlying sexual tension.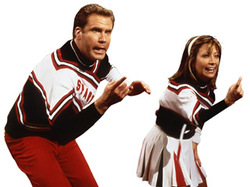 31. The Spartan Cheerleaders
(Will Ferrell & Cheri O'Teri)
Saturday Night Live, NBC, 1995-1999
Arianna and Craig first appeared in 1995 and stole our hearts with their awkward, self-absorbed cheerleading routines. Their "perfect cheer" to cap off their routines never went as smoothly or well-received as planned, but they only cared if they pleased each other.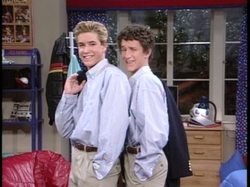 30. Zack Morris & Screech Powers
(Mark-Paul Gosselaar & Dustin Diamond)
Saved By the Bell, NBC, 1989-1993
The cool kid/nerd combo rarely happens in reality, but it seemed so natural with them. Though Screech seemingly just tagged along, did Zack's homework and was roped into Zack's schemes, they were equal on more levels than not.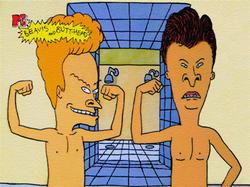 29. Beavis and Butt-head
(Mike Judge)
Beavis and Butt-head, MTV, 1993-1997, 2011-present
These guys were MTV—part of the revolution that accepted socially-awkward, rock-loving teens. Though they were best friends, they riffed on each other harder than most enemies. It's wasn't necessarily a love/hate relationship, but did have its share of hate.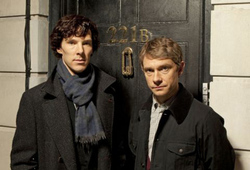 28. Sherlock Holmes & Dr. Watson
(Benedict Cumberbatch & Martin Freeman)
Sherlock, BBC, 2010-present
The friendship of Sherlock Holmes and Dr. John Watson predates all of the duos on this list, but BBC breathed fresh air back into it by adding a contemporary twist to the classic detective story.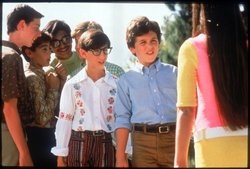 27. Kevin Arnold & Paul Pfeiffer
(Fred Savage & Josh Saviano)
The Wonder Years, ABC, 1988-1993
The nostalgia these two popularity-striving teens provided helped catapult them into the hearts of millions. As we watched Kevin and Paul grow up, not even Winnie Cooper could pull them apart.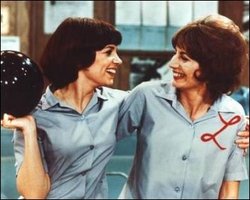 26. Laverne De Fazio & Shirley Feeney
(Penny Marshall & Cindy Williams)
Laverne & Shirley, CBS, 1976-1983
They were just a couple of gals trying to make it in the 1960s. The cynic tomboy and the perky, perfect lady lived together harmoniously in a basement apartment. Through thick and thin, they bottled beer and played hopscotch and did it their way to make all their dreams come true.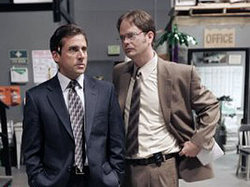 25. Michael Scott & Dwight Shrute
(Steve Carrell & Rainn Wilson)
The Office, NBC, 2005-2011
If Michael didn't hate Dwight so much, they'd be one of the greatest pairs of best friends of all time. Unfortunately Michael spent so much time trying to befriend Jim and Ryan that Dwight's desperate attempts to be more than assistant to the manager of the Scranton branch went unnoticed.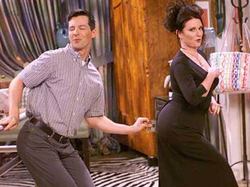 24. Karen Walker & Jack McFarland
(Megan Mullally & Sean Hayes)
Will & Grace, CBS, 1998-2006
That's right: the better pairing in this show wasn't the titular one. Karen and Jack were one of the last slapstick duos who were larger than life without ever bringing the other down to earth.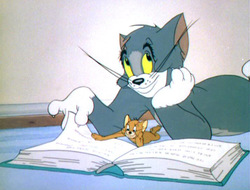 23. Tom & Jerry
(John Stephenson)
The Tom & Jerry Show, ABC, 1975
Originally created to be shown before films, the cat-and-mouse chase was promoted to its own series. They're not friends, but when it came down to it, they're much closer than enemies. In some ways they were the archetype for many sitcom relationships—and, of course, that other famous duo, Itchy and Scratchy.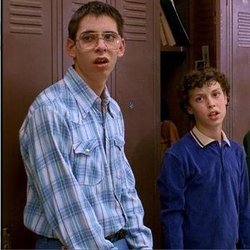 22. Sam Weir & Neal Schweiber
(John Francis Daley & Samm Levine)
Freaks and Geeks, NBC, 1999-2000
These two geeks never really got their chance to become classic characters, but they stole our hearts in just one season. There was nothing cool about Sam or Neal, and they knew it, too. But they'd have never have made it out of their freshman year alive without the other, dealing with first crushes, parental infidelity and sibling betrayal right beside each other.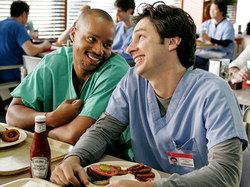 21. J.D. Dorian & Christopher Turk
(Zach Braff & Donald Faison)
Scrubs, NBC/ABC, 2001-2010
A lot of these duos could fall under the title of "bromace," but none quite defined the word as much as J.D. and Turk. Their love for each often surpassed that of Turk's marriage and made for the some of the show's funniest gags.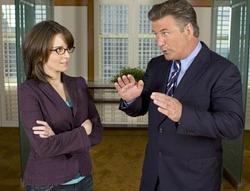 20. Liz Lemon & Jack Donaghy
(Tina Fey & Alec Baldwin)
30 Rock, NBC, 2006-present
Though he never wanted to be her friend, Jack's role as a mentor to Liz morphed into an off-beat friendship that relies on his unwillingness to admit they're friends. Eventually Jack admits, "Lemon, I honestly don't know what I'd do without you."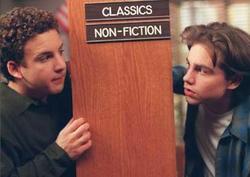 19. Cory Matthews & Shawn Hunter
(Ben Savage & Rider Strong)
Boy Meets World, ABC, 1993-2000
Unlike a lot of these duos, Cory and Shawn's relationship was documented from the time they were in sixth grade until the time they left college. Every adolescent in the 1990s wanted to have a friend like Cory or Shawn. We saw them at the highest of highs and the lowest of lows, and they always were real to us.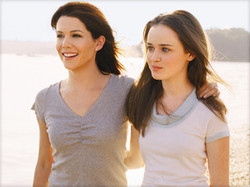 18. Lorelai Gilmore & Rory Gilmore
(Lauren Graham & Alexis Bledel)
Gilmore Girls, The WB/CW, 2000-2007
A good mother/daughter pairing on TV is a rarity, especially one this poignant and heartwarming.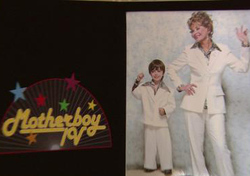 17. Buster Bluth & Lucille Bluth
(Tony Hale & Jessica Walter
Arrested Development, Fox, 2003-2006
Where Gilmore Girls touched the heart, Arrested Development chose to go for comic gold. The overprotective relationship forced this mother/son pairing awkwardly into the spotlight, but for some reason none of us could look away. The Motherboy competition is something I never want to be a part of (but secretly wish I was).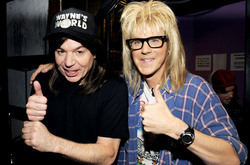 16. Wayne & Garth
(Mike Myers & Dana Carvey
Saturday Night Live, NBC, 1988-1993
Who didn't want to be these two? Hanging out all day in your basement and listening to music sure does sound like a terrific way to live. Their sketch became so popular that it spawned two films.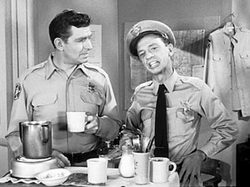 15. Andy Taylor and Barney Fife
(Andy Griffith & Don Knotts)
The Andy Griffith Show, CBS, 1960-1968
Forced together through blood (they're cousins) and work, these two didn't have to like each other, but were a very successful team. Andy was the composed professional, while Barney was the blowhard.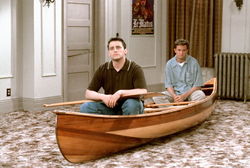 14. Chandler Bing & Joey Tribbiani
(Matthew Perry & Matt Le Blanc)
Friends, NBC, 1994-2004
Though they were part of an ensemble group, the roommates/best friends transcended the level of friendship among their peers. Labeling their relationship a "bromance" would not do it justice; they were far more than that. They had the ability to play off of each other so well because they were the perfect mixture of opposite and the same.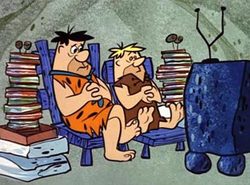 13. Fred Flintstone & Barney Rubble
(Alan Reed & Mel Blanc)
The Flintstones, ABC, 1960-1996
Mr. Flintstone and Mr. Rubble: neighbors, co-workers, best friends and members of the Loyal Order of Water Buffaloes. Fred and Barney prove that men were always hotheads with a soft spot dating all the way back to the Stone Age.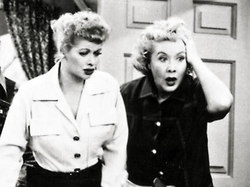 12. Lucy Ricardo & Ethel Mertz
(Lucille Ball & Vivian Vance)
I Love Lucy, CBS, 1951-1957
The fact that Ethel was Lucy's landlady and there was a significant age gap didn't stop these two neighbors from becoming the best friends. Their friendship was groundbreaking and was the first time two female leads were such a focal point of a sitcom.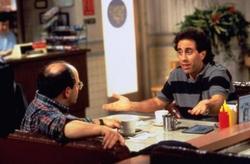 11. Jerry Seinfeld & George Costanza
(Jerry Seinfeld & Jason Alexander)
Seinfeld, NBC, 1989-1998
Being part of an inseparable (and perhaps the greatest) foursome in TV history doesn't mean these two aren't a duo. They were lifelong friends who often made fun of each other's weaker qualities. Jerry and George's ability to go back and forth on a topic that didn't matter to anyone for hours on end created some of the greatest conversations on TV.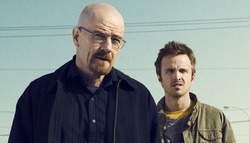 10. Walter White & Jesse Pinkman
(Bryan Cranston & Aaron Paul)
Breaking Bad, AMC, 2008-present
This is the heartwarming tale of a dying teacher who starts dealing meth and a former slacker student he enlists to help him with the business side of the trade. Their relationship was forged over a simple bond that has been woven into something bigger—and darker—than either of them ever could have imagined.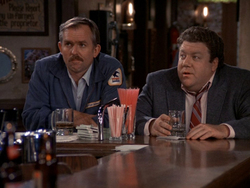 9.Norm Peterson & Cliff Clavin
(George Wendt & John Ratzenberger)
Cheers, NBC, 1982-1993
Who wouldn't want to sit around, drink beer and discuss trivia all day? In a bar where everybody knows your name, Norm and Cliff were inseparable on those stools while Sam and the rest of the ensemble ran every which way.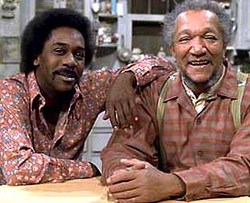 8. Fred Sanford & Lamont Sanford
(Redd Foxx & Demond Wilson)
Sanford & Son, NBC, 1972-1977
Fred raised Lamont by himself after his wife died, which is probably why the two's relationship eventually transformed into friends/business partners. Fred's hardnosed personality rubbed off on Lamont over time and eventually the son became greedier and more of a schemer than his father. "Like father, like son" was never more fitting than with these two.

7. Troy Barnes & Abed Nadir
(Donald Glover & Danny Pudi)
Community, NBC, 2009-present
As if having a (fictitious) morning talk show wasn't enough, these two odd-ball best friends gave us a treat and moved in together. Their childlike characteristics remind us all about what it was like to be a kid again and that it's okay to dedicate a room to play make-believe. Out of all the duos on the list, they're the only ones to have a signature handshake.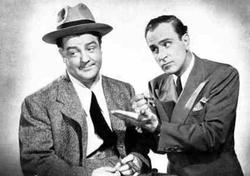 6. Bud Abbott & Lou Costello
(Bud Abbott & Lou Costello)
The Abbott & Costello Show, syndicated, 1952-1954
These two were best known for their "Who's On First?" bit, but had much more in their arsenal. They perfected the combination of straight man and comic foil, setting the bar for everyone who followed.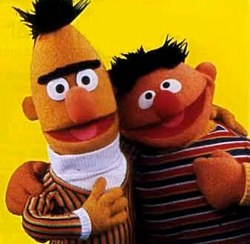 5. Bert & Ernie
(Frank Oz & Jim Henson)
Sesame Street, PBS, 1969-present
Bert and Ernie were created to show children that people could be friends regardless of their differences. What's even better is that the Muppets' relationship mirrored that of Jim Henson and Frank Oz. Their comedy is aimed at kids, but you're never too grown up to enjoy Sesame Street.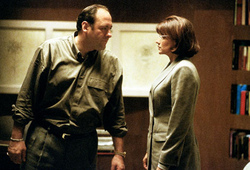 4. Tony Soprano & Dr. Melfi
(James Gandolfini & Lorraine Bracco)
The Sopranos, HBO, 1999-2007
The entire premise of The Sopranos relied on Tony seeking therapy from Dr. Melfi. So many of the plots that were presented were a direct result from their professional relationship. Even though he revealed so much to her, she never questioned his actions and always trusted his motives.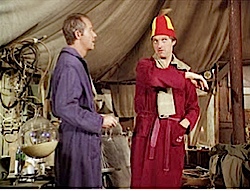 3. Hawkeye Pierce & B.J. Hunnicutt
(Aland Alda & Mike Farrell)
M*A*S*H, CBS, 1972-1983
When Trapper McIntyre left the show, he left a huge whole in Hawkeye's world. But then came B.J. Hunnicutt in the fourth season. Where Hawkeye was aggressive, Hunnicutt was calmer. Their relationship resulted in the greatest finale of all time: Hawkeye watching from a helicopter as Hunnicutt rode his motorcycle down the mountain, then Hawkeye seeing the message his friend had left using painted white stones. "GOODBYE."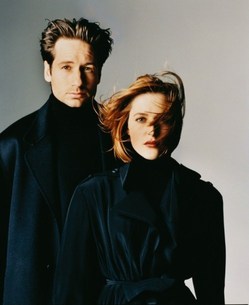 2. Fox Mulder & Dana Scully
(David Duchovny & Gillian Anderson)
The X-Files, Fox, 1993-2002
If the combination of skeptic and believer feels like an archetype, it's because Scully and Mulder made it so. The (mostly) platonic friendship began when Scully was sent in to debunk Mulder's work, but she grew close to her partner and came to trust him—and no one else.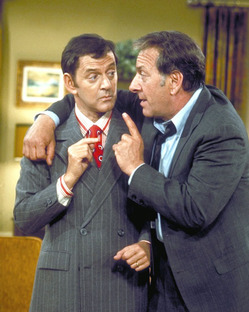 1. Felix Unger & Oscar Madison
(Tony Randall & Jack Klugman)
The Odd Couple, ABC, 1970-1975
It was hard to get this far in the list and not call any of the duos an "odd couple." Of course so many TV duos owe everything they have to Felix and Oscar. One is neat and compulsive while the other is messy and leads an unscheduled life. Their differences made them great, but their relationship could never be duplicated.