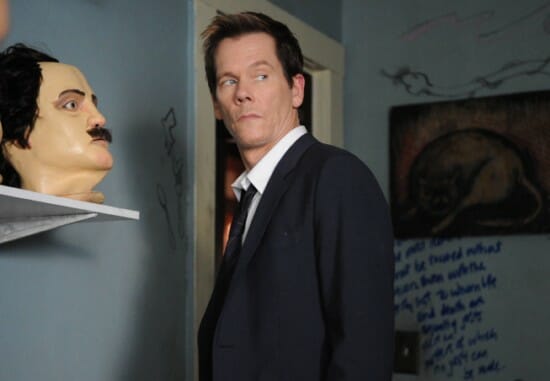 After a generally successful premiere which focused on serial killer Joe Carroll's escape and Ryan Hardy's pursuit of him, The Following decided to split the emphasis of its second episode between Carroll/Hardy and Carroll's followers. So far it seems to have upset many and pleased a few, but you have to remember that this is what the show needs to be about. You haven't forgotten the title of the show, have you?
"Chapter Two" does have its fair share of Hardy's attempts to understand what exactly Carroll's game plan is. The FBI has already brought in a cult expert—Debra Parker (Annie Parisse)—to lead the team's investigation. Her presence doesn't really add much to the series so far. There's a hint of expected (and a little forced) annoyance coming from Hardy, but that can't be the sole reason for the character's addition. Obviously there's more to come of Parker, but for now you just need to realize that the FBI officially believes Carroll is leading a cult.
Because of this revelation, we spend a lot of time looking into Carroll's psyche. He often refers to the fact that he's "writing a book," that everything is planned and Hardy must act the part of the protagonist. While we don't know exactly what Carroll is up to, it is certain that he is livid Hardy and his ex-wife had an affair as soon as Carroll was sentenced to life in prison. This show isn't really about why Carroll killed 14 young women in the first place; it's about what set him off to start this current escapade. The answers most definitely lie within Hardy's past actions—either his affair with Claire or the book he wrote about Carroll.
So what exactly is Carroll up to?
His bumbling prison guard that he turned into a devout follower was last seen entering a sorority house, and this episode opens to a horrific aftermath. The entire house was slaughtered, and Jordy has disappeared. It's the first hint that Carroll is orchestrating something on a grander scale than just killing the one victim who survived a decade ago.
Then the FBI finally discovers that Claire's nanny who abducted her son is really someone named Emma, and the episode focuses heavily on her this week. Emma was a young student in love with Carroll, and she begins visiting him in jail. She believes everything he says like it's the law. She cuts her hair short because he suggests it and even starts dating a guy because Carroll recommends it. That guy turns out to be Jacob, one of the gay men who helped abduct Sarah in the first episode. They're seemingly the ringleaders of the Following and their love inexplicitly makes Paul—the other fake gay man—jealous.
They currently have Joey, Claire's son, at a countryside house, and the young boy doesn't know he's been kidnapped. There's a lot of inner turmoil that unfolds between the trio of followers, but that's only the tip of the iceberg.
While investigating Emma, Hardy and the team find her real address, which has long been abandoned for living and turned into a shrine to Carroll. Walls are littered with quotes from Poe and layouts of houses they used to abduct Sarah and Claire's house. Inside one of the walls is Emma's dead mother, whom she killed a few years ago after years of verbal abuse. In the house Hardy finds a few Poe masks on display and in one of the creepiest moments, is attacked by a man wearing one. That brings the current total number of members in the Following up to five.
The episode ends with a few interesting twists. Jordy, who was M.I.A. for the majority of the episode, turns up at Claire's house, but Hardy finds him holding Claire at gunpoint before he can kill her. Jordy admits that this is how it's supposed to be: either Jordy kills Claire or Hardy kills Jordy. It's what Carroll has planned, he admits. Only it doesn't go down that way, and Hardy just wounds Jordy. The news startles Carroll later when Hardy reveals what transpired, and it's the first time we see Carroll express self-doubt. It's brief and then the serial killer goes into a long-winded explanation about how everything that needs to unfold will unfold.
In the final moments we see Parker deliver Carroll a collection of Poe stories he demanded earlier in the episode because it helps him fall asleep and the fifth Follower walking the streets of Virginia wearing the Poe mask. He turns to a random man, douses him with gasoline and sets him on fire. The Following made their first public kill, and it definitely won't be their last.
The pilot was a real treat to watch, but it twisted into something many viewers weren't expecting. This second episode gives more clarity about which direction The Following wants to go. Their biggest obstacle is getting viewers emotionally invested with Carroll's followers. It will be difficult considering what they're doing, but it will be vital to the show's success. My feelings towards the show are more up in the air after this week's episode than the premiere, but I'm still in awe with it and highly anticipating next week's effort.