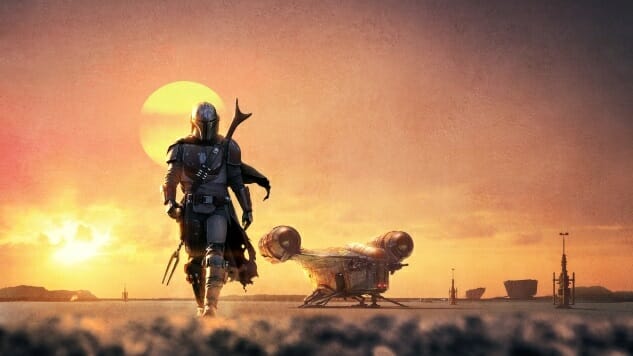 Earlier today Disney unleashed torrents of news about the movies and shows it'll be producing for its upcoming Disney+ streaming service. Among the flood of announcements was the first official trailer for the first live-action Star Wars TV show, The Mandalorian. Jon Favreau's outer space spaghetti western will launch on Nov. 12 alongside the service itself, and even if you aren't a Star Wars fan you might be intrigued by this cast. This here Star War has some legitimate stars, including a few that you probably wouldn't expect to show up in George Lucas's world. Who ever imagined Werner Herzog would pop up in a long time ago in a galaxy far, far away? Nick Nolte might've made sense when he was younger, but I doubt many expected to see old grizzled Nick Nolte grumbling his way through a chat with a Stormtrooper. Ming-Na Wen, action icon Carl Weathers, Breaking Bad's Giancarlo Esposito, comedian Bill Burr, and former MMA fighter and American Gladiator Gina Carano also star in the show, with Game of Thrones star Pedro Pascal playing the titular bounty hunter. Oh, and Taika Waititi will voice a droid who will look familiar to anybody who's seen The Empire Strikes Back.
Until now, though, that cast list and a few basic details about the show are all most of us have had to go on. Disney did screen a trailer at Star Wars Celebration Chicago in April, but it was never officially released, leaving those who weren't in attendance to resort to watching shaky cellphone footage from the audience. After today's Disney+ panel at the D23 Expo, though, Star Wars fans finally have a solid 90 seconds of actual show footage to thoroughly dissect.
I gotta say, as a resoundingly uncritical Star Wars fan who legitimately enjoys every single one of the feature films, but has never felt much of a desire to watch or read anything else from the extended Star Wars universe, I'm feeling pretty excited for this thing. (Or at least as excited as I can get for a TV show at a time when our world is rapidly dying around us.) I will watch it, and if it looks and feels Star Wars-y enough, and doesn't try too hard to be "kewl" or wallow in silly angst or hollow badassery, I'll probably dig it.
See for yourself, though. Check out the trailer below, and get ready for The Mandalorian to start streaming through a litany of devices on Nov. 12.