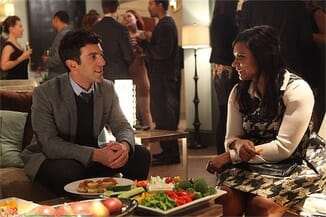 Finally.
The Mindy Project finally became the show it was always meant to be with "Harry & Sally."
The struggling freshman comedy hit the mark in an episode that once again explored Mindy's dating life. The episode was written by series star Mindy Kaling and B.J. Novak, who played Ryan on The Office and serves as a consulting producer on The Mindy Project. Novak also guest starred as Jaime, a cute guy Mindy meets at a party. I was worried that when I saw Kaling and Novak on screen all I would see were their The Office characters, Kelly Kapoor and Ryan Howard. But the two really worked as completely different characters.
When Mindy meets Jaime, she thinks Lucy (Eva Amurri Martino, who is—random fun fact—Susan Sarandon's daughter) is his girlfriend. But Lucy and Ryan are just best friends, so Mindy agrees to go out on a date with him. Danny warns Mindy that Jaime and Lucy are, in fact, Harry and Sally and that she's the Bruno Kirby of the scenario. "I'm not even Carrie Fisher," Mindy exclaims. It was the best pop culture exchange the show has ever had.
Jaime and Mindy have great chemistry, and their first date dinner is going great until Lucy sends over a bottle of wine. That's when Mindy abruptly leaves the date and goes straight into the arms of Brendan. Mindy thinks she's hooking up with Brendan with no emotional strings attached, but Mindy has seen way too many romantic comedies. She's secretly hoping more is going on. When she runs into Brendan on a date at the movie theater, she devastated. "I am sorry if I have done anything to make you think that I am your boyfriend but I am not," Brendan tells her. Ouch.
This is the first episode without Anna Camp as a series regular and "Harry & Sally" introduced Mindy's best friend from college Maggie (Mary Grill). The series took care of the switch with Mindy's announcement that "best friend isn't a person Danny, it's a tier."
Maggie is in a full leg cast, but that doesn't stop her from aggressively hitting on Jeremy. Maggie is the character Camp's Gwen should have been. By making Gwen a married woman with a child, the writers really trapped themselves. How many shenanigans could a suburban mom get into with Mindy? Turns out not that many, which is why we always saw Gwen on the phone. I'm not sure I love the Maggie character yet, but she's a much better fit for the show overall than Gwen was. (Although I do love Camp and so wish the series would have just cast her as Maggie and declared Maggie to be Gwen's fun-loving twin.)
Danny's girlfriend Jillian (guest star Allison Williams) dumps him because he's "kind of a jerk" who shows no interest in her life and wants everything to be his way. Danny tries to get her back with a big romantic gesture by playing what he thought was her prom song—except he played Korn instead of "Torn" by Natalie Imbruglia. Danny continues to be the most interesting character on the series, and it was good to see him in a more vulnerable spot.
Everything about "Harry & Sally" worked. For the first time, I really liked Mindy and I understood where she was coming from. Of course she was secretly hoping more was going on with Brendan. Of course she's worried that Jaime is in love with his best friend. Novak will be back in next week's Valentine's Day-themed episode. I'm optimistic that The Mindy Project is poised to realize its potential.