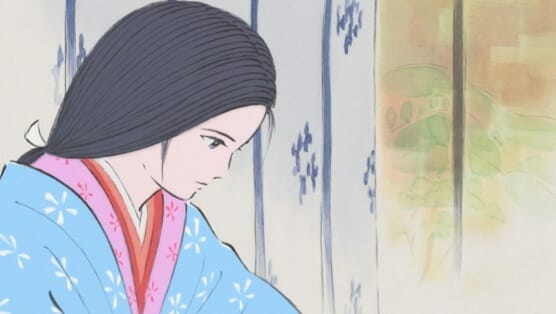 Isao Takahata isn't as well known in the U.S. as his fellow anime director and Studio Ghibli co-founder Hayao Miyazaki—partly because Takahata hasn't made a film in 14 years. That alone is enough to make his latest, The Tale of the Princess Kaguya, a unique event. But this release is made even more special by the persistent rumor that it may be his last.
The 78-year-old Takahata hasn't been as definitive on the subject of retirement as the 73-year-old Miyazaki, but with Studio Ghibli on an open-ended hiatus as of this summer, the future is murky to say the least (especially if Takahata plans on waiting another 14 years between films). For now, animation fans can be grateful there's a new Ghibli to see. And happily, just like the recent The Wind Rises (which served as Miyazaki's possible swan song), Kaguya is a defiantly idiosyncratic masterwork that amply demonstrates how much the film world has to lose if these virtuoso artists indeed call it quits.
Based on the beloved 10th-century Japanese folk legend The Tale of the Bamboo Cutter, Kaguya tells the story of an aging bamboo cutter who discovers a mysterious tiny girl, no bigger than the palm of his hand, inside a stalk of bamboo. Things get even more bizarre when he brings the miniature being home to his wife. The itty bitty lady transforms into a baby, whom the couple promptly name Kaguya and decide to raise as their own. As the days go by, Kaguya continues to change, aging at an indeterminate but certainly unusual pace. She wows the local kids in her rural area with her fearless spirit, knowledge of nature and music, and inexplicable growth spurts, while simultaneously attracting the attention of young Sutemaru, who could become the love of her life.
Or maybe he would have, if Kaguya's father didn't have other ideas. Returning to the tree of his original discovery, he cuts deeper into the bamboo and discovers a modest fortune of gold and fine clothes. Convinced Kaguya is a princess, he moves the entire family to a lavish dwelling in Kyoto and prepares Kaguya to entertain rich suitors with the help of regal tutor Lady Sagami. Word of Kaguya's beauty spreads throughout the city and five distinguished gentlemen vie for her hand, but Kaguya cheekily assigns them each impossible tasks to prove their worth. Eventually the Emperor himself makes a play, but Kaguya steadfastly refuses to be treated as a trophy.
A story that's more than a thousand years old probably doesn't mandate a spoiler alert, but for Western audiences unfamiliar with the original tale, suffice it to say that Kaguya's origins in the bamboo stalk are explained in a way that classifies the story as "proto-science fiction." Takahata is particularly interested in exploring what Kaguya learns during her incredible journey, ensuring the film works as a primal myth that also forwards a timely message of a woman's right to choose her own path in a male-dominated society.
However, what makes Takahata's Kaguya really shine is its breathtaking animation—both simple and sophisticated, and worlds apart from the Hollywood CG norm and even the exquisite artistry of Miyazaki. Kaguya's style achieves a timeless beauty specifically crafted to evoke humble materials: hand drawn, watercolors, charcoal. You're tempted to pause each frame and savor it as a work of art, and yet the film moves with a brisk polish that only adds to the transporting quality of the elegant visuals. Kaguya is truly something to see, a rare and ravishing film with imagery so powerful that it might be just as affecting with no audio at all.
That said, the version reviewed included the original Japanese audio track, while the U.S. theatrical release will offer an English-language dub featuring the voices of Chloë Grace Moretz as Kaguya, James Caan and Mary Steenburgen as her parents, Darren Criss as Sutemaru and Lucy Liu as Sagami. While I typically find it preferable to experience Ghibli films in Japanese, the quality and attention put toward the English dubs in recent years has been painstaking.
Also worth noting, while Kaguya is nowhere near as emotionally taxing as Takahata's best-known work—the devastating WWII homefront drama Grave of the Fireflies—the PG-rated film is not ideal viewing for small children. Even some adults will be strained by the leisurely 137-minute running time (something the film generally earns, once you settle into its rhythms), while the themes and issues raised will undoubtedly play better for mature viewers.
That's one of the primary reasons we'd never stop mourning Ghibli if the animation powerhouse truly closed its doors for good: they've proven over and over again that the beauty and transcendence possible in great animation make it an art form far too important to dismiss as mere kid's stuff.
Director: Isao Takahata
Writers: Isao Takahata, Riko Sakaguchi
Starring: Chloë Grace Moretz, James Caan, Mary Steenburgen, Darren Criss, Lucy Liu (voices)
Release Date: Oct. 17, 2014