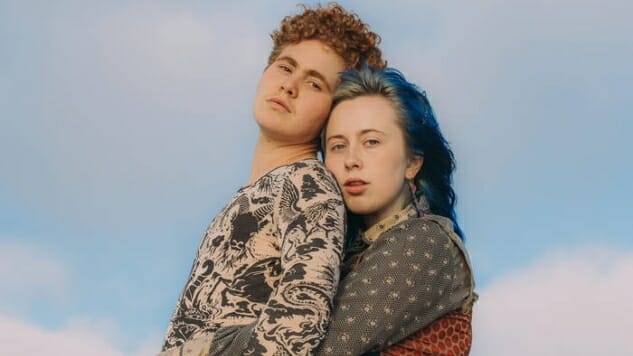 This week, it rained for four solid days in Atlanta, Ga.—home of the Paste HQ—and seeing the sun today feels like greeting a long, lost relative. But this week's music, unlike its weather, was anything but drab. Girlpool (pictured above) announced a new album and shared a dynamic new track, and Faye Webster shared her first bit of new music since releasing her self-titled LP last year. In the studio, we welcomed indie rock goofball Ron Gallo and emo favorites Mayday Parade. Plus, we chatted with Australia's Oh Pep! about their sophomore LP and Against Me!'s Laura Jean Grace about her new solo album Bought to Rot, and we rounded up the best Sharon Jones songs, spot-on album covers and amazing girl duets. Finally, today (Friday, Nov. 16), we were treated to highly-anticipated new albums from veterans Anderson .Paak and Mumford & Sons. Dig into all of it below.
BEST ALBUMS
Rhett Miller: The Messenger
For a while it seemed like Rhett Miller had two modes. There was the brash singer who excelled at writing seat-of-your-pants songs full of clever lyrics and super-catchy melodies, which he did on his own albums and fronting the Old 97's. When he wasn't locked on to that frequency, though, the results could be desultory ballads that, while pleasant enough in the moment, didn't have the staying power of his up-tempo stuff. Miller has merged those sensibilities on his latest solo effort, applying his knack for hooks to the less frenetic tunes as well as the barnburners. The result is 12 of the the tightest songs he's written, even as he takes a loose approach to playing them. His collaborators get some of the credit: Miller didn't really know producer/guitarist Sam Cohen, bassist Brian Betancourt and drummer Ray Rizzo before they gathered in an upstate New York studio to record, and he gave them plenty of latitude to shape the sound of the songs. They pushed him to take rhythmic chances that he's never taken before, emphasizing a bottom-heavy rhythm with turned-up bass, leaving room for creative guitar breaks and injecting a laid-back swagger that anchors Miller without weighing him down. That's a good thing, given the weighty subjects on Miller's mind. Many of the songs on The Messenger dig into depression and self-deception, topics Miller approaches almost as if he's coming clean. On opener "Total Disaster," he offers a glimpse into the inner life of a Rhett Miller-like singer who slides by on a facade of charm and catchy songs while struggling to keep it together. —Eric R. Danton
Mumford & Sons: Delta
It's never easy for an artist to extend their early successes. Becoming a sudden sensation has its advantages, of course, leapfrogging as you do over the competition and gain the attention of the masses. Yet, it also manifests often undue expectations and scrutiny over every last step you make in the future, setting a high bar that can be difficult to ascend later on. It's an intimidating tightrope walk, which is the main reason why any artist that garners that sort of acclaim needs to have resources in reserve to stay in the good graces of the music-streaming/ticket-buying public well into the future. Mumford & Sons is a pretty obvious example. They burst into the world about a decade ago, the supposed advancing army for a new generation of folk/Americana artists. The U.K. group has crossed the Rubicon and want to do everything in their powers to stay there. "How do I presume when there's so much at stake," they coo harmoniously on "42," the opening track of their new opus Delta. It's a song that sounds like a prayer to the heavens, sung with anthemic resolve, some hope and perhaps even a wee bit of trepidation. "I need some guiding light," they continue before kicking in with a billowing refrain. Ultimately, Delta's stadium-sized shout-outs bode well for Mumford and Sons' future. There's something to be said for invoking majesty in music and offering the impression that it's worth leaning to extract some larger meaning. Whether there are lessons to be found is strictly a matter of interpretation. Any album this epic in scope is, at very least, worthy of their reputation. —Lee Zimmerman
BEST TRACKS
Fontaines D.C.: "Too Real"
Dublin quintet Fontaines D.C. have shared a video for their new seven-inch single, out on Dec. 21. The group recently signed with Brooklyn, N.Y., label Partisan Records and over the past few months, they've released three double-A side singles. On Monday, Nov. 12, they unleashed their fourth seven-inch, "Too Real," backed by B-side "The Cuckoo Is A-Callin." The video for "Too Real" shows a series of absurdist, ping-pong-ball-related hijinks in a pub, and the track is a breakneck, rumbling punk tune. Frontman Grian Chatten yelps with a thick Irish timbre about economic anxiety and monotony as dense sheets of melodic punk crash in around him. There's a few swirling guitar detours, but the one constant is a smoldering, chugging steam of hyperactive punk. —Lizzie Manno
Martin Frawley: "End of the Bar"
Martin Frawley, best known for his work with Australian indie-pop band Twerps, has announced his solo debut, Undone at 31, out Feb. 22, 2019, on Merge Records, along with sharing its second single, "End of the Bar." The announcement follows Frawley's debut solo single "You Want Me?," which detailed his split with fellow Twerp Jules McFarlane. Where "You Want Me?" was quiet and reeling, "End of the Bar" feels angrier and more desperate. "If you need me, yeah you'll find me / I'm at the end of the bar," Frawley sings. "Don't come smiling, don't come easy / 'cause I'll hit you in the heart." He seems content to wallow in bitterness, which sometimes is the most important step a person can take. Sure, pain is beautiful, but pithiness is cathartic. —Justin Kamp
Faye Webster: "Kingston"
Faye Webster is adept at creating lush, dreamy country-pop mashups. "She Won't Go Away," a standout from last year's Faye Webster, is bouncy and twangy, but on "Kingston," Webster opts for silky, weightless slide guitar and gentle beats. Groovy electric guitar, soulful saxophone and, later, a classily implemented organ give it a pleasant gliding sensation. It gets surprisingly psychedelic, too, as Webster echoes, "Baby tell me where you want to go / Baby tell me what you want to know." The video, though, is silky in the literal sense: In one montage, Webster is clad in blood-red luxe silk pajamas. Then she lounges among a flamboyance of flamingos before helming a trio of ice skaters, all clad in silver sequined costumes. The whole thing is nothing short of a visual treat. —Ellen Johnson
BEST PERFORMANCES
Ron Gallo's second full-length album, Stardust Birthday Party, came out last month via New West Records, and he stopped by the Paste Studio with his band to perform four tracks from the album—"Always Elsewhere," "It's All Gonna Be OK," "Happy Deathday," and "Love Supreme (Work Together!)." For the last song of the set, he played an original ode to John Coltrane, who Gallo called "the epitome of artistry." Gallo is currently on a North American tour—with next stops in Raleigh, N.C.; Charleston, S.C.; Atlanta; and Nashville. —Lizzie Manno
Mayday Parade
Emo indie rockers Mayday Parade released their sixth studio album, Sunnyland, in June, and they swung by the Paste Studio this week to perform two tracks from the new record. They appeared as a trio for this acoustic set and treated the internet to Sunnyland's "It's Hard To Be Religious When Certain People Are Never Incinerated By Bolts of Lightning" and "Piece of Your Heart," plus "I Swear This Time I Mean It" from 2009's Anywhere But Here.
FEATURES
Oh Pep! Are Pop Music's New Folk Heroes
When Melbourne duo Oh Pep! released their debut album Stadium Cake in 2016, they were quickly tagged "indie-folk," a catchall phrase for acoustic music tinged with pop production, or just lo-fi folk-rock that's not widely received. But indie-folk doesn't feel like the right classification anymore. In fact, no one piecemeal subgenre feels applicable to Oh Pep!'s new record, I Wasn't Only Thinking About You… (released Oct. 26 via ATO), which is at once delicious pop music and bluegrass-adjacent folk. But, at the same time, it transcends both of those classifications. The opening ballad, "25," is a string-reliant melody reminiscent of a classic Hollywood movie score. "Hurt Nobody" is a a deep-cutting emotional rendering, while album standout "What's The Deal With David?" is the sonic equivalent of running through a glossily shelved candy store. I Wasn't Only Thinking About You… is everything wonderful about good, crunchy pop music and everything marvelous about mindfully arranged folk compositions. —Ellen Johnson
If we've learned anything over the last few years, it's that when women join their voices together, powerful things can happen. We're louder together, and though recent events have magnified female voices, that's been true for a long time, especially in music. From the very first '60s girl groups to riot grrrl confederations to modern supergroups like boygenius, girl bands always have something to say. Some of the duets on this list are classics, while several were released just this year. Swedish folksters and sisters First Aid Kit released both an album and an EP in 2018 (the latter dawned in September), and Aussie pop duo Oh Pep! shared their sophomore album last month. There's no shortage of great female duets happening right now, but we can't highlight those without paying tribute to the heroine pairs who preceded them. Here, you'll find a jumble of past and present, including some of the most iconic female duet performances as well as newly recorded gems. —Ellen Johnson
14 Album Covers That Perfectly Capture The Album's Sound
How many albums do you own with artwork that perfectly exudes the vision, aura and energy of its music? You often get an indication of a record's sound just by how the artist is dressed, their pose, the setting or even the font they chose—whether it be lightning-esque lettering of heavy metal, bubbly typography of retro soul or the simple, bold font of jazz. Album covers are such a big part of the album's artistry and for artists that take pride in their covers, it's impossible to detach their artwork from their music. With those albums, you can glance at the record and instantly see what you hear—it's a strange crossover of the senses that's hard to explain but so satisfying when it occurs. Paste compiled a list of 14 albums where this magical audiovisual fusion takes place. —Lizzie Manno
Laura Jane Grace Cuts Through the Noise with Joy and Sarcasm
When I call Laura Jane Grace for our interview, it's the first day of snowfall in Chicago, but more importantly, it's the release date of her debut solo album, Bought to Rot. Against Me! frontwoman Grace has called Chicago home for the past five or six years, and she's fresh from a record release show in the city on her 38th birthday. She's running a little low on sleep, but she's energized by her surprisingly joyful and unsurprisingly snarky new album. Bought to Rot is her first release under the name Laura Jane Grace and the Devouring Mothers, and it features fellow Against Me! members Atom Willard on drums and long-term producer Marc Jacob Hudson on bass. From the peppy power-pop of "Reality Bites" to the folky, uplifting "Apocalypse Now (& Later)" and the intimate campfire-like album closer, "The Apology Song," Bought to Rot, though not immune to occasional flashes of tension and angst, is blunt and focused in its elation. —Lizzie Manno
The 10 Best Sharon Jones Songs
In 2002, the prodigious talents of Sharon Jones were discovered by the world. A 46-year-old woman who had worked as a corrections officer on Rikers Island and an armored-car guard for Wells Fargo, Jones had always possessed a passion and a will for musical performance—but had never received the opportunity to showcase it. That all changed when her debut album, Dap Dippin' with Sharon Jones and the Dap-Kings, became the first full-length release from the label that would go on to become Brooklyn's Daptone Records. It was the rarest of musical occurrences: The late-career birth of a bonafide superstar. As time goes by, the best way to keep the spirit of Sharon Jones alive—as a person and a titanic live performer—is to keep sharing her music. Here, then, are our picks for the 10 best Sharon Jones tracks, gathered from over the course of her entire career. —Jim Vorel