The Yo-Kai Watch Is Back with Two New Cooperative Action Games
Cute monsters, challenging battles
Images via Nintendo
Games
News
Yo-Kai Watch Blasters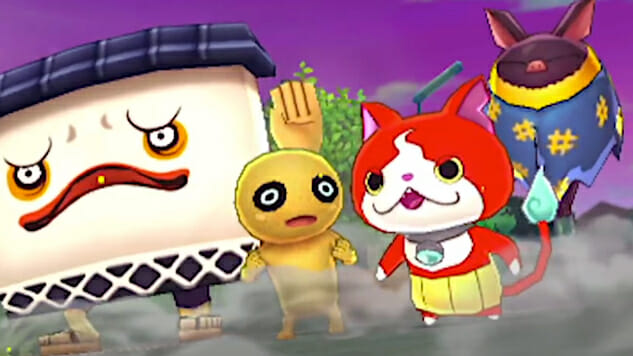 The Yo-Kai Watch series has been popular on the Nintendo 3DS since the first game's release in 2013 and, as the series progresses, the once-Pokemon-like series has continued to find new ways to reinvent itself in both the mainline games and its spinoffs. The newest entries in the franchise—Yo-Kai Watch Blasters: Red Cat Corps and Yo-Kai Watch Blasters: White Dog Squad—seem to channel Monster Hunter more than the collection-based RPG loop of the Pokemon franchise.
Red Cat Corps and White Dog Squad are co-op focused action games set around fast-paced missions and large-scale boss fights. The player directly controls their Yo-Kai in combat and, in doing so, Blasters becomes the first real-time action RPG in the Yo-Kai Watch series. The action itself is tactically oriented with a focus on cooperative endeavors, in which players balance certain skills and "Soultimate" moves to defeat the larger-than-life bosses. In addition to the main-line boss fights, the player's journey will also consist of befriending and/or battling the 400 various returning Yo-Kai. Also, training Yo-Kai benefits the player with more strength in battle and unlocking more items/equipment that can be used in accordance with the player's personal Yo-Kai team.
Both versions of Yo-Kai Watch Blasters contain different missions, Yo-Kai and bosses. Yo-Kai are tradable between both versions of the game and, if the player links Blasters with their Yo-Kai Watch 2 save, one of three special Yo-Kai will become available to the player.
Both versions of Yo Kai Watch Blasters release on Sept. 7 for the Nintendo 3DS family of systems. In order to keep the action rolling, a free post-launch update will add new missions, additional side-stories, bosses and Yo-Kai.
Check out the new trailer for Yo-Kai Watch Blasters below.