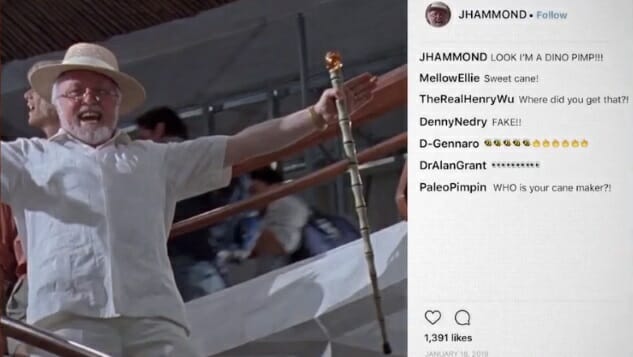 Who knew that John Hammond was such a spiritual stand-in for Billy McFarland? The embattled, fictional creator of an island dinosaur theme park turns out to be a great proxy for McFarland, the creator of the disastrous Fyre Festival, in the expertly edited mash-up below. Using footage from Netflix's Fyre documentary and voiceovers from the entire Jurassic Park/Jurassic World series, the video bills itself as the trailer for a Nerdist documentary covering the terrifying fate that befalls a group of Instagram influencers who visit a shoddily constructed dinosaur park. The results, suffice to say, aren't pretty.
The video very skillfully threads some of the most memorable moments of Fyre, such as event coordinator Andy King admitting he was prepared to "suck dick" to save the event, into the Jurassic Park storyline, making the implications of the act even more ridiculous in the process. We particularly enjoy that the editor at Nerdist was able to splice a clip of Conan O'Brien talking about Jurassic Park, the film, into the same interview where he was discussing the failure of the Fyre Festival with comedian Ron Funches. This whole thing gets an A+ for execution.
Also spectacular: The coincidence that Fyre Festival coordinator and "neurotic person" Grant Margolin happens to have the same name as Jurassic Park's Alan Grant, which allows for even more fun and games in the editing room. Check out the mash-up below, and read our essay on the dueling Fyre Festival documentaries here.