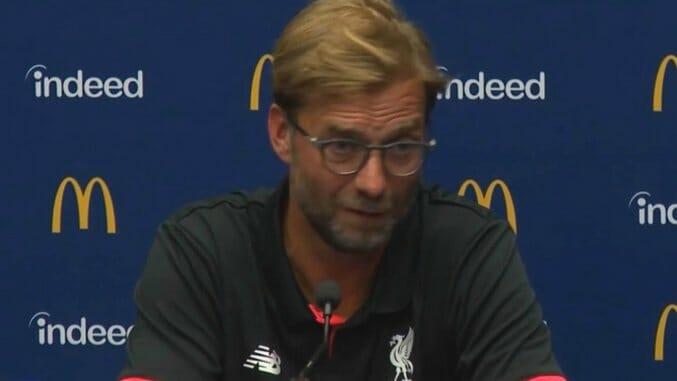 Jürgen Klopp held a press conference following Liverpool's surprising 4-0 win over Barcelona in a preseason friendly at Wembley. During the presser, a reporter from The Sun tried to ask the Liverpool boss a question. Klopp was having none of it.
"I don't speak with The Sun anymore. It's not because I'm Liverpool now, it's because of a few things which will happen in the next few days or weeks, I don't know. It's not personal, but you're still working for The Sun, right? That's it. You can listen and write what you want. […] I think that in life – no matter how much of a public figure the person is – there are things which should remain private. Sometimes things must have consequences. I thought to myself, there are eight million newspapers, so what if I don't speak to some."
The consensus seems to be that Klopp's stonewalling of The Sun came in response to a story the tabloid published recently saying that Dejan Lovren's wife was having an affair with the Reds defender. Some have also speculated that The Sun is getting ready to publish something on Klopp himself.
Whatever the reason, Klopp's cold-shouldering likely endeared him further to Liverpool fans, who have a long and bitter relationship with the publication.