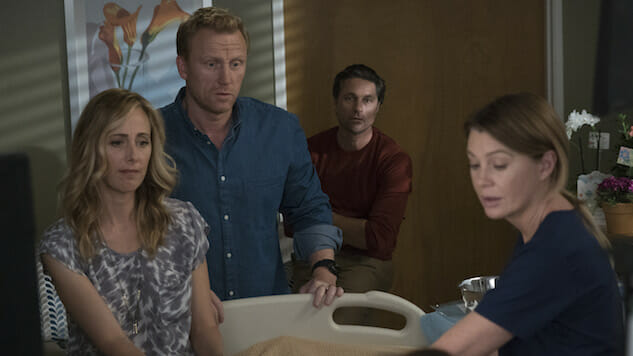 I forget more than I remember about Grey's Anatomy.
Kim Raver guest starred in the series' 14th (!!) season premiere. A former series regular, Raver hadn't been the ABC drama since 2012. But I vaguely remembered that her Dr. Teddy Altman was a good friend of Owen's (Kevin McKidd) and that they were both veterans.
Then Owen mentioned something about Teddy being married. Wait? What? Teddy was married? A quick visit to Google reminded me that Teddy married Scott Foley. Was Scott Foley's Henry still alive? Another trip to Google confirmed that he was dead.
At least once an episode, I have to Google something I forgot about the show: Was it Jackson who proposed to April via a flash mob? No. Did Geena Davis' character live or die? Lived, but was blinded. How many children does Meredith have? Three. Honestly, how did we watch long-running TV series before the Internet? Since Grey's premiered way back in March 2005, I haven't missed an episode. That means I've spent nearly 300 episodes with the doctors of Seattle Grace/Grey Sloan Memorial Hospital. I've known the show longer than I've known my husband. My affection for it has eclipsed my decade-long romance with Beverly Hills 90210, my first long-term TV relationship. The only show I watched longer is ER. Clearly I have a TV type.
Katherine Heigl became a breakout star, dramatically left the show, had a burgeoning movie career, became something of a Hollywood pariah and returned to TV—all in the time Grey's has been on the air. Its spin-off, Private Practice, ran for six seasons—and still ended four years ago.
I admire how the show has been able to survive the headline-making behind-the-scenes drama that clouded its early years. I marvel how it has been able to thrive despite multiple cast departures, including the beloved Derek Shepherd. When Patrick Dempsey's character was killed off, many (myself included) thought it would be end times for the show. He died at the end of the 11th season, two and a half years ago. We were all wrong. Grey's finished last season as the 19th most-watched show overall, and the ninth most popular in the coveted 18-49 demographic.
Part of my affection for the series stems from the comfortable familiarity and predictability the show provides. Watching the show is so relaxing. A well-executed soap opera, we know what we are getting when we turn on Grey's. There will be medical cases where the doctor's maverick innovations save the day. There will be romances, from the epic—Meredith (Ellen Pompeo) and Derek—to the truly bizarre (remember Izzy and Dead Denny?). There will be melodramatic plot twists—during the course of the series, Meredith has discovered not one but two half-sisters. And there will be big, sweeping disasters. There have been explosions (more than one), plane crashes, fires, floods, hostage situations (also more than one), a train crash, a ferry crash, and a shooting.
My love for the show is also rooted in the humor it offers, most of time unintentional. Characters routinely forget they have children. Meredith recently tried to claim she threw a birthday party for 23 children at her house. I had to pause my TV I was laughing so much. How could she have a party for children she often forgets to feed or find a sitter for or put to bed? Just this season, the show has posited the theory that everything Amelia (Caterina Scorsone) has done since we were introduced to her character is because she has a brain tumor.
The show doesn't get the credit it deserves for being groundbreaking. From its diverse cast (well before diversity became a hot TV topic) to its portrayal of gay and bisexual characters, Grey's is always at the forefront of reflecting the world we live in. What creator and executive producer Shonda Rhimes achieves on this show on a weekly basis is a TV miracle.
But after recently spending time with a loved one in a hospital, I realized the biggest thing the show provides is medical wish fulfillment. Years ago, when my grandfather was dying, I went to see him in the hospital. He was unconscious, but even I who had no medical experience, could see that he was in pain. The conversation went something like this:
Me: My grandfather looks like he's in pain.
Nurse: Yes, he probably needs more morphine.
Me: Okay, how do we make that happen?
Nurse: He needs a morphine drip.
Me: How do we get a morphine drip?
Nurse: The doctor needs to order one.
Me: Okay, how do we get the doctor to order one?
Nurse: You have to request it.
Me: Okay, I'm requesting it.
Never has the phrase "It was like pulling teeth" seemed more apt. It wasn't the nurse's fault. I remember her being very kind. But she was working within a flawed hospital system where she, as a nurse, had little power. This would have never happened on Grey's. The doctors of Grey Sloan Memorial spend hours arguing about the best way to care for their patients. They hang out with their patients. They look at pictures of their grandchildren. They sit on their bed and slowly talk through all their medical options and risks. They are their patients' biggest cheerleaders. Anyone who ever watched a doctor make hospital rounds knows this is pure fantasy. Doctors enter the room ready to leave—their exit strategy firmly in place. Again, these doctors are not bad people, but they have many patients to see in a limited amount of time.
I hope Grey's Anatomy is on the air forever. I'll watch when Meredith needs to take a walker to her supply room trysts. I'll watch until her children grow up to become doctors themselves and need years of therapy to deal with the fact that their mother regularly forgot about them. Heck, I would watch even if all the original characters were gone. Grey's Anatomy is my person.
Grey's Anatomy (still) airs Thursdays at 8 p.m. on ABC.
---
Amy Amatangelo, the TV Gal®, is a Boston-based freelance writer, a member of the Television Critics Association and the Assistant TV Editor for
Paste
. She wasn't allowed to watch much TV as a child and now her parents have to live with this as her career. You can follow her on Twitter (@AmyTVGal) or her blog .