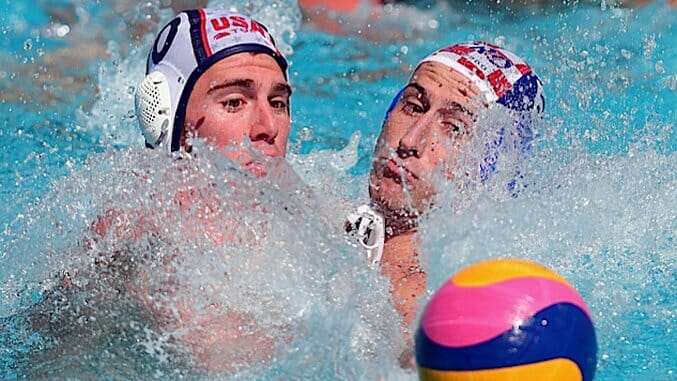 Great work! You made it through the opening weekend, which is no small feat. But true greatness in Olympic spectating doesn't come on the free days—it comes during the week, when there are a thousand obstacles standing between you and watching that 350-meter BMX horse chasing final, 63kg division at 11 a.m. If you think Monday is a day of rest, you're right, it is. But it's the Monday coming two weeks from now, when the athletes have left Rio and brought their medals and possibly the Zika virus back home.
The point is, don't let up now. Sure, it may be harder to watch these events on TV if you have to go to work, but every event below—even when I recommend a specific network—can be see live online.
The official primer for these guides came on Saturday, but there's the basic gist:
1. Using both NBC's various TV channels and their excellent live streaming site, I will show you how to watch the Olympics with an unmatched level of obsession and fanaticism.
2. My focus is on catching every event where a medal is at stake, regardless of sport, and every team sport match featuring America. Follow me, and you'll miss nothing.
3. Everything you see below is LIVE. We may be many things, but we are not tape-delay punks.
For a handy one-stop schedule of each event for the full two weeks, I made this spreadsheet to aid in your quest. Refer to it as needed.
And now it's go-time, Monday edition.
Monday
9:00 a.m. — Women's Field Hockey — U.S. vs. Australia — NBCSN
Keep this on in the background, but watch…
9:00 a.m. — Table Tennis — Women's Singles Round Three — Computer
Why? Because ping pong is fun to watch, and field hockey is not.
10:00 a.m. — Tennis — Early Rounds — Bravo
The reason you should never sleep on early-round Olympic tennis was demonstrated last night in the ridiculous, tense, and incredible 7-6 7-6 win by Juan Martin Del Potro over gold medal favorite and world no. 1 Novak Djokovic. Del Potro's forehand was like the kind of rocket that even the staunchest war hawk politician would find inhumane, and he used it to pull off the kind of incredible upset that seems so common in Olympic tennis.
10:40 a.m. — Men's Water Polo — U.S. vs. Spain — NBC
FINALLY I AM TRULY EXCITED. The U.S. is 0-1 after an early loss to Croatia, and if we plan to make the quarterfinals, it has to start here. Luckily, there's still time—there are only six teams in group B, and four will make it to the quarterfinals.
11:00 a.m. — Shooting — Men's 10m Air Rifle — Computer
China is "favored," but if there's one thing I've learned about shooting, it's that pretty much anyone can win. They ought to call this "crap shooting," am I right? (Note: I'm not right.)
11:00 a.m. — Women's Basketball — U.S. vs. Spain — NBCSN
Snooze. I will be interested in Olympic when one of two events transpires. Either the U.S. goes back to having amateur athletes compete, or the rest of the world vastly improves. Watching a collection of WNBA players win by 50 is totally unappealing to me.
12:00 p.m. — Swimming — Qualifying Heats — NBC
Ledecky and Phelps will both be qualifying for the 200 freestyle and 200 fly, respectively. (Finals of those events are on Tuesday, semifinals Monday night.)
1:00 p.m. — Women's Rugby Sevens — USA vs. Fiji — MSNBC
It's a placement match, meaning both countries are out of the gold medal running, but it will still be great because rugby is great. See the finals entry below for on that.
2:00 p.m. — Women's Volleyball — U.S. vs. Netherlands — NBC
The men's team lost to Canada yesterday, and it was very aggravating. I'll take this as vengeance, since the Netherlands is the Canada of Europe. I don't know how this is true, but I'm sure it is.
2:30 p.m. — Weightlifting — Men's 58kg Finals — Computer
Still have no idea what a "kilogram" is.
2:30 p.m. — Shooting — Men's Trap — Computer
I'm assuming that the sport of trap shooting evolved from hunting ducks or other birds, but I like to think of it as practice for the future, when we'll have to shoot tiny alien spaceships from the sky.
3:00 p.m .— Diving — Men's Synchronized 10 Platform Finals — Computer
One of our competitors in this event almost died from a dive when he was 12, Sports Illustrated tells me. That's some good resilience right there, but it won't save him from being decimated by whatever Chinese team lies in wait.
3:00 p.m. — Gymnastics — Men's Team Final — Computer
Okay, look—this is a conundrum. This is the one time when I would maybe—MAYBE—give you permission to avoid the results and watch on primetime, when everyone else will be watching. NBC refuses to put this on TV, even on a remote, Bravo-like channel, so the only way to see it live is by streaming, and if you jump the gun, you'll miss the communal experience of seeing it with the rest of America at night. I'll probably watch it live anyway, but if you don't have my kind of courage and pride, you are forgiven. JUST THIS ONCE.
3:30 p.m. — Men's Beach Volleyball — Gibb/Patterson vs. Austria
I missed these dudes on Saturday when they got their first win, and now they're taking on 0-1 Austria. Win here, and they clinch a berth in the knockout rounds.
4:00/4:20 p.m. — Judo — Women's 57kg / Men's 73kg Finals — Computer
The field hockey of martial arts. Pass.
4:15 p.m. — Fencing — Women's Sabre Bronze/Gold — NBCSN
There's no way in hell to keep the rules straight for epee/foil/sabre (in epee, you can stab someone in the toe, which is kinda crazy), and you can't actually see what's happening until they show a slow-motion replay, but that doesn't stop me from enjoying the hell out of every fencing event. There's built-in drama, the stage is lit in some kind of elongated spotlight, and they have helmets that light up. Fencing is awesome.
5:30 p.m. — Women's Rugby Sevens — Bronze/Gold Matches — CNBC
Speaking of awesome, I hope this sport stays forever. The U.S. unfortunately lost to New Zealand (barely), but I fell totally in love with rugby, and the best part is that it's a really short time commitment. Each match lasts like 20 minutes max, and it's pretty simple to understand. This is a very fun Olympic sport, and it needs to become a permanent fixture.
6:00 p.m. — Men's Basketball — U.S. vs. Venezuela
This is just organized humiliation.
6:00 p.m. — Weightlifting — Men's 62kg Finals — Computer
They should have "doubles weightlifting" with a really long bar.
9:21 p.m. — Swimming — Men's 200m Freestyle Final — NBC
Night session! The guy favored here, China's Sun Yang, seems like a complete asshole and possibly a doper. But then again, read that story and ask yourself: Is this dude just the Kenny Powers of Chinese swimming? I mean, who splashes his competitors in the pool? That's a classic Powers move.
9:30 p.m. — Swimming — Women's 100m Backstroke Final — NBC
Emily Seebohm, the Aussie favorite, has a cool name.
9:38 p.m. — Swimming — Men's 100m Backstroke Final — NBC
Two more Americans, David Plummer and Ryan Murphy, have a shot at gold here.
9:54 p.m. — Swimming — Women's 100m Breaststroke Final — NBC
After last night's semifinals, when American Lilly King called out Russia's Yulia Efimova for "drug cheating" (absolutely true, by the way), this event went from a pretty solid swimming race to an epic, Cold War style death feud. I cannot wait for this, and it kills me slightly that it's the very last event of the night. Still, what a way to go out! I want this one so bad.
11:00 p.m. — Women's Beach Volleyball — Ross/Walsh-Jennings vs. China — NBC
This should be another win for the top American team, and Ross/Walsh-Jennings probably won't be truly challenged until the knockout rounds. I don't care—it's still a blast to watch this team, and with the other American squad already with a loss on the books, they're probably the only hope of a medal against the Brazilian juggernauts.
11:30 p.m. — Chant "U-S-A" for ten minutes, get some sleep, and check back Tuesday morning for tomorrow's guide.