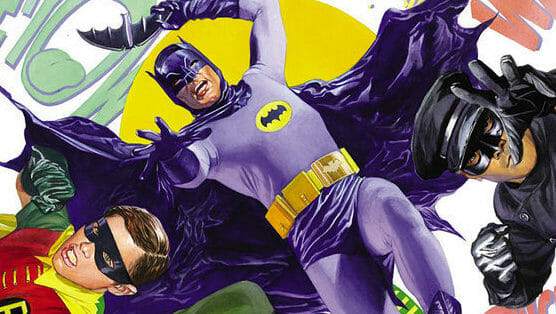 Writers: Kevin Smith and Ralph Garman
Artist: Ty Templeton
Publisher: DC
Release Date: June 4, 2014
How do you like your Batman? Unless you were born before 1969, you haven't had much of a choice. When writer Dennis O'Neil and artist Neal Adams got ahold of the caped crusader, they ditched camp for cutthroat, crafting the ubiquitous dark and brooding Bruce Wayne. Whimsical puns and side kick alliteration were promptly replaced by sociopathic villains and back alley murders. After more than 40 years, some might consider those colorful gee-whiz stories of the '60s as cultural artifacts of the time — stories best forgotten in today's comic canon. But writers Kevin Smith and Ralph Garman aren't a part of that crowd.
The duo's 6-issue miniseries, Batman '66 Meets The Green Hornet continues the success of Jeff Parker's nostalgic romp in the cult hit Batman '66. Much like Parker's series, the first issue takes the tropes and trappings of Adam West's televised Batman era and crams them into comic panels. It's all here: the red telephone, a multitude of "gosh" and "golly," the boy wonder quips, fantastical gadgets and simple plot lines.
The issue opens with Dick Grayson preparing for a date with Bonnie Linseed ("One of the most popular girls at Woodrow Roosevelt High!") as Bruce receives an urgent call from the commissioner regarding priceless fossils, suspected criminal activity and a potential train robbery. Bruce soon finds himself aboard the Gotham Express in hopes of protecting its prehistoric cargo. Enter Green Hornet and Kato, under the guise of alter egos Britt Reid, publisher of the Daily Sentinel newspaper, and, well, Kato, the valet. After a brief conversation, filled with innuendo regarding each other's crime fighting personas, a villain springs his trap, prompting Batman and the Green Hornet into action.
The plot here is only skin-deep, but that's kind of the point. Smith and Garman have a respect for the material and create some truly inspired scenes, especially one where Kato dreams up his own superhero nickname ("The Black Bee? No. The Dark Wasp?"). However, this issue isn't a direct translation from its Bam-Pow-Wham television source material. A few moments dip into meta commentary as the narrative becomes conscious of its intentionally campy world. In one scene, our four protagonists find themselves super glued to the top of a train, and Robin retorts "Holy epoxy!" These moments reveal that Smith and Garman are just having fun, and some of these scenes earn the occasional chuckle. Alex Ross' photo-realistic cover and Ty Templeton's interiors, with their thick, fluid lines that recall the cartoon Archer, create the perfect fit for the issue's laid-back attitude.
In typical television fashion, Smith and Garman end this first issue on a cliffhanger, complete with a "tune in next week" outro, but can this kind of storytelling sustain itself over six issues? Reading 20 pages with a lighthearted caped crusader is enjoyable, but 120 pages of the same references, puns and gimmicks could feel tired and overused. Yet Batman '66 Meets The Green Hornet gives readers a memorable throwback to classic comic crossovers. It's a world worth a visit — just don't overstay your welcome.