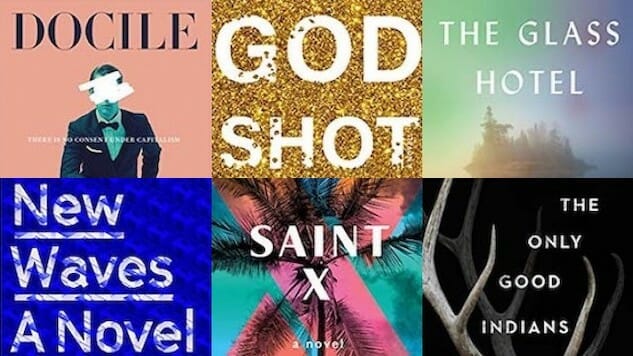 From fantasy epics to historical fiction sagas to contemporary thrillers, 2020 boasts amazing novel releases from both debut and established authors. This list includes the 25 books we're the most excited about, all of which hit shelves between January and May this year. Check out the must-read titles below, which are listed in order of release date.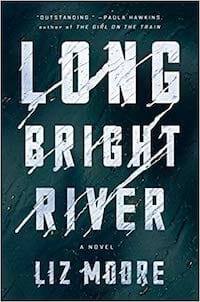 Long Bright River by Liz Moore
Release Date: January 7th from Riverhead Books
Why You'll Love It: Liz Moore's new suspense novel delivers a powerful story of sisterhood and addiction against the backdrop of an intriguing mystery.
Publisher's Description: In a Philadelphia neighborhood rocked by the opioid crisis, two once-inseparable sisters find themselves at odds. Kacey, lives on the streets in the vise of addiction. The other, Mickey, walks those same blocks on her police beat. They don't speak anymore, but Mickey never stops worrying about her sibling. Then Kacey disappears, suddenly, at the same time that a mysterious string of murders begins in Mickey's district, and Mickey becomes dangerously obsessed with finding the culprit—and her sister—before it's too late.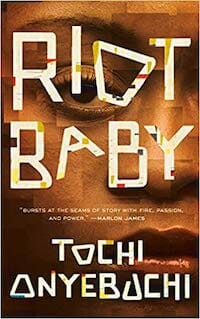 Riot Baby by Tochi Onyebuchi
Release Date: January 21st from Tor.com
Why You'll Love It: A dystopian story tackling real-world issues (racism, classism, family), Riot Baby promises a gripping narrative about a girl with unique powers.
Publisher's Description: Ella has a Thing. She sees a classmate grow up to become a caring nurse. A neighbor's son murdered in a drive-by shooting. Things that haven't happened yet. Kev, born while Los Angeles burned around them, wants to protect his sister from a power that could destroy her. But when Kev is incarcerated, Ella must decide what it means to watch her brother suffer while holding the ability to wreck cities in her hands.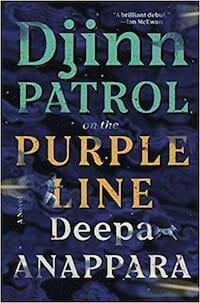 Djinn Patrol on the Purple Line by Deepa Anappara
Release Date: February 4th from Random House
Why You'll Love It: Inspired by a real series of disappearances that occurred in India, Deepa Anappara's novel introduces young, crime-solving characters you'll love for years to come.
Publisher's Description: At the end of the Purple metro line lies a jumble of tin-roofed homes where nine-year-old Jai lives with his family. Jai drools outside sweet shops, watches too many reality police shows and considers himself to be smarter than his friends Pari (though she gets the best grades) and Faiz (though Faiz has an actual job). When a classmate goes missing, Jai decides to use the crime-solving skills he has picked up from TV to find him. But what begins as a game turns sinister as other children start disappearing from their neighborhood. As the disappearances edge ever closer to home, the lives of Jai and his friends will never be the same again.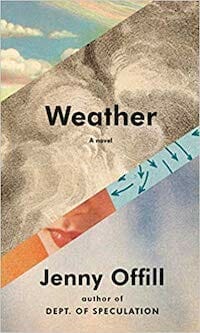 Weather by Jenny Offill
Release Date: February 11th from Knopf
Why You'll Love It: Jenny Offill, author of the bestselling Dept. of Speculation, offers a timely narrative about "a family, and a nation, in crisis" in her latest must-read novel.
Publisher's Description: Lizzie Benson's old mentor, Sylvia Liller, has become famous for her prescient podcast, Hell and High Water, and she wants to hire Lizzie to answer the mail she receives: from left-wingers worried about climate change and right-wingers worried about the decline of western civilization. As Lizzie dives into this polarized world, she begins to wonder what it means to keep tending your own garden once you've seen the flames beyond its walls. When her brother becomes a father and Sylvia a recluse, Lizzie is forced to address the limits of her own experience—but still she tries to save everyone. And all the while the voices of the city keep floating in—funny, disturbing and increasingly mad.

The Unspoken Name by A.K. Larkwood
Release Date: February 11th from Tor Books
Why You'll Love It: An orc priestess transforms into a wizard's assassin in this entertaining debut novel from a new voice to watch in fantasy fiction.
Publisher's Description: What if you knew how and when you will die? Csorwe does—she will climb the mountain, enter the Shrine of the Unspoken and gain the most honored title: sacrifice. But on the day of her foretold death, a powerful mage offers her a new fate. Leave with him…and live. Turn away from her destiny and her god to become a thief, a spy, an assassin—the wizard's loyal sword. Topple an empire and help him reclaim his seat of power. But Csorwe will soon learn that gods remember. And if you live long enough, all debts come due.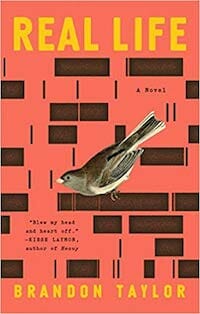 Real Life by Brandon Taylor
Release Date: February 18th from Riverhead Books
Why You'll Love It: Brandon Taylor's long-anticipated debut novel tackles timely issues while introducing a compelling protagonist who will stick with you long after the final page.
Publisher's Description: Almost everything about Wallace, an introverted African-American transplant from Alabama, is at odds with the lakeside Midwestern university town where he is working toward a biochem degree. For reasons of self-preservation, Wallace has enforced a wary distance even within his own circle of friends—some dating each other, some dating women, some feigning straightness. But a series of confrontations with colleagues, and an unexpected encounter with a young straight man, conspire to fracture his defenses, while revealing hidden currents of resentment and desire that threaten the equilibrium of their community.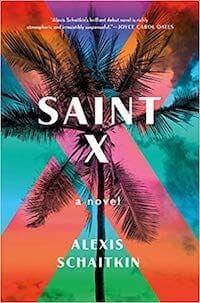 Saint X by Alexis Schaitkin
Release Date: February 18th from Celadon Books
Why You'll Love It: Alexis Schaitkin's debut novel explores how a woman's murder haunts her kid sister for years, resulting in a story you won't want to put down.
Publisher's Description: Claire is only seven when her college-age sister, Alison, disappears on the last night of their family vacation on the Caribbean island of Saint X. Several days later, Alison's body is found, and two local men—employees at the resort—are arrested. But the evidence is slim, and the men are soon released. Years later, Claire is living and working in New York City when a brief but fateful encounter brings her together with Clive Richardson, one of the men originally suspected of murdering her sister. It is a moment that sets Claire on an obsessive pursuit of the truth—not only to find out what happened the night of Alison's death but also to answer the elusive question: Who exactly was her sister?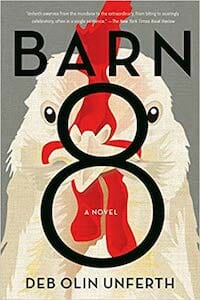 Barn 8 by Deb Olin Unferth
Release Date: March 3rd from Graywolf Press
Why You'll Love It: A delightfully quirky novel, Deb Olin Unferth's Barn 8 follows the events surrounding a heist that simultaneously make you want to laugh and ponder existential questions.
Publisher's Description: Two auditors for the U.S. egg industry go rogue and conceive a plot to steal a million chickens in the middle of the night—an entire egg farm's worth of animals. Janey and Cleveland—a spirited former runaway and the officious head of audits—assemble a precarious, quarrelsome team and descend on the farm on a dark spring evening. A series of catastrophes ensues.

Deacon King Kong by James McBride
Release Date: March 3rd from Riverhead Books
Why You'll Love It: National Book Award-winner James McBride uses one event—a church deacon shooting a drug dealer—to catalyze a powerful novel highlighting all members of a fascinating Brooklyn community.
Publisher's Description: In September 1969, a cranky old church deacon known as Sportcoat shuffles into the courtyard of the Cause Houses housing project in south Brooklyn, pulls a .38 from his pocket and, in front of everybody, shoots the project's drug dealer at point-blank range. James McBride brings to vivid life the people affected by the shooting: the victim, the African-American and Latinx residents who witnessed it, the white neighbors, the local cops assigned to investigate, the members of the Five Ends Baptist Church where Sportcoat was deacon, the neighborhood's Italian mobsters and Sportcoat himself.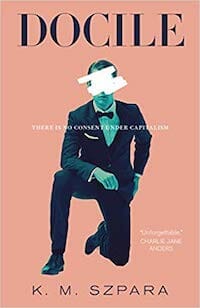 Docile by K.M. Szpara
Release Date: March 3rd from Tor.com
Why You'll Love It: Marketed as a "queer Handmaid's Tale meets Gossip Girl," K.M. Szpara's debut novel explores a fascinating, chilling world in which people are sold to pay off their debts.
Publisher's Description: Elisha Wilder's family has been ruined by debt, handed down to them from previous generations. His mother never recovered from the Dociline she took during her term as a Docile (a person kept, body and soul, for the uses of their owner's contract), so when Elisha decides to try and erase the family's debt himself, he swears he will never take the drug that took his mother from him. Too bad his contract has been purchased by Alexander Bishop III, whose ultra-rich family is the brains and money behind Dociline and the entire Office of Debt Resolution. When Elisha refuses Dociline, Alex refuses to believe that his family's crowning achievement could have any negative side effects—and is determined to turn Elisha into the perfect Docile without it.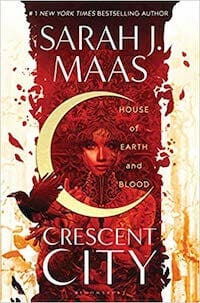 House of Earth and Blood by Sarah J. Maas
Release Date: March 3rd from Bloomsbury Publishing
Why You'll Love It: Fantasy titan Sarah J. Maas kicks off her new Crescent City series with her latest enthralling novel, which follows a half-Fae and half-human woman seeking revenge—and finding romance.
Publisher's Description: Bryce Quinlan had the perfect life-working hard all day and partying all night-until a demon murdered her closest friends. When the accused is behind bars but the crimes start up again, Bryce finds herself at the heart of the investigation. Hunt Athalar is a notorious Fallen angel, now enslaved to the Archangels he once attempted to overthrow. But with a demon wreaking havoc in the city, he's offered an irresistible deal: help Bryce find the murderer, and his freedom will be within reach. As Bryce and Hunt dig deep into Crescent City's underbelly, they discover a dark power that threatens everything and everyone they hold dear.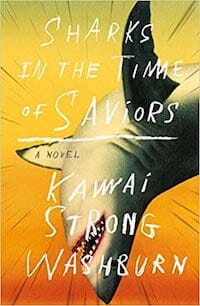 Sharks in the Time of Saviors by Kawai Strong Washburn
Release Date: March 3rd from MCD
Why You'll Love It: Kawai Strong Washburn's debut novel draws from legends of Hawaiian gods, introducing a protagonist who's rescued by a shark as a child and weaving family drama from there.
Publisher's Description: In 1995, seven-year-old Nainoa Flores falls overboard a cruise ship into the Pacific Ocean. When a shiver of sharks appears in the water, everyone fears for the worst. But instead, Noa is gingerly delivered to his mother in the jaws of a shark, marking his story as the stuff of legends. Nainoa's family, struggling amidst the collapse of the sugarcane industry, hails his rescue as a sign of favor from ancient Hawaiian gods—a belief that appears validated after he exhibits puzzling new abilities. But as time passes, this supposed divine favor begins to drive the family apart. When supernatural events revisit the Flores family in Hawai'i—with tragic consequences—they are all forced to reckon with the bonds of family, the meaning of heritage and the cost of survival.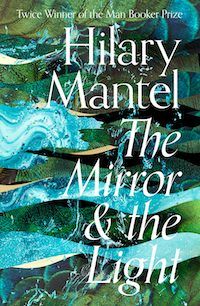 The Mirror & the Light by Hilary Mantel
Release Date: March 10th from Henry Holt and Co.
Why You'll Love It: Hilary Mantel's beloved trilogy following Thomas Cromwell, which began with Wolf Hall and continued with Bring Up the Bodies, comes to a rewarding conclusion in The Mirror & the Light.
Publisher's Description: England, May 1536. Anne Boleyn is dead. As her remains are bundled into oblivion, Thomas Cromwell breakfasts with the victors. Cromwell is a man with only his wits to rely on; he has no great family to back him, no private army. Despite rebellion at home, traitors plotting abroad and the threat of invasion testing Henry VIII's regime to the breaking point, Cromwell's robust imagination sees a new country in the mirror of the future. But can a nation, or a person, shed the past like a skin? What will you do, the Spanish ambassador asks Cromwell, when the king turns on you, as sooner or later he turns on everyone close to him?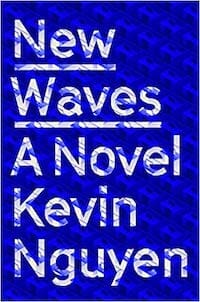 New Waves by Kevin Nguyen
Release Date: March 10th from One World
Why You'll Love It: Kevin Nguyen's debut novel follows a heist gone wrong, exploring the dark side of the tech industry in a mesmerizing saga from a talented new voice.
Publisher's Description: Lucas and Margo are fed up. Margo is a brilliant programmer tired of being talked over as the company's sole black employee, and while Lucas is one of many Asians at the firm, he's nearly invisible as a low-paid customer service rep. Together, they decide to steal their tech startup's user database in an attempt at revenge. The heist takes a sudden turn when Margo dies in a car accident, and Lucas is left reeling, wondering what to do with their secret—and wondering whether her death really was an accident. When Lucas hacks into Margo's computer looking for answers, he is drawn into her private online life and realizes just how little he knew about his best friend.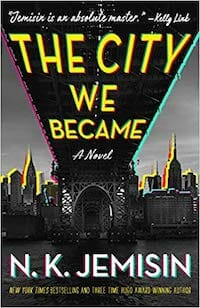 The City We Became by N.K. Jemisin
Release Date: March 24th from Orbit
Why You'll Love It: After her historic three Hugo Award wins for her Broken Earth series, N.K. Jemisin is back with a captivating urban fantasy novel set in New York City.
Publisher's Description: Every great city has a soul. Some are as ancient as myths, and others are as new and destructive as children. New York City? She's got six. But every city also has a dark side. A roiling, ancient evil stirs in the halls of power, threatening to destroy the city and her six newborn avatars unless they can come together and stop it once and for all.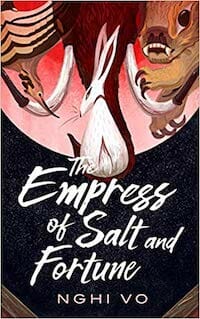 The Empress of Salt and Fortune by Nghi Vo
Release Date: March 24th from Tor.com
Why You'll Love It: Nghi Vo's gorgeous debut novella, marketed as an Asian period drama-meets-Margaret Atwood tale, follows two women defying traditional gender roles with striking results.
Publisher's Description: A young royal from the far north is sent south for a political marriage in an empire reminiscent of imperial China. Her brothers are dead; her armies and their war mammoths are long defeated and caged behind their borders. Alone and sometimes reviled, she must choose her allies carefully. Rabbit, a handmaiden, sold by her parents to the palace for the lack of five baskets of dye, befriends the emperor's lonely new wife and gets more than she bargained for. At once feminist high fantasy and an indictment of monarchy, this evocative debut follows the rise of the empress In-yo, who will bend history to her will and bring down her enemies, piece by piece.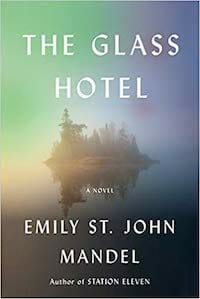 The Glass Hotel by Emily St. John Mandel
Release Date: March 24th from Knopf
Why You'll Love It: In her first novel since the award-winning Station Eleven, Emily St. John Mandel interweaves a Ponzi scheme's collapse and a woman's disappearance to stunning effect.
Publisher's Description: On the night Vincent, a hotel bartender, meets Jonathan Alkaitis, someone scrawls a message on the lobby's glass wall. Leon Prevant, a shipping executive for Neptune-Avradimis, reads the words and orders a drink to calm down. Alkaitis, the owner of the hotel and a wealthy investment manager, arrives too late to read the threat, never knowing it was intended for him. He leaves Vincent a $100 tip along with his business card, and a year later they are living together as husband and wife. But Alkaitis is running an international Ponzi scheme, and he controls countless retirement funds, including Leon's. The collapse of the financial empire is as swift as it is devastating, obliterating fortunes and lives, while Vincent walks away into the night. Until, years later, she steps aboard a Neptune-Avramidis vessel and disappears.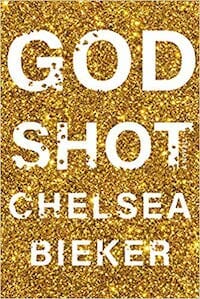 Godshot by Chelsea Bieker
Release Date: April 7th from Catapult
Why You'll Love It: Chelsea Bieker's gripping debut novel follows a teen girl embroiled in a cult, exploring how far she'll go to break free of the abusive leadership.
Publisher's Description: Drought has settled on the town of Peaches, California where 14-year-old Lacey May and her alcoholic mother live. In their desperation, residents have turned to a cult leader named Pastor Vern for guidance. He promises, through secret "assignments," to bring the rain everybody is praying for. Lacey has no reason to doubt the pastor, but then her life explodes in a single unimaginable act of abandonment: her mother, exiled from the community for her sins, leaves Lacey and runs off with a man she barely knows. As Lacey May begins to uncover the full extent of Pastor Vern's shocking plan to bring fertility back to the land, she decides she must go on a quest to find her mother no matter what it takes.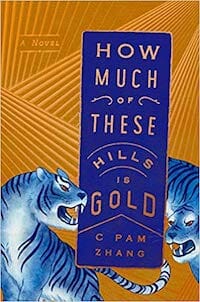 How Much of These Hills Is Gold by C Pam Zhang
Release Date: April 7th from Riverhead Books
Why You'll Love It: Set during the American gold rush, C Pam Zhang's debut novel utilizes two siblings' riveting journey to highlight the treatment of immigrants on a harsh frontier.
Publisher's Description: Ba dies in the night; Ma is already gone. Newly orphaned children of immigrants, Lucy and Sam are suddenly alone in a land that refutes their existence. Fleeing the threats of their western mining town, they set off to bury their father in the only way that will set them free from their past. Along the way, they encounter giant buffalo bones, tiger paw prints, and the specters of a ravaged landscape as well as family secrets, sibling rivalry and glimpses of a different kind of future.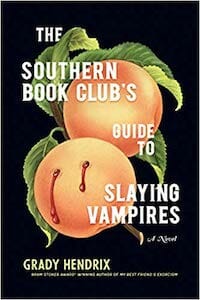 The Southern Book Club's Guide to Slaying Vampires by Grady Hendrix
Release Date: April 7th from Quirk Books
Why You'll Love It: Marketed as "Fried Green Tomatoes and Steel Magnolias meets Dracula," Grady Hendrix's latest horror novel promises as much entertainment as its title suggests.
Publisher's Description: The one thing Patricia Campbell has to look forward to is her book club, a close-knit group of Charleston women united by their love of true crime. But her predictable life is upended when Patricia is viciously attacked by an elderly neighbor, bringing the neighbor's handsome relative, James Harris, into her life. Sensitive and well-read, James makes Patricia feel things she hasn't felt in 20 years. But there's something…off…and then Patricia's senile mother-in-law insists she knew him back when she was a girl. When local children go missing, Patricia has reason to believe that James may be more Bundy than Beatnik. But once she and the book club members investigate further, the true monster emerges—and he's far more terrifying than any serial killer they've ever read about.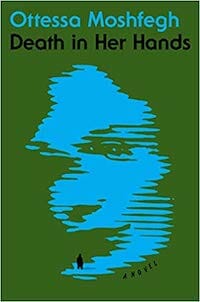 Death in Her Hands by Ottessa Moshfegh
Release Date: April 21st from Penguin Press
Why You'll Love It: Ottessa Moshfegh is always a must-read, and her latest combines "horror, suspense and pitch-black comedy" to deliver a fascinating tale guided by an unreliable narrator.
Publisher's Description: While on her normal daily walk with her dog in the nearby forest woods, our protagonist comes across a note, handwritten and carefully pinned to the ground with a frame of stones. Her name was Magda. Nobody will ever know who killed her. It wasn't me. Here is her dead body. Our narrator is deeply shaken, and she begins to devote herself to exploring conjectures about who this woman was and how she met her fate. But as we follow her in her investigation, our faith in her grip on reality weakens. Finally, we are forced to face the prospect that there is either a more innocent explanation for all this or a much more sinister one—one that strikes closer to home.

The Immortals of Tehran by Ali Araghi
Release Date: April 7th from Melville House
Why You'll Love It: Ali Araghi's powerful debut novel follows a (possibly cursed) family for generations up to the Iranian Revolution, weaving an intriguing drama that's steeped in magical realism.
Publisher's Description: As a child living in his family's apple orchard, Ahmad Torkash-Vand treasures his great-great-great-great grandfather's every mesmerizing world. On the day of his father's death, Ahmad listens closely as the seemingly immortal elder tells him the tale of a centuries-old family curse…and the boy's own fated role in the story. Ahmad grows up to suspect that something unseen must be interfering with his family, as he struggles to hold them together through decades of famine, loss and political turmoil in Iran. As the world transforms around him, each turn of Ahmad's life is a surprise: from street brawler to father of two impossibly gifted daughters; from radical poet to politician with a target on his back. These lives converge and catch fire at the center of the Revolution.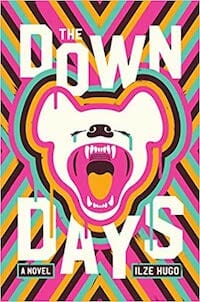 The Down Days by Ilze Hugo
Release Date: May 5th from Skybound Books
Why You'll Love It: South African author Ilze Hugo's debut novel is set in a city ravaged by a "deadly laughter epidemic," promising refreshing take on apocalyptic fiction.
Publisher's Description: In the aftermath of a deadly outbreak, a city at the tip of Africa is losing its mind, with residents experiencing hallucinations and paranoia. During these strange days, Faith works as a corpse collector and a freelance "truthologist," putting together disparate pieces of information to solve problems. But after Faith agrees to help an orphaned girl find her abducted baby brother, she begins to wonder whether the boy is even real. Meanwhile, a young man named Sans is so distracted by a glimpse of his dream woman that he lets a bag of money he owes his gang partners go missing—leaving him desperately searching for both. The paths of Faith, Sans and a cast of hustlers will cross as they look for lost souls, uncertain absolution and answers that may not exist.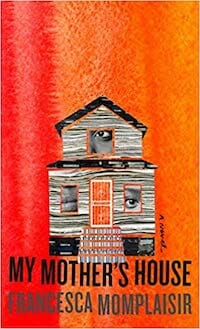 My Mother's House by Francesca Momplaisir
Release Date: May 12th from Knopf
Why You'll Love It: Francesca Momplaisir's debut novel delivers a unique take on the American Dream by telling the story of an immigrant family from the perspective of their house, resulting in a must-read literary thriller.
Publisher's Description: When Lucien flees Haiti with his wife, Marie-Ange, and their three children to New York City's South Ozone Park, he does so hoping for reinvention, wealth and comfort. He buys a rundown house and begins life anew. Lucien and Marie-Ange call their home La Kay—"my mother's house"—and it becomes a place where their fellow immigrants can find peace, a good meal and legal help. But Lucien soon falls into his worst habits and impulses, with La Kay as the backdrop for his lasciviousness. What he can't even begin to fathom is that the house is watching, passing judgment and deciding to put an end to all the sins it has been made to hold. But only after it has set itself aflame will frightened whispers reveal Lucien's ultimate evil.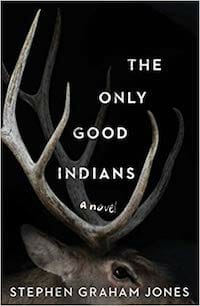 The Only Good Indians by Stephen Graham Jones
Release Date: May 19th from Saga Press
Why You'll Love It: Marketed as "the creeping horror of Paul Tremblay meet's Tommy Orange's There There," Stephen Graham Jones' thrilling revenge novel reveals the haunting saga of four men from the Blackfeet Nation who angered a supernatural force.
Publisher's Description: Four American Indian men from the Blackfeet Nation, who were childhood friends, find themselves in a desperate struggle for their lives. An entity wants to exact revenge upon them for what they did during an elk hunt 10 years earlier by killing them, their families and friends.

Looking for even more reading recommendations? Check out our lists of the most anticipated Young Adult novels and the most anticipated nonfiction books of 2020.