Exclusive: Brandon Sanderson Pulls The Apocalypse Guard Release, Gives Update About Mystery Project
Author photo by Nazrilof; Illustration by Kelley Harris
Books
Features
brandon sanderson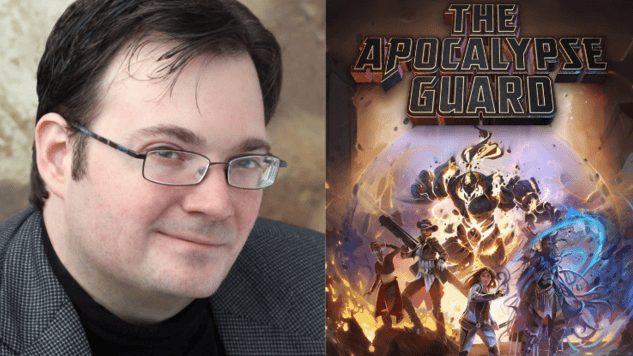 In an interview with Paste today, Brandon Sanderson revealed that he's pulling an upcoming novel from its 2018 scheduled release. Titled The Apocalypse Guard, the YA novel follows "an organization of thousands of scientists, engineers, and extraordinary individuals who save planets."
"I finished the book and decided something was broken about the novel," Sanderson says. "And I'm not sure what it is yet…I showed it to the publisher, I showed it to the editor, we had conversations, and I just felt the book wasn't right. Even their suggestions on what to do in revisions didn't click with me, and I decided I needed time from the book. So I set it aside and said, 'Well, I'm going to write something else right now and see how I feel about that.'"
That "something else" is the Mystery Project that Sanderson added to his website's progress bars in October. The author, who's known for valuing transparency with his fans, regularly updates the progress bars to share the status of his current projects. And while he's not ready to reveal the title or plot specifics of the Mystery Project, he did offer some context.
"It's something I've been planning for a while," Sanderson says. "It's another YA project, but I'm only 10 chapters into it—not even that far. So I don't even know if this one will work out."
Sanderson says he outlined The Apocalypse Guard for about two years, but he outlined the Mystery Project in just three days. "Sometimes that's really great…and sometimes you do that, and the book goes completely off the rails. So the reason that it's a secret project right now is that I don't even know if it will be coming out. I won't make that call for another month or two."
The bestselling author of both the Mistborn and Stormlight Archive series says he's actually encouraged by his decision to pull The Apocalypse Guard for now. "I'm glad that I'm still in a place in my writing where I can acknowledge this book didn't work out," he says. "I need to work on it longer. Because part of me really fears that day that seems to happen to some creators, where they're just like, 'Nope, this is good enough. Boom.' Obviously, it doesn't happen to everyone or even the majority. But I don't want to get there."
Sanderson says he'll update his fans on both projects after the November 14th release of Oathbringer, the third book in the Stormlight Archive.