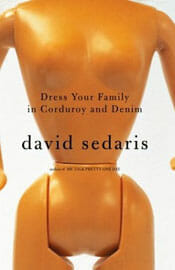 David Sedaris' reputation as America's preeminent smart ass is well earned, so much so he can maintain it while living in Paris. In both his print and NPR essays, he has mined just about everything in his personal life for laughs. Nothing—family, race, sexuality or Christmas—is too sacred a topic. He once gleefully bashed a children's play and defended himself by saying, "If there's a cancer, it's best to treat it as early as possible." He wasn't much kinder to his own attempts at performance art in his previous book, Me Talk Pretty One Day.
So it should come as no surprise that in his latest, Dress Your Family in Corduroy and Denim, Sedaris once again aims his caustic wit at his family, friends and partner. He's certainly not in unfamiliar territory: castigating his sister Tiffany for living like a slob during his short stay at her apartment, or revealing his brother Paul's predilection for crude language. For Sedaris, a story like "Six to Eight Black Men," which skewers Christmas customs in other countries, seems downright traditional and as brutally funny as anything he's ever written. (The story's title refers to the Dutch concept of Saint Nicholas who, instead of elves, "travels with what was consistently described as 'six to eight black men'"). Sedaris has a talent for finding the oddest pockets in culture and behavior and, while turning them inside out, making what should be truly horrifying entertaining.
Most surprising about this book is how often Sedaris forgoes the sarcasm and seems genuinely hurt or affected. "The End of the Affair" is a tribute to his love for his partner, Hugh. His affection for his father is clear in "Slumus Lordicus," in which the two of them battle a nettlesome tenant in one of his father's buildings. But the tension over Sedaris' homosexuality in "A Million Bubbles" is palpable, particularly because Sedaris doesn't realize that's why his father is kicking him out of the house. Much more than a comedic memoir about a semi-dysfunctional family, Dress Your Family is as moving as it is funny, leaving the impression that with all Sedaris has revealed, plenty remains for him to explore.