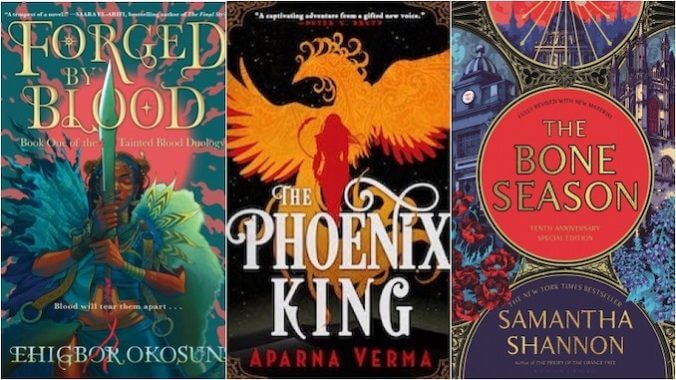 The dog days of summer are here—it's hot, it's miserable, and the kindest gift you can give yourself is some time in a shady (or air-conditioned!) spot with a good book. Happily, unlike recent years, publishing finally seemed to realize that August doesn't have to be a weird dead zone in the book industry we all wait for the onslaught of new Fall fantasy releases that will arrive in September. 
There are honestly a ton of great books hitting shelves this month, from remixes and anniversary re-releases of fantasy favorites of yore to highly anticipated sequels and buzzy new debuts that seem destined to be big hits. Every title on this list is basically a banger, and we could have probably added a handful more. It's a good time to be a fan of this genre, is what I'm saying.
Here are our picks for the best fantasy books of August 2023.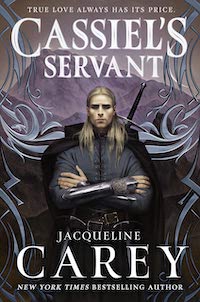 Cassiel's Servant by Jacqueline Carey
Release Date: August 1 from Tor Books
Why You'll Love It: 21 years later after it was first published, Jacqueline Carey returns to the world of the cult fantasy classic Kushiel's Dart with Cassiel's Servant, a novel that retells the epic love story between courtesan Phedre and celibate warrior priest Joscelin, from his point of view. There's an element to this book that feels like nothing so much as fanfiction that allows us to further explore a character who's inscrutable for much of the original novel—-but that's not a bad thing.
Publisher's Description: In Kushiel's Dart, a daring young courtesan uncovered a plot to destroy her beloved homeland. But hers is only half the tale. Now see the other half of the heart that lived it.
Cassiel's Servant is a retelling of cult favorite Kushiel's Dart from the point of view of Joscelin, Cassiline warrior-priest and protector of Phèdre nó Delaunay. He's sworn to celibacy and the blade as surely as she's pledged to pleasure, but the gods they serve have bound them together. When both are betrayed, they must rely on each other to survive.
From his earliest training to captivity amongst their enemies, his journey with Phèdre to avert the conquest of Terre D'Ange shatters body and mind… and brings him an impossible love that he will do anything to keep.
Even if it means breaking all vows and losing his soul.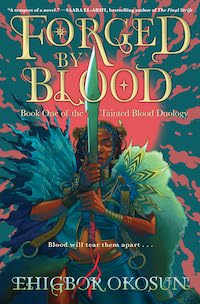 Forged by Blood by Ehigbor Okosun
Release Date: August 8 from Harper Voyager
Why You'll Love It: A standout epic fantasy debut, Forged by Blood mixes Nigerian influences, political intrigue, meticulous plotting, and lush worldbuilding to create something that feels fresh and often downright magical. Where's Book 2?
Publisher's Description: In the midst of a tyrannical regime and political invasion, Dèmi just wants to survive: to avoid the suspicion of the nonmagical Ajes who occupy her ancestral homeland of Ife; to escape the King's brutal genocide of her people—the darker skinned, magic wielding Oluso; and to live peacefully with her secretive mother while learning to control the terrifying blood magic that is her birthright.
But when Dèmi's misplaced trust costs her mother's life, survival gives way to vengeance. She bides her time until the devious Lord Ekwensi grants her the perfect opportunity—kidnap the Aje prince, Jonas, and bargain with his life to save the remaining Oluso. With the help of her reckless childhood friend Colin, Dèmi succeeds, but discovers that she and Jonas share more than deadly secrets; every moment tangles them further into a forbidden, unmistakable attraction, much to Colin's—and Dèmi's—distress.
The kidnapping is now a joint mission: to return to the King, help get Lord Ekwensi on the council, and bolster the voice of the Oluso in a system designed to silence them. But the way is dangerous, Dèmi's magic is growing yet uncertain, and it's not clear if she can trust the two men at her side.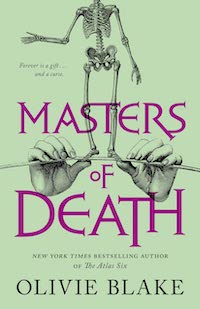 Masters of Death by Olivie Blake
Release Date: August 8 from Tor Books
Why You'll Love It: This revised Tor Books rerelease of one of BookTok favorite Olivie Blake's early self-published novels is, much like One for My Enemy, something of an acquired taste. (It's very much not The Atlas Six, is what I'm saying.) But this often irreverent, strangely poignant tale of vampires, ghosts, and Death itself is nothing if not unique. 
Publisher's Description: Viola Marek is a struggling real estate agent, and a vampire. But her biggest problem currently is that the house she needs to sell is haunted. The ghost haunting the house has been murdered, and until he can solve the mystery of how he died, he refuses to move on.
Fox D'Mora is a medium, and though is also most-definitely a shameless fraud, he isn't entirely without his uses—seeing as he's actually the godson of Death.
When Viola seeks out Fox to help her with her ghost-infested mansion, he becomes inextricably involved in a quest that neither he nor Vi expects (or wants). But with the help of an unruly poltergeist, a demonic personal trainer, a sharp-voiced angel, a love-stricken reaper, and a few high-functioning creatures, Vi and Fox soon discover the difference between a mysterious lost love and an annoying dead body isn't nearly as distinct as they thought.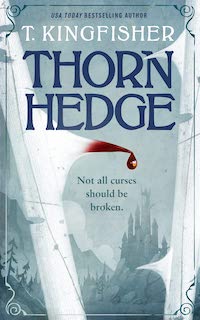 Thornhedge by T. Kingfisher
Release Date: August 15 from Tor Books
Why You'll Love It: T. Kingfisher's delicate, bittersweet style of fantasy is like nothing else on shelves at the moment, and the author continues her streak of bangers with Thornhedge, a haunting, sharp-edged, and horror-tinged remix of Sleeping Beauty that unspools a thoughtful meditation on grief, guilt, duty, and love. 
Publisher's Description: There's a princess trapped in a tower. This isn't her story.
Meet Toadling. On the day of her birth, she was stolen from her family by the fairies, but she grew up safe and loved in the warm waters of faerieland. Once an adult though, the fae ask a favor of return to the human world and offer a blessing of protection to a newborn child. Simple, right?
But nothing with fairies is ever simple.
Centuries later, a knight approaches a towering wall of brambles, where the thorns are as thick as your arm and as sharp as swords. He's heard there's a curse here that needs breaking, but it's a curse Toadling will do anything to uphold…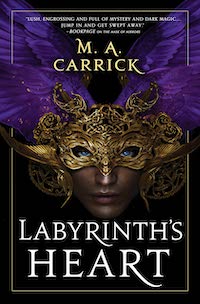 Labyrinth's Heart by M.A. Carrick
Release Date: August 15 from Orbit
Why You'll Love It: M.A. Carrick's dense Rook & Rose trilogy has been packed with complex characters, difficult moral choices, and unexpected plot twists throughout, and its final volume has a lot of ground to cover as Ren's masks come off and the secrets of Nedezra are finally revealed.
Publisher's Description: Ren came to Nadežra with a plan. She would pose as the long-lost daughter of the noble house Traementis. She would secure a fortune for herself and her sister. And she would vanish without a backward glance. She ought to have known that in the city of dreams, nothing is ever so simple
Now, she is Ren, con-artist and thief. But she is also Renata, the celebrated Traementis heir. She is Arenza, the mysterious pattern-reader and political rebel. And she is the Black Rose, a vigilante who fights alongside the legendary Rook.
Even with the help of Grey Serrado and Derossi Vargo, it is too many masks for one person to wear. And as the dark magic the three of them helped unleash builds to storm that could tear the very fabric of the city apart, it's only a matter of time before one of the masks slips—and everything comes crashing down around them.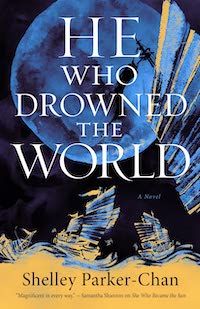 He Who Drowned the World by Shelley Parker-Chan
Release Date: August 22 from Tor Books
Why You'll Love It: A dark, often brutal, and occasionally gory follow-up to (excellent) historical fantasy She Who Became the Sun, Shelley Parker Chan sends her Radiant Emperor duology off in style. 
Publisher's Description: Zhu Yuanzhang, the Radiant King, is riding high after her victory that tore southern China from its Mongol masters. Now she burns with a new desire: to seize the throne and crown herself emperor.
But Zhu isn't the only one with imperial ambitions. Her neighbor in the south, the courtesan Madam Zhang, wants the throne for her husband—and she's strong enough to wipe Zhu off the map. To stay in the game, Zhu will have to gamble everything on a risky alliance with an old enemy: the talented but unstable eunuch general Ouyang, who has already sacrificed everything for a chance at revenge on his father's killer, the Great Khan.
Unbeknownst to the southerners, a new contender is even closer to the throne. The scorned scholar Wang Baoxiang has maneuvered his way into the capital, and his lethal court games threaten to bring the empire to its knees. For Baoxiang also desires revenge: to become the most degenerate Great Khan in history—and in so doing, make a mockery of every value his Mongol warrior family loved more than him.
All the contenders are determined to do whatever it takes to win. But when desire is the size of the world, the price could be too much for even the most ruthless heart to bear.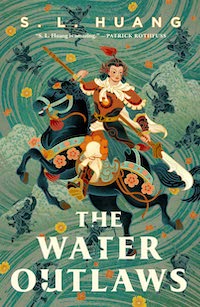 The Water Outlaws by S.L. Huang
Release Date: August 22 from Tordotcom
Why You'll Love It: This queer epic fantasy retelling inspired by the story of the 14th-century Chinese classic Water Margin is perfect for everyone who loved Shelley Parker-Chan's She Who Became the Sun. A feminist, action-packed tale of bandits and found family that's bursting with martial arts tropes and rich mythology.
Publisher's Description: Lin Chong is an expert arms instructor, training the Emperor's soldiers in sword and truncheon, battle axe and spear, lance and crossbow. Unlike bolder friends who flirt with challenging the unequal hierarchies and values of Imperial society, she believes in keeping her head down and doing her job.
Until a powerful man with a vendetta rips that carefully-built life away.
Disgraced, tattooed as a criminal, and on the run from an Imperial Marshall who will stop at nothing to see her dead, Lin Chong is recruited by the Bandits of Liangshan. Mountain outlaws on the margins of society, the Liangshan Bandits proclaim a belief in justice—for women, for the downtrodden, for progressive thinkers a corrupt Empire would imprison or destroy. They're also murderers, thieves, smugglers, and cutthroats.
Apart, they love like demons and fight like tigers. Together, they could bring down an empire.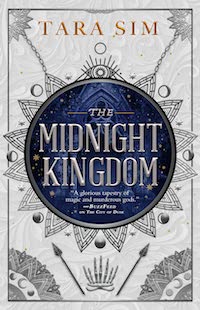 The Midnight Kingdom by Tara Sim
Release Date: August 22 from Orbit
Why You'll Love It: This follow-up to The City of Dusk finds the heirs to the four noble houses scattered across different realms and desperate to restore balance to the world. After setting up a dizzying array of stakes in the first book (you'll probably need this refresher on everything that happened), The Midnight Kingdom is very much a "middle book", but those that prefer exploring character relationships and dynamics to overt action will find a lot to like.
Publisher's Description: A cataclysmic battle to save the city of Nexus has left the four noble heirs scattered across the four realms:
Taesia, the shadow-wielding rebel of House Lastrider, and Nikolas, the solider son of House Cyr, have been cast into Noctus, the realm of night. But they are not alone. The dangerous and unpredictable god of light has traveled with them, and he will do anything in his power to destroy Noctus once and for all.
Risha, the peace-loving necromancer of House Vakara, has finally found her way to Mortri, the realm of death. But she still cannot help the wayward spirits trapped in Vaega, nor does she have any idea how to get herself and her friend Jas home. All she knows is that no mortal can survive for long in Mortri. And the creatures that walk the realm of death don't take kindly to the living.
Angelica, the stubborn elementalist of House Mardova, finds herself alone in Vaega. With the other three heirs vanished, it is up to her help keep the city of Nexus from unraveling. But Angelica secretly suffers from a sickness that her goddess left in her veins. And when she is sent on a delicate diplomatic mission, she knows that any sign of weakness will have disastrous repercussions for her family, her city, and her dreams of the throne.
All will encounter old friends and new enemies as they attempt to restore the balance of the world. But as the gods grow stronger, they'll need more than their powers and their wits to survive.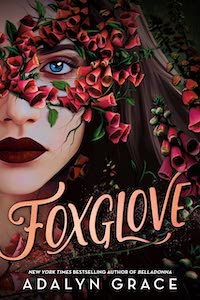 Foxglove by Adalyn Grace
Release Date: August 22 from Little, Brown Books for Young Readers
Why You'll Love It: This highly anticipated sequel to Belladonna features a new mystery, new point of view characters (Blythe!!), and a new immortal adversary in the form of Death's brother Fate, who believes Signa to have a connection to a woman he once loved. Complex, rich, and full of unexpected consequences that play out from invents in the first book, this series remains a winner.
Publisher's Description: A duke has been murdered. The lord of Thorn Grove has been framed. And Fate, the elusive brother of Death, has taken up residence in a sumptuous estate nearby. He's hellbent on revenge after Death took the life of the woman he loved many years ago…and now he's determined to have Signa for himself, no matter the cost.
Signa and her cousin Blythe are certain that Fate can save Elijah Hawthorne from prison if they will entertain his presence. But the more time the girls spend with Fate, the more frightening their reality becomes as Signa exhibits dramatic new powers that link her to Fate's past. With mysteries and danger around every corner, the cousins must decide if they can trust one another as they navigate their futures in high society, unravel the murders that haunt their family, and play Fate's unexpected games—all with their destinies hanging in the balance.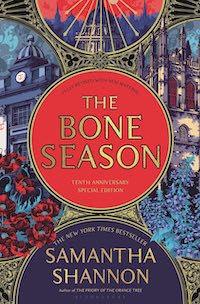 The Bone Season 10th Anniversary Edition by Samantha Shannon
Release Date: August 22 from Bloomsbury
Why You'll Love It: Okay, fine, this isn't a new fantasy book, but rather a brand new revised and reimagined edition of one of the genre's most underrated series: Samantha Shannon's The Bone Season. If you've been sleeping on this story—or on Shannon as a fantasy author in general— please fix your life, because this series, with its deeply original premise and painfully slow burn romance is like absolutely nothing else in this space. 
Publisher's Description: The year is 2059. For two centuries, the Republic of Scion has led an oppressive campaign against unnaturalness in Europe.
In London, Paige Mahoney holds a high rank in the criminal underworld. The right hand of the ruthless White Binder, Paige is a dreamwalker, a rare and formidable kind of clairvoyant. Under Scion law, she commits treason simply by breathing.
When Paige is arrested for murder, she meets the mysterious founders of Scion, who have designs on her uncommon abilities. If she is to survive and escape, Paige must use every skill at her disposal – and put her trust in someone who ought to be her enemy.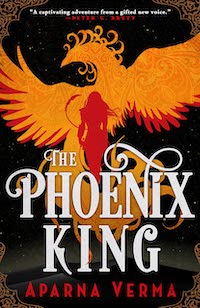 The Phoenix King by Aparna Verma
Release Date: August 29 from Orbit
Why You'll Love It: An ancient prophecy engulfs an assassin, a princess, and a king in a fantasy debut that mixes in sci-fi elements, political intrigue, romance, and Hindu mythology. 
Publisher's Description: For Elena Aadya Ravence, fire is yearning. She longs to feel worthy of her Phoenix god, of her ancestors who transformed the barren dunes of Sayon into a thriving kingdom. But though she knows the ways and wiles of the desert better than she knows her own skin, the secrets of the Eternal Flame elude her. And without them, she'll never be accepted as queen. 
For Leo Malhari Ravence, fire is control. He is not ready to give up his crown—there's still too much work to be done to ensure his legacy remains untarnished, his family protected. But power comes with a price, and he'll wage war with the heavens themselves to keep from paying it. 
For Yassen Knight, fire is redemption. He dreams of shedding his past as one of Sayon's most deadly assassins, of laying to rest the ghosts of those he has lost. If joining the court of flame and serving the royal Ravence family—the very people he once swore to eliminate—will earn him that, he'll do it no matter what they ask of him.
But the Phoenix watches over all and the fire has a will of its own. It will come for all three, will come for Sayon itself….and they must either find a way to withstand the blaze or burn to ash.
---
Lacy Baugher Milas is the Books Editor at Paste Magazine, but loves nerding out about all sorts of pop culture. You can find her on Twitter @LacyMB