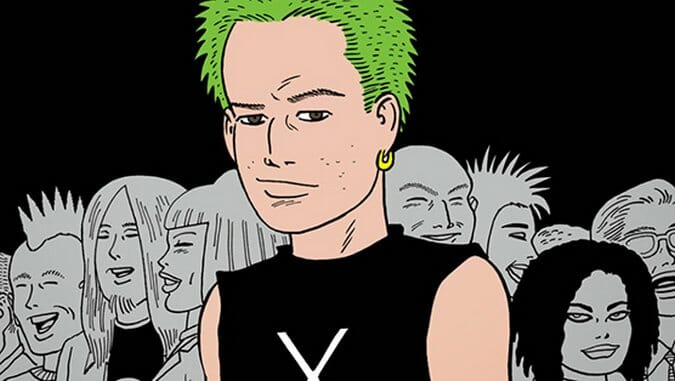 Writer & Artist: Gilbert Hernandez
Publisher: Drawn & Quarterly
Release Date: September 16, 2014
Here are some developments that might explain just how prolific Gilbert Hernandez is: a robot hand graft to prevent carpal tunnel, a Leonardo da Vinci-esque sleeping schedule that allows for no more than five hours a night, and/or some kind of Carolyn Keene/Franklin W. Dixon situation involving a pen name shared by a reputable stable of writers. With the collected Fatima: The Blood Spinners released in April, Loverboys set to come out next month through Dark Horse, the Love & Rockets series continuing and the brand-new Bumperhead out last week…it's a fair question. Gilbert's brother Jaime probably receives more acclaim as an artist and a writer, which may be due to a slightly more deliberate process, but Gilbert's work is always wriggling with life and weirdness.
Bumperhead is in no way a sequel to the grade school reflections of Marble Season, Gilbert's first release under publisher Drawn & Quarterly, but it works the same vein. Rather than tackling his exploitation-influenced efforts (see the zombie/drug hijinks of Fatima), Bumperhead focuses on daily life, following protagonist everyman Bobby through five chapters as he moves from grade school through high school, young adulthood and then, abruptly, middle age. "Bumperhead" apparently means someone who follows trends and lacks originality, but, more than that, it describes the way Bobby bounces around like a pinball, lacking strategic direction. In the worldview of this graphic novel, we are born, we meet some people, we do some things (probably not very much), we have a few "I've wasted my life" moments and then, rather suddenly, we die.
It all seems fairly depressing when explained in a single sentence, or a graph a la Kurt Vonnegut (Bumperhead would fall under Vonnegut's "Which Way Is Up?" category), but the book doesn't necessarily mire in despair. Sure, there's no transcendence: the alien spaceship lights we're promised at the beginning never appear. No one is saved by the love of a good woman. Bobby doesn't even get answers to his simplest questions. The way Hernandez introduces each chapter, with a full-page image of the dark, cloudy sky and Bobby's profile — each at another phase in his life— emphasizes this futility, but it also finds beauty within. The creator's use of music, especially the angry flailing of punk, as reactions to life's frictions, isn't exactly innovative, but it is apt and well-deployed. And although the book can feel like a defective firework, producing a whimper rather than a bang, its philosophical nature and perspective on adulthood make it a more interesting read and appropriate bookend to the youthful escapism of Marble Season.