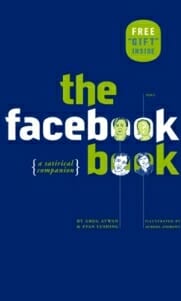 A satirical smile-along on the popular social networking site

Is writing about Facebook a bit like dancing about architecture?
Perhaps so. But as Forbes has now named Facebook founder Mark Zuckerberg the youngest self-made billionaire in history (a testament to Facebook's more than 80 million active users), it seems that Facebook is finally ready for our literary attention.
Harvard alums Greg Atwan and Evan Lushing have compiled a satirical, clever, and very funny book about one of the Internet's most popular social-networking sites. Chock full of informative charts, fill-in-the-blanks, graphs, sketches and cartoons, this book will allow you to take your Facebook procrastinating to a whole new level.
Want to avoid a Facebook faux pas? Recognize the five personas you'll meet on Facebook? Or learn the ratio of metrosexuals to lipstick-lesbian users (3:2)? The Facebook Book is what you've been waiting for.
And of course, this book will help you negotiate Facebook's most crucial question: to friend or not to friend?