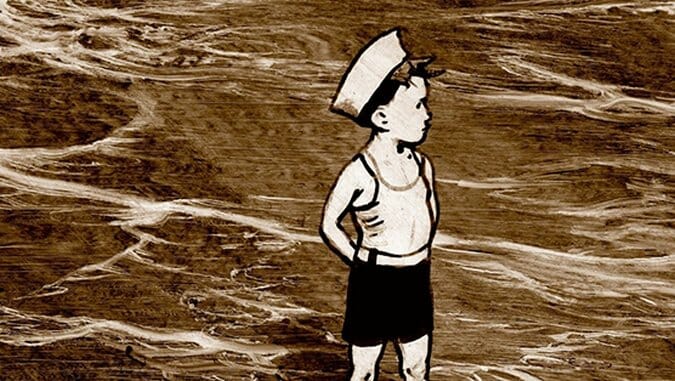 Writer: Emmanuel Guibert with Alan Cope
Translator: Kathryn M. Pulver
Artist: Emmanuel Guibert
Publisher: First Second
Release Date: July 15, 2014
Much like its 2008 predecessor Alan's War, How the World Was: A California Childhood focuses on the years preceding World War II, specifically those of veteran Alan Cope as interpreted by French cartoonist Emmanuel Guibert. Cope died in 1999, even before Alan's War was published, but his voice comes through despite the obstacles of translation (this book was published in 2010 in French as L'Enfance d'Alan). Guibert and Cope met by coincidence in France — where the latter had retired — and formed a deep friendship that led to the initial book. Yet How the World Was stands on its own as a story, not just as the leftovers from the first project.

Guibert's visual style is malleable yet recognizable, distinguished from project to project — partially by coloring technique and partially by level of detail. He renders How the World Was in black-and-white washes similar to the ones used in his collaboration with cartoonist Joann Sfar on The Professor's Daughter, but his linework is far more distinct here, producing effects akin to old photography than to painting. The aesthetic appropriately mirrors the theme of memory. For example, the beginning of the book, which discusses the Camino Real, plays with saturation. The pages begin with less color, showing the highway in its infancy, before Guibert increase the amount of color and detail as it develops over time. This serves as a device to illustrate just how much the state has changed in the ensuing years, largely due to the same war that changed Cope's life. The approach is then completely abandoned as the book segues to black-and-white to focus on Cole's narrative, never to return to the present. Cropped close-ups, strategic blurs, a mix of faces and occasional scenes of great detail (a Chinese shop, a table laden with a bountiful breakfast) all work to establish the feel of a memoir.
Although the narrative skips around without a strong thematic thrust to carry the story, the visuals tie the elements together solidly enough. Guibert moves from the colored introduction to simple drawings set against a stark white background, and gradually transitions to more complex, deeply-shaded panels. One can make a case, too, that Guibert's choice of ending is appropriate for a bildungsroman, marking a turning point, a moment of maturation and growth in Cope's young life. It's a triumph of editing as well as a testament to the artistic effort involved in this gentle portrait of a vanished world.