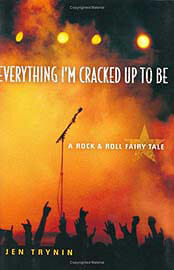 Coulda-shoulda-woulda-been writes about what mighta-been
Nothing good seems to come from a major-label bidding war. Jen Trynin was subject to one in 1994 after she changed her image from singer/songwriter to rock chick and gave her career one last shot.
Her book, Everything I'm Cracked Up To Be, tracks the time she breaks out as the "next big thing," following seven wilderness years playing to disinterested coffeehouse audiences. Record labels, managers and lawyers come calling in droves, promise huge sums of money, and then quickly fade when the hype refuses to translate into sales.
Trynin writes in a cool, unaffected style and, to her credit, she doesn't shy from revealing herself as a needy, insecure woman craving all the attention while at the same time recognizing its hollow ring.
This story adds to the trend of young, privileged women who cannibalize their work-related misfortunes and turn them into book deals (see The Nanny Diaries and The Devil Wears Prada). For anyone with insider knowledge of the music industry, there's fun to be had trying to decipher the hidden identities of some major players. Still, at more than 300 pages, Everything I'm Cracked Up To Be is a long, slight read.