Pulitzer Prize-Winning Novelist Philip Roth Dead at 85
Photos by Mark Wilson/Getty, Frederick M. Brown/Getty
Books
News
Philip Roth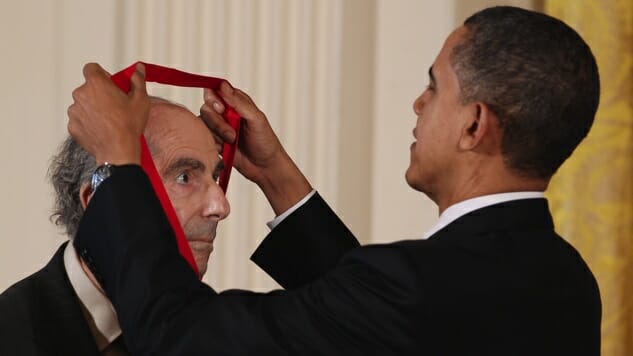 Philip Roth, the Pulitzer Prize-winning novelist who wrote often about Jewish life, the male existence and American identity, died on Tuesday at a hospital in New York, as reported by the New York Times. The author was 85.
Roth wrote more than 20 books in his decades-long career, among his most famous being American Pastoral—for which he won the Pulitzer Prize for fiction—Everyman and Portnoy's Complaint. He was one of the most prolific writers of the 20th century, and he won various other awards, as well: two National Book Awards, two National Book Critics Circle awards and three PEN/Faulkner Awards, in addition to the Pulitzer.
After the release of his most recent book, 2010's Nemesis, Roth announced in 2012 that he was retiring from fiction. He then told a French magazine that he came to the decision after re-reading all his books.
"I wanted to see if I had wasted my time writing," Roth said. "And I thought it was more or less a success. At the end of his life, the boxer Joe Louis said, 'I did the best I could with what I had.' It's exactly what I would say of my work: I did the best I could with what I had."
In striving for his "best," Roth always edged perfection. Throughout his career, the author's dedication to his craft never waned.
"He was such a driven perfectionist, so when he felt his power ebbing, he wanted to quit at the top of his game, and he did," said Judith Thurman, a fellow writer and close friend of Roth's, in a statement to CNN.
Roth often relayed nuggets of wisdom to readers within his many works, and we collected his his 10 most iconic quotes into a list. His American Pastoral also made our list of the 30 best Pulitzer Prize-winning novels and short story collections last year.