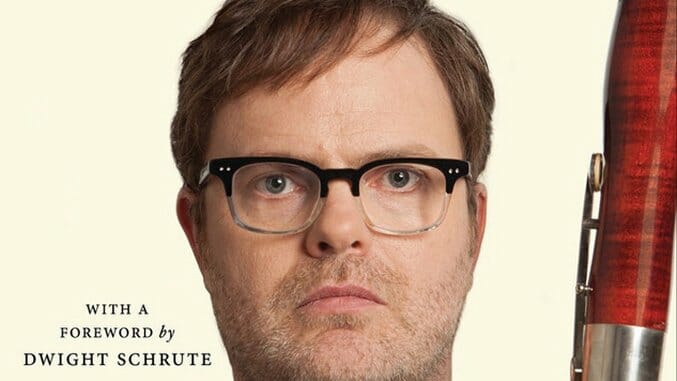 Remember when being a nerd was pitiable? If so, open this book. Readers don't have to be devoted fans of NBC's The Office, nor do they need to know about Rainn Wilson's rise to fame as the show's eccentric character named Dwight Schrute. There are more substantial reasons for you to open up The Bassoon King, including remembering what it felt like to be a weirdo.
Wilson defies the typical tropes of celebrity memoir. At points, Bassoon King's episodes read with the comparably startling, surreal and yet downright endearing outrageousness of an Augusten Burroughs or even David Sedaris essay. As we follow Wilson from diapers to Dunder Mifflin, we discover an investigation of the experience of transitions—from the personal to the cultural, and everything between.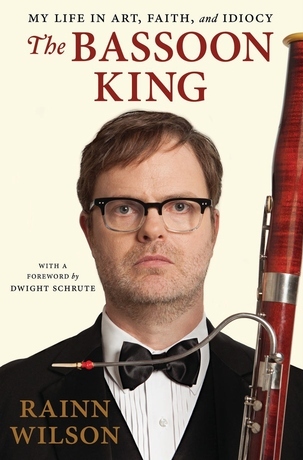 "I was bone-numbingly nerdy before there was even a modicum of cool attached to that now overappropriated, worn-out word," Wilson writes of his assuredly cringe-worthy coming-of-age. Imagine a 15-year-old Dwight Schrute being jostled, shoved, verbally berated, mocked and ostracized through the halls of his Seattle high school. This was around 1980-81, before John Hughes movies, before Revenge of the Nerds, back when being a nerd meant being subhuman. I only dwell on this point because Wilson himself is effortlessly charming and poignantly funny in his own appraisal of his past-self, working against withered appreciation for the plight of forgotten primordial nerds.
Indeed, Wilson veers away from temptations to edit the exploits of his past in order to edify his celebrity coolness and instead bares every awkward detail. We delve into Wilson's time in the chess club and his impassioned Dungeons & Dragons marathons, from memorizing every Monty Python sketch to scaling his father's mountainous library of classic '50s sci-fi novels.
The marvelous thing about Bassoon King is Wilson's narrative voice, the way he writes about the years leading up to when he "found himself." Wilson's self-indicting, self-depreciating, self-celebrating words are compelling enough to pull the reader onward, perhaps because we know what's in store for Wilson (three Emmy nominations and all). So, like Lucas or Rudy or Napoleon Dynamite, we know there are fireworks of redemption waiting at the end of this uncertain journey.
Most of us don't know that much about Rainn Wilson yet, so the book delivers many unexpected, wonderful, woeful and entertainingly quirky turns to this tale. He elaborates on what it was like growing up in the Baha'i faith (while also explaining the not-so-obscure religion to those who have never encountered it), his stretch as an adolescent in Central America and the time in high school when he's dissuaded from playing saxophone (undeniably the coolest instrument in band) and instead handed a bassoon. Oh, his hilarious roasting of that instrument's eccentricities…
These moments together make Bassoon King feel like an imaginative novel more than a memoir. Readers are not taken to Hollywood to rub elbows with Martin Scorcese; we are instead paging through the rather long list of odd jobs the struggling actor endured through his 20s and early-30s to support a family: insurance salesman, dog walker and cookie chef, among many others. Wilson does eventually make it to Los Angeles, about two-thirds of the way through the book, and you can see how he nearly gets the role of Gob on Arrested Development and experiences some existential revelations revolving around the art of clowning. One of the 10 things Wilson says he "knows for sure" is that he wants "to see real characters in comedy, dealing with the essential things we all struggle with, but on a grander more absurd scale." That's clowning.
Indeed, let us underline that this is not the "how-I-became-famous" memoir that most celebrities write (often with a professional co-author or ghostwriter), but instead, this is Wilson's unglamorous, geeky story about what it is like to become famous. No, more than that, Wilson's memoir details what it's like for a regular human, a relatable human, a nerd to become famous after climbing the proverbial ladder of professional acting (whilst keeping your humanity and your grounded perspective intact).
We're not presuming that you'd only pick this book up because you loved Wilson on The Office. There are plenty of tidbits about his smaller roles (remember him in UPN's Charmed?) and that time when he bombed on Broadway, only to have it turn into one of the best experiences of his life. But if that's not enough to get you to open his book, how else are you going to discover Wilson's personal list of all-time best comedic sidekicks?