Exclusive Title + Cover Reveal: Vampires Roam New Orleans in the Sequel to Renée Ahdieh's The Beautiful
Photo by Meg Cowell / Trevillion
Books
Features
renee ahdieh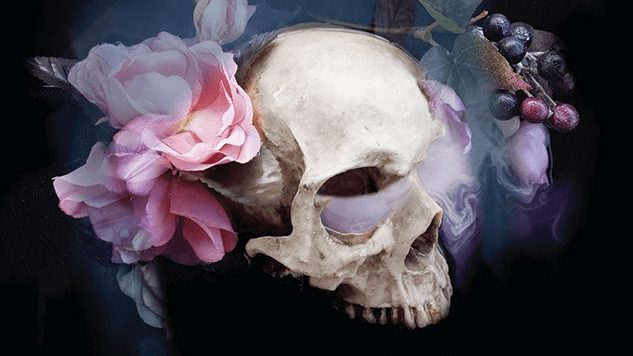 Vampires roam New Orleans after the Civil War in Renée Ahdieh's The Beautiful series, which kicks off as a serial killer haunts the city. It's an enthralling saga exploring race and feminism, resulting in a romantic must-read from the New York Times bestselling author of The Wrath and the Dawn duology.
The first book in the series, also titled The Beautiful, hits shelves on October 8th. And if you weren't already clamoring for its release, you will be after reading the book description:
In 1872, New Orleans is a city ruled by the dead. But to 17-year-old Celine Rousseau, New Orleans is a safe haven after she's forced to flee her life as a dressmaker in Paris. Taken in by the sisters of the Ursuline convent along with six other girls, Celine quickly becomes embroiled in the city's glamorous underworld known as La Cour des Lions after catching the eye of the group's enigmatic leader, Sébastien Saint Germain.
When the body of one of the girls from the convent is found in Sébastien's own lair—the second dead girl to turn up in recent weeks—Celine battles her attraction to Sébastien and suspicions about his guilt along with the shame of her own horrible secret.
After a third murder, New Orleans becomes gripped by the terror of a serial killer on the loose—one who has now set Celine in his sights. As the murderer stalks her, Celine finally takes matters into her own hands, only to find herself caught in the midst of an age-old feud between the darkest creatures of the night, where the price of forbidden love is her life.
In celebration of The Beautiful's release tomorrow, we're thrilled to exclusively reveal the title and cover of the sequel! Book two, The Damned, releases on June 9th, 2020, and it's available for pre-order here.
Before we reveal The Damned's cover and description, we're excited to share a note from Ahdieh about the series. She explains why this is her most personal work yet and how she sees herself in Celine:
"Whenever I go to a party of any sort of event with a bunch of people, I inevitably get asked what I do for a living. After I establish that I don't know J.K. Rowling and I don't want to write a book and profit share it with someone I just met, I get my favorite question: how much of my life do I put in my books?
"I like this question because it gives me the chance to get to know the person I've just met. We get to talk about our pasts and the things we love. The experiences that have shaped us through the years.
"In the past, my usual reply to this question has been to say that I put facets of my life into my stories and my characters. On occasion, I find inspiration in those around me, but I don't base a character entirely on anyone. And I have certainly never based a character on myself. I'd much rather focus on delicious details like food and traveling and music than delve too far into what makes me tick.
"In my heart, I'm an intensely private person. I hold many of my truths close to my chest, and I protect my relationships and the time I have with those most dear to me with a strange kind of fierceness. As if every picture I post of them or every moment I steal from us in an attempt to document our lives takes away something I can never get back.
"There are several cultures in the world that believe every picture we take steals a bit of our souls. I don't know that I subscribe to that way of thought, but the notion definitely gives me pause. It's made social media a challenge for me. I'm always happy to post about what I'm eating or where I'm going or what cute shoes I just bought, but I cringe at the thought of having to be raw and real on a platform popularized by filters meant to color our realities in brighter, more vivid tones.
"The performative aspect of it always gets to me. And I use these reasons to justify hiding my harshest truths behind closed doors or in the hearts of the people I most love and trust.
"But this changed when I started writing my latest book series.
"I began drafting the first book, The Beautiful, during the Kavanaugh hearings. Like so many women around me, this seething undercurrent of rage simmered in my body. At first I resented it. I wanted The Beautiful to provide a wonderful escape from everything that was going on in the world around us. I wanted to write my vampire murder mystery set in 1870s New Orleans, and luxuriate in the world, the food and the magic. To lose myself in the story.
"But something about the reality of the situation wouldn't let me. I found myself crafting a main character of mixed race, like me. I saw myself writing an uncertain heroine, who didn't always have the answers. Who wished she could be thinner. Funnier. Who believed something might be wrong with her. I wrote about a girl trying to deny her past and shape her present with pretty lies.
"By the end of the book, I realized I had written me. Not the me on the surface, but the me I let only a few people see.
"Celine Rousseau, the main character of The Beautiful, is a girl hovering between two worlds. She has been taught to hide the truth of her mixed race, lest it inhibit her ability to move about in a white world.
"There were so many times in my childhood when I wished I weren't half of one thing and not enough of another. I didn't want people to ask me where I was from or what that strange-smelling food was in my lunchbox. I wanted blonde hair and blue eyes and a mother who took me with her to get our nails painted instead of one who drilled me in violin lessons and SAT prep.
"I wanted to live in an Instagram filter, even before Instagram was a thing.
"But not anymore.
"I crave my mother's strange-smelling food now. It is only strange if you've never been fortunate enough to try it. The SAT prep and the violin lessons made me fall in love with books and music. I am who I am because I grew up in that space between worlds, whether I liked it or not. Through an eating disorder, I learned to be thankful for every bite of food I take. For the body it nourishes, and the strength it gives me. Through the unwanted advances of men who refused to take no for an answer, I learned not to let shame silence me. To demand better.
"I refuse to let these difficulties define who I am, though they have undoubtedly shaped me. My truths may be tinged in darkness, but they are still beautiful because they are me.
"And I will not hide them anymore."
On that powerful note, here is The Damned's stunning cover designed by Theresa Evangelista and photographed by Meg Cowell / Trevillion:
We also have the description for The Damned, but it includes some spoilers for The Beautiful. So you'll want to skip the next three paragraphs if you want to avoid them.
Beginning of spoilers.
Sébastien Saint Germain is now cursed and forever changed. The treaty between the Fallen and the Brotherhood has been broken, and war between the immortals seems imminent. The price of loving Celine was costly.
But Celine has also paid a high price for loving Bastien. Still recovering from injuries sustained during a night she can't quite remember, her dreams are troubled. And she doesn't know she has inadvertently set into motion a chain of events that could lead to her demise and unveil a truth about herself she's not quite ready to learn.
Forces hiding in the shadows have been patiently waiting for this moment for centuries. And just as Bastien and Celine begin to uncover the danger around them, they learn their love could tear them apart.
End of spoilers.
The Beautiful is available for pre-order from Putnam Books for Young Readers here. The Damned is available for pre-order here.