We're in the longer, lazier days of summer now, and while one could make the case that every season is a book-reading season, there's just something extra satisfying about packing a paperback (or hardback, or e-reader, or whichever format fits your fancy) into a tote bag right alongside your sunscreen and ice-cold beverage of choice. Whether you're planning on burrowing in at the beach or parking it poolside during these hotter months, chances are you're going to need a hot romance read to settle in with too. That's where the below list comes in. 
Over the next few months, there's a LOT of romance to look forward to —so much, in fact, that we couldn't possibly mention it all! No matter if you prefer your HEAs with magic, real-world drama, vampires with bite, or sexy scandals, hopefully, you'll find a book on this list that speaks to your particular sensibilities, or at least discover a few new titles to add to your leaning tower of a TBR. (We're not in any place to judge, regardless.)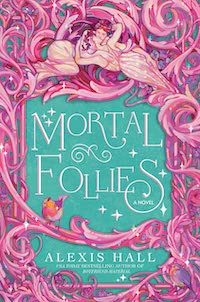 Mortal Follies by Alexis Hall
Release Date: June 6 from Del Rey
Why We're Excited: Alexis Hall is an author who has dabbled in quite a few romance subgenres throughout his career, from the swoony contemporary Boyfriend Material to the breathtaking historical A Lady for a Duke—so hearing about his latest, which puts a magical, sapphic spin on the realm of Regency-era England, is a conceit that we simply cannot resist. Excellent worldbuilding with a generous sprinkling of humor throughout? Sign us up most ardently.
Publisher's Description: A young noblewoman must pair up with a rumoured witch to ward off a curse.
It is the year 1814 and life for a young lady of good breeding has many difficulties. There are balls to attend, fashions to follow, marriages to consider and, of course, the tiny complication of existing in a world swarming with fairy spirits, interfering deities, and actual straight-up sorcerers.
Miss Maelys Mitchelmore finds her entry into high society hindered by an irritating curse. It begins innocuously enough with her dress slowly unmaking itself over the course of an evening at a high-profile ball, a scandal she narrowly manages to escape.
However, as the curse progresses to more fatal proportions, Miss Mitchelmore must seek out aid, even if it means mixing with undesirable company. And there are few less desirable than Lady Georgianna Landrake—a brooding, alluring young woman sardonically nicknamed "the Duke of Annadale"—who may or may not have murdered her own father and brothers to inherit their fortune. If one is to believe the gossip, she might be some kind of malign enchantress. Then again, a malign enchantress might be exactly what Miss Mitchelmore needs.
With the Duke's help, Miss Mitchelmore delves into a world of angry gods and vindictive magic, keen to unmask the perpetrator of these otherworldly attacks. But Miss Mitchelmore's reputation is not the only thing at risk in spending time with her new ally. For the rumoured witch has her own secrets that may prove dangerous to Miss Mitchelmore's heart—not to mention her life.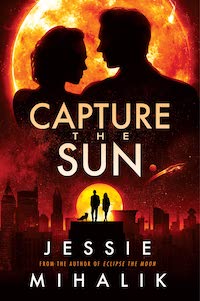 Capture the Sun by Jessie Milhalik
Release Date: June 20 from Harper Voyager
Why We're Excited: In the modern sphere of sci-fi romance, there may not be any author out there who's doing it quite like Jessie Milhalik—and not only is it all but guaranteed that we're in store for an action-packed, epic space opera, but the conclusion of her Starlight's Shadow trilogy wraps up some of the biggest mysteries in the series. The fact that it's already being heralded as the spiciest installment yet is simply icing on top of the cake.
Publisher's Description: Acclaimed author Jessie Mihalik returns with the thrilling conclusion to her Starlight's Shadow trilogy. An intergalactic thief must join forces with the charming teleporter who stole her last job–and may now be her only hope for saving her former crew.
As a recovery specialist, Lexi Bowen's jobs typically require more trickery and thievery than honest work. Her former captain might not approve of her flexible morals, but stealing artifacts for rich assholes pays the bills, and Lexi's had enough of war and death. The FHP left her to die once; she doesn't plan to give them a chance to finish the job.
Unfortunately, her latest contract takes her to Valovia itself–and right back into the orbit of Nilo Shoren, a Valovian teleporter who already cost her one payday and nearly stole her heart.
Armored against his clever charm, Lexi plans to get in, get the job done, and get out. But when her former crew goes missing in Valovian space, Lexi will have to work with Nilo to figure out what happened–and stop it–before the galaxy's two superpowers can use the disappearance as an excuse to return to war.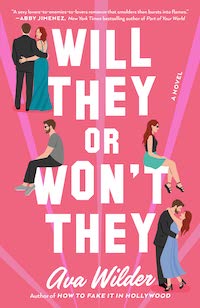 Will They or Won't They by Ava Wilder
Release Date: June 27 from Dell
Why We're Excited: Ava Wilder is a rising name in romance who delivers a very particular kind of addictive, tropey catnip unto us with her star-studded love stories. How to Fake It in Hollywood was a steamy, angsty delight, and the sheer description for her latest contemporary romance has the bonafide definition of enemies-to-lovers written all over it. If you find yourself constantly scouring the internet for more celebrity gossip about your favorite actors, you'll want to pick this one up too.
Publisher's Description: Lilah Hunter and Shane McCarthy are madly in love— at least, their characters are. As the stars of the hit paranormal TV show Intangible, they spent years pining for each other on-screen… until Lilah ditched the show at the end of season five in hopes of becoming a film star. With no such luck, she's back to film the much-hyped ninth and final season, in which their characters will get together at last.
But coming back means facing one of the biggest reasons she left: Shane. Ever since their secret behind-the-scenes fling imploded at the end of the first season, the two of them have despised each other.
Now back on set together for the first time in years, with the world's eyes on them and their post-show careers on the line, they'll have to grit their teeth and play nice. But under pressure to give Intangible's fans the happy ending they've been waiting for, Lilah and Shane are forced to get closer than ever. And if they're not careful, they just might get blindsided by one final twist: a real-life happy ending of their own.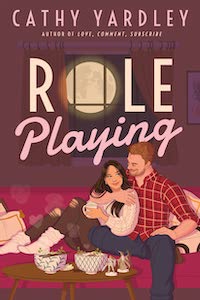 Role Playing by Cathy Yardley
Release Date: July 1 from Montlake
Why We're Excited: There's SO much to love about the premise of Cathy Yardley's latest romance, which not only centers on a couple of a more mature age (more of these in the genre, please!) but also two introverts who tap into their truest selves when they're online. Who among us can't relate, honestly? The even more thrilling aspect of this setup is the inevitability that these two will have to meet in person — and see whether their chemistry carries over to IRL, too.
Publisher's Description: Maggie is an unapologetically grumpy forty-eight-year-old hermit. But when her college-aged son makes her a deal—he'll be more social if she does the same—she can't refuse. She joins a new online gaming guild led by a friendly healer named Otter. So that nobody gets the wrong idea, she calls herself Bogwitch. 
Otter is Aiden, a fifty-year-old optimist using the guild as an emotional outlet from his family drama caring for his aging mother while his brother plays house with Aiden's ex-fiancée. Bogwitch and Otter become fast virtual friends, but there's a catch. Bogwitch thinks Otter is a college student. Otter assumes Bogwitch is an octogenarian. 
When they finally meet face to face—after a rocky, shocking start—the unlikely pair of sunshine and stormy personalities grow tentatively closer. But Maggie's previous relationships have left her bitter, and Aiden's got a complicated past of his own. Everything's easier online. Can they make it work in real life?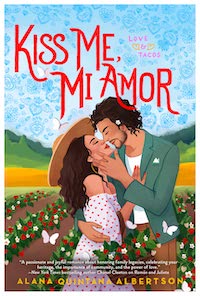 Kiss Me, Mi Amor by Alana Quintana Albertson
Release Date: July 4 from Berkley
Why We're Excited: Alana Quintana Albertson returns to her perfectly-named Love & Tacos series with the latest installment, which features two all-time excellent tropes wrapped up in an irresistible package: a fake relationship between two enemies. There's nothing better than play-acted situations that force two people, who are convinced they loathe each other, to admit that said loathing might be a cover for deeper feelings. Try not to swoon as you watch Enrique and Carolina fall for each other in real-time; I dare you.
Publisher's Description: It turns out that a fake relationship is the perfect recipe for a love that sizzles hotter than Santa Barbara's spiciest salsa–when it's between enemies….
Enrique Montez, smooth-talking heir to the Taco King empire, is man enough to admit that he made a critical error when he underestimated Carolina Flores. The agricultural hotshot should have been an easy conquest–who would turn down the chance to partner with California's largest fast-food chain? But instead of signing her name on the dotted line, Carolina has Enrique eating out of the palm of her hand, and when fate steps in with an unexpected opportunity, Enrique is willing to do whatever it takes to capture her heart.
Growing up as the daughter of farmworkers, Carolina spent her youth picking strawberries in the fields of Santa Maria and vowing to improve the lives of people like her parents. Now, as one of only a few Latina farm owners, she has no time for romance and she's certainly not about to let the notorious Montez brother anywhere near her business–even if just being near Enrique makes her skin tingle.
But she is willing to let him help get her overinvolved family off her back. When Carolina's father and her lovelorn sisters mistake Enrique for her (nonexistent) boyfriend, she reluctantly agrees to a series of pretend dates to their town's traditional Mexican-American holiday celebrations. Soon the fake feelings turn real and both Carolina and Enrique must convince each other to take a chance on love before their vacation romance is over.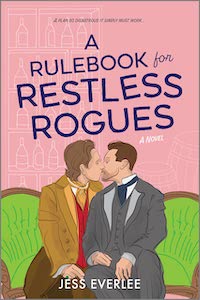 A Rulebook for Restless Rogues by Jess Everlee
Release Date: July 11 from Carina Adores
Why We're Excited: This long-awaited sequel to Jess Everlee's gem of a debut historical romance, The Gentleman's Book of Vices, revolves around another fantastic trope, in which two people who have been best friends as long as they can remember have the crashing realization that they no longer want to be just friends. Usually, this revelation happens unevenly, which makes it a delight to follow as a reader—what do you do when you discover you might be in love with your closest person, and what if they might not love you back? Whatever the answer, we know that Everlee will sweep us off our feet too.
Publisher's Description: David Forester and Noah Clarke have been best friends since boarding school. All grown up now, clever, eccentric Noah is Savile Row's most promising young tailor, while former socialite David runs an underground queer club, The Curious Fox.
Nothing makes David happier than to keep the incense lit, the pianist playing and all his people comfortable, happy and safe until they stumble out into the dawn. But when the unscrupulous baron who owns the Fox moves to close it, David's world comes crashing down.
Noah's never feared a little high-stakes gambling, but as he risks his own career in hopes of helping David, he realizes two things:
One: David has not been honest about how he ended up at The Curious Fox in the first place.
Two: Noah's feelings for David have become far more than friendly.
What future lies beyond those first furtive kisses? Noah and David can hardly wait to find out… if they can untangle David from his web of deception without losing everything Noah has worked for.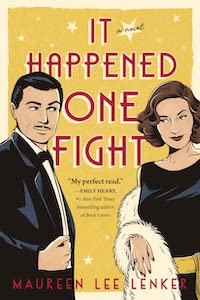 It Happened One Fight by Maureen Lee Lenker
Release Date: July 11 from Sourcebooks Casablanca
Why We're Excited: The realm of old Hollywood is filled with untapped potential in the romance genre, and beyond that, we've all heard the story of how Keanu Reeves and Winona Ryder may have actually gotten married for real on the set of Francis Ford Coppola's Dracula movie way back in the day. Lenker takes that "what if?" and runs with it in her debut rom-com, only it happens for two longtime co-stars who barely want anything to do with each other. What are these actors to do while they wait for their divorce to be finalized? Fall in love with each other on and off-screen, obviously.
Publisher's Description: Joan Davis is a movie star, and a damned good actor, too. Unfortunately, Hollywood only seems to care when she stars alongside Dash Howard, Tinseltown's favorite leading man and a perpetual thorn in Joan's side. She's sick of his hotshot attitude, his never-ending attempts to get a rise out of her―especially after the night he sold her out to the press on a studio-arranged date. She'll turn her career around without him. She's engaged to Hollywood's next rising star, after all, and preparing to make the film that could finally get her taken seriously. Then, a bombshell drops: thanks to one of his on-set pranks gone wrong, Dash and Joan are legally married.
Reputation on the line, Joan agrees to star alongside Dash one last time and move production to Reno, where divorce is legal after a six-week residency. But between on-set shenanigans, fishing competitions at Lake Tahoe, and intimate moments leaked to the press, Joan begins to see another side to the man she thought she had all figured out, and it becomes harder and harder to convince the public―and herself―that her marriage to Dash is the joke it started out as.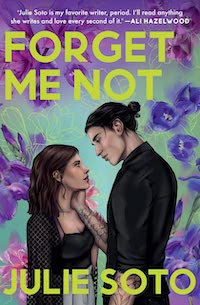 Forget Me Not by Julie Soto
Release Date: July 11 from Forever
Why We're Excited: Aside from that absolute stunner of a cover, one of the reasons we can't wait to crack into Julie Soto's romance debut is that it feels inextricably woven out of her background as a fanfic author. If you have also spent many a late night scrolling through AO3, you no doubt recognize the hallmarks that make up our favorite fics, and the way Soto wields both POV and alternating timelines to tell a timeless love story promises to make this book one of the best of the year.
Publisher's Description: He loves me; he loves me not… 
Ama Torres loves being a wedding planner. But with a mother who has been married more times than you can count on your fingers, Ama has decided that marriage is not the route for her. But weddings? Weddings are amazing. As a small business owner, she knows how to match her clients with the perfect vendor to give them the wedding of their dreams. Well, almost perfect…
Elliot hates being a florist, most of the time. When his father left him the flower shop, he considered it a burden, but he's stuck with it. Just like how he's stuck with the way he proposed to Ama, his main collaborator and girlfriend (or was she?) two years ago. But flowers have grown on him, just like Ama did. And flowers can't run off and never speak to him again, like Ama did. 
When Ama is hired to plan a celebrity wedding that will bring her business national exposure, there's a catch: Elliot is already contracted to design the flowers. Things are not helped by the two brides, who see the obvious chemistry between Ama and Elliot and are determined to set them up, not knowing their complicated history. Add in a meddling ex-boss, and a reality TV film crew documenting every step of the wedding prep, and Ama and Elliot's hearts are not only in jeopardy again, but this time, their livelihoods are too.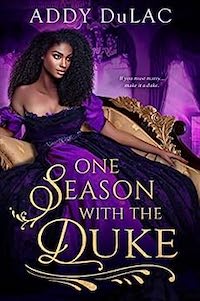 One Season With the Duke by Addy DuLac
Release Date: July 17 from Entangled
Why We're Excited: Anything that pushes the historical romance genre even further from its less diverse origins is exciting enough, but a book that takes a trope most often found within Regencies—marriage of convenience—and adds a richer layer simply because of its leading lady's background is one we can't wait to crack open. (Early reviews note that this is also a story where the duke falls head over heels first, and who doesn't love a romance that brings the hero to his knees?)
Publisher's Description: Heiress Henrietta Monfort would never do anything to hurt her beloved aunt and uncle. But thanks to her cousin—who's discovered a secret about her parentage that even she didn't know—she is moments away from ruin…unless she marries him. Hettie has no choice. She must accept the villainous snake's hand in marriage. So be it. But no man will ever own her heart, body, or soul.
Lord Findley has always had a soft spot for Hettie. Discovering that she's being blackmailed into marriage is nothing short of appallingly outrageous. How could he allow someone unworthy to marry the gentle-hearted and bright-eyed Hettie—let alone a blaggard of the lowest order? To hell with it. He'll marry her himself…even if it is the scandal of the season.
Now they're racing for Scotland, praying they can outrun the jilted crook who seeks Hettie's hand and her fortune. But ahead of them lies their greatest obstacle yet…and one unexpected—and damnably inconvenient—attraction that will turn both their worlds upside down.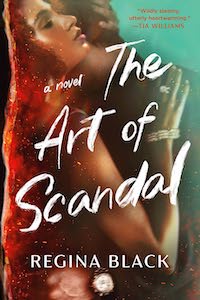 The Art of Scandal by Regina Black
Release Date: August 1 from Grand Central
Why We're Excited: If you used to tune in every weeknight without fail for new episodes of Scandal or The Good Wife, you might be interested in another romance debut on this list, which hails from former litigator Regina Black. Not content to find herself yet another politician's wife unfairly wronged by a sex scandal, Rachel Abbott is a heroine who takes matters into her own hands, stepping out from the shadow of her marriage and into a daring love story of her very own.
Publisher's Description:  On the night of her husband Matt's fortieth birthday, Rachel Abbott receives a sexy, explicit text from her husband that she quickly realizes was meant for another woman. Divorce is inevitable, and Rachel is determined not to leave her thirteen-year marriage empty handed. Meanwhile, Matt, a rising star mayor with his eye on the White House, can't afford a messy split in the middle of his reelection campaign. They strike a deal: Rachel gets one million dollars and their lavish house in the wealthy DC suburb of Oasis Springs, as long as she keeps playing the ideal Black trophy wife until the election.
Then Rachel meets Nathan Vasquez, a very handsome, very lost twenty-six-year-old artist, and their connection makes Rachel forget about being the perfect politician's wife. As Rachel reawakens Nathan's long-dormant artistic aspirations, their attraction becomes impossible to resist. But secrets are hard to keep in a town like Oasis Springs, and Nathan has a few of his own. With the risk of scandal looming and their hearts on the line, they'll have to decide whether the possibility of losing everything is worth taking a chance on love.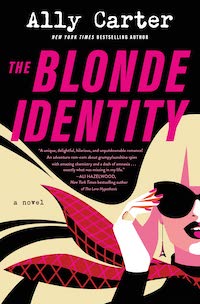 The Blonde Identity by Ally Carter
Release Date: August 8 from Avon
Why We're Excited: Just hearing that Ally Carter had written an adult romance debut would have been enough to pique interest, but finding out that her latest is a rom-com about an amnesiac who has to tag-team with a grumpy-hot spy in order to survive every threat imaginable? Count us in completely. We're going to be dropped into this wild world right alongside our confused protagonist, and the breakneck pace of the plot is one that will no doubt have us so absorbed that we might forget to reapply our sunscreen.
Publisher's Description: It's the middle of the night in the middle of Paris and a woman just woke up with no memory.
She only knows three things for certain:
She has a splitting headache.

The hottest guy she has (probably) ever seen is standing over her, telling her to run.
And oh yeah…
People keep trying to kill her.
She doesn't know who. Or why. But when she sees footage of herself fighting off a dozen men there's only one explanation: obviously. . . she's a spy!
Except, according to Mr. Hot Guy, she's not. She's a spy's identical twin sister.
Too bad the only person who knows she's not the woman they're looking for is this very grouchy, very sexy, very secret agent who (reluctantly) agrees to help her disappear.
That's easier said than done when a criminal organization wants you dead and every intelligence service in the world wants you caught. Luckily, no one is looking for a pair of lovesick newlyweds on their honeymoon. And soon they're lying their way across Europe–dodging bullets and faking kisses as they race to unravel a deadly conspiracy and clear her sister's name.
But with every secret they uncover, the truth shifts, until she no longer knows who to trust: the twin she can't remember or the mysterious man she can't let herself forget…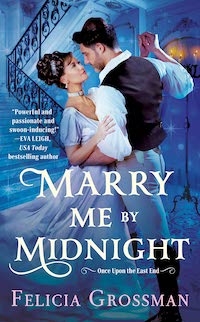 Marry Me by Midnight by Felicia Grossman
Release Date: August 8 from Forever
Why We're Excited: There are some romance stories that simply do not miss in their execution—and the Cinderella tale is timeless for a reason. But, for her newest series, Felicia Grossman isn't content to follow the same exact path tread by others; Marry Me by Midnight offers a swoony twist on a classic, with a lady lead who wants to seize control of her own happily-ever-after and an unsuspecting but kind-hearted man who adores every part of her. Are you fanning yourself yet?
Publisher's Description: Every love story begins with once upon a time.
London, 1832: Isabelle Lira may be in distress, but she's no damsel. Since her father's death, his former partners have sought to oust her from their joint equity business. Her only choice is to marry—and fast —to a powerful ally outside the respected Berab family's sphere of influence. Only finding the right spouse will require casting a wide net. So she'll host a series of festivals, to which every eligible Jewish man is invited.
 Once, Aaron Ellenberg longed to have a family of his own. But as the synagogue custodian, he is too poor for wishes and not foolish enough for dreams. Until the bold, beautiful Isabelle Lira presents him with an irresistible offer . . . if he ensures her favored suitors have no hidden loyalties to the Berabs, she will provide him with money for a new life.
Yet the transaction provides surprising temptation, as Aaron and Isabelle find caring and passion in the last person they each expected. Only a future for them is impossible—for heiresses don't marry orphans, and love only conquers in children's tales. But if Isabelle can find the courage to trust her heart, she'll discover anything is possible, if only she says yes.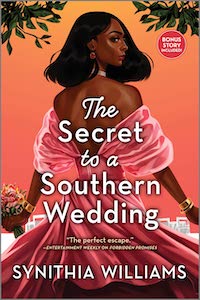 The Secret to a Southern Wedding by Synitia Williams
Release Date: August 15 from Canary Street Press
Why We're Excited: Synitia Williams' latest romance (in her Peachtree Cove series) may have drawn us in first with that gorgeous cover, but the plot within the pages is calling to us all on its own. The backdrop? A wedding, but the couple preparing to walk down the aisle isn't the center of the story. That honor belongs to their children, as the daughter of the bride and the son of the groom each have their own respective reasons for wanting the wedding to either be called off or move forward. Imani and Cyril's parents might be destined to say their "I do"s, but what does that mean for the two of them?
Publisher's Description: It's been years since Dr. Imani Kemp has returned home to Peachtree Cove, Georgia. As Tallahassee's most sought-after OB-GYN, she doesn't have much time for anything else. But when her mom announces she's marrying a man she just met on a dating app, Imani knows she has to put a stop to it immediately. Let her mom be hurt again after the disastrous way her last marriage ended? Absolutely not. Always her protector, Imani won't rest until her mom sees reason. She just never expected sparks to fly with the groom's son…     
After his mother's tragic death, Cyril Dash and his father relocated to Peachtree Cove to escape the gossip and speculation. Now, in this quirky small town, they've made a new life for themselves, and after years of grief, his dad has finally found happiness again. And Cyril refuses to let Imani threaten that. The more determined he is to prove the strength of his dad's love, the more drawn he is to this beautiful, complicated woman who's determined to call off the wedding.
But when Cyril's heartbreaking past comes to light, destiny won't be denied. Because the secret to this southern wedding is you never know how far you'll go in the name of love.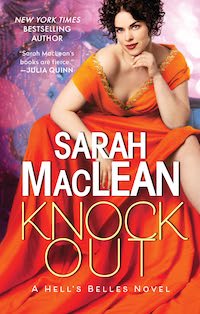 Knockout by Sarah MacLean
Release Date: August 22 by Avon
Why We're Excited: We've already decided that we want the girl gang known as the Hell's Belles to be our new best friends, so of course, we've been waiting with bated breath for the next installment of Sarah MacLean's newest historical romance series, which has chaos and love written all over it. Literally, though. Imogen is chaos incarnate, but it turns out there's a man uniquely qualified to love her in Detective Tommy Peck, and we cannot wait to read along as their love story unfolds.
Publisher's Description: With her headful of wild curls and wilder ideas and an unabashed love of experiments and explosives, society has labeled Lady Imogen Loveless peculiar…and doesn't know she's one of the Hell's Belles—a group of vigilantes operating outside the notice of most of London.
Thomas Peck is not most of London. The brilliant detective fought his way off the streets and into a promising career through sheer force of will and a keen ability to see things others miss, like the fact that Imogen isn't peculiar…she's pandemonium. If you ask him, she requires a keeper. When her powerful family discovers her late-night activities, they couldn't agree more…and they know just the man for the task.
Thomas wants nothing to do with guarding Imogen. He is a grown man with a proper job and no time for the lady's incendiary chaos, no matter how lushly it is packaged. But some assignments are too explosive to pass up, and the gruff detective is soon caught up in Imogen's world, full of her bold smiles and burning secrets…and a fiery passion that threatens to consume them both.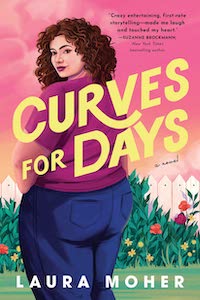 Curves for Days by Laura Moher
Release Date: August 22 from Sourcebooks Casablanca
Why We're Excited: In the vein of other authors we love like Olivia Dade and Lucy Score, we're so hyped about the first book in this new contemporary romance series from Laura Moher. Curves for Days tempted us initially with its very thoughtful inclusion of a beardy contractor, but it kept us there when we realized said beardy contractor was 100% down bad for his love interest. Add in a dash of grumpy/sunshine dynamic and a fresh twist on the small-town setting, and this is a romance you're going to want to pick up later this summer. 
Publisher's Description: How is Rose Barnes supposed to build the home (and life) of her dreams when her big, burly contractor keeps scowling at her
Rose Barnes has got curves for days—and to Angus Drummond, the big, bearded contractor working on her new house, she's the perfect thorn in his side. Little does she know Angus is perturbed on a daily basis by his attraction to this cheery, smart-ass woman with her sunshiny enthusiasm, her kindness, and her beautiful body.
Angus feels he has a debt to pay to the world and doesn't deserve love until he pays it. Best to keep his mind on his work and his hands to himself. But the more Rose sees of Angus's gruff, honorable thoughtfulness, and the more rusty laughter she surprises from him, the more she wants him too.
As their unlikely friendship becomes love, antagonism turns to partnership, and Rose's house becomes a home. But Rose is keeping a secret that could blow up everything with Angus, and sure enough, it comes to light at the worst possible time…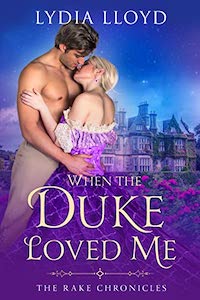 When the Duke Loved Me by Lydia Lloyd
Release Date: August 28 from Tule Publishing
Why We're Excited: Those of us who follow Lydia Lloyd on Instagram know that she is THE one to follow when it comes to historical romance content, so learning that she'd not only written her first histrom novel but that it was dropping this year was a blessing we didn't even know we needed. It's a trope-filled book crafted by someone who knows how to break down all of our favorites and wield them to delicious effect. The only downside (which really isn't even one) is that we might end up devouring this in one sitting.
Publisher's Description: When Catherine Forster asks a handsome stranger to lead her out of the ballroom and into the Tremberley gardens, she hopes to glimpse its renowned Roman ruins…and maybe steal a kiss. But when she and her delectable escort are discovered in a scandalous embrace, Catherine is horrified to learn that she has been kissing John Breminster, heir to the man who ruined her family.
Given that the Forsters are his sworn enemies, John had no choice but to walk away from Catherine that night. But he has never been able to forget their close encounter—and, even years later, still longs for her touch. Worse, when his father dies, John, now the Duke of Edington, finds himself with a problem that only Catherine can help him solve.
Catherine agrees to aid him in his quest…for a price. On their journey, they soon begin to give into temptation, even as they uncover troubling revelations about the past. Will John and Catherine overcome this shared history? Or will its secrets tear them apart forever?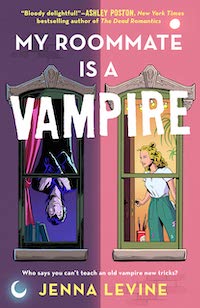 My Roommate Is a Vampire by Jenna Levine
Release Date: August 29 from Berkley
Why We're Excited: Delightful cover AND title aside, there's just something infinitely appealing about the concept of a romance between an absolute mess of a heroine and a stoic, Darcyesque hero — but what if said hero was an immortal being on top of it all? We can't entirely fault Cassie for ending up with a vampire as a roommate, especially when cheap rent is a major deciding factor these days. If Twilight was your gateway into the genre, then consider picking up this sweet, hilarious adult romance debut.
Publisher's Description:  Cassie Greenberg loves being an artist, but it's a tough way to make a living. On the brink of eviction, she's desperate when she finds a too-good-to-be-true apartment in a beautiful Chicago neighborhood. Cassie knows there has to be a catch—only someone with a secret to hide would rent out a room for that price.
Of course, her new roommate Frederick J. Fitzwilliam is far from normal. He sleeps all day, is out at night on business, and talks like he walked out of a regency romance novel. He also leaves Cassie heart-melting notes around the apartment, cares about her art, and asks about her day. And he doesn't look half bad shirtless, on the rare occasions they're both home and awake. But when Cassie finds bags of blood in the fridge that definitely weren't there earlier, Frederick has to come clean…
Cassie's sexy new roommate is a vampire. And he has a proposition for her.
---
Carly Lane is an Atlanta-based writer who considers herself a lifelong Star Wars fan, newbie Trekker, diehard romance reader, nascent horror lover, and occasional live-tweeter. She is the senior TV editor at Collider, a former contributing editor for SYFY FANGRRLS, and has also written for Vulture, the Boston Globe, Nerdist, Teen Vogue, Den of Geek, The Toast, and elsewhere around the Internet.