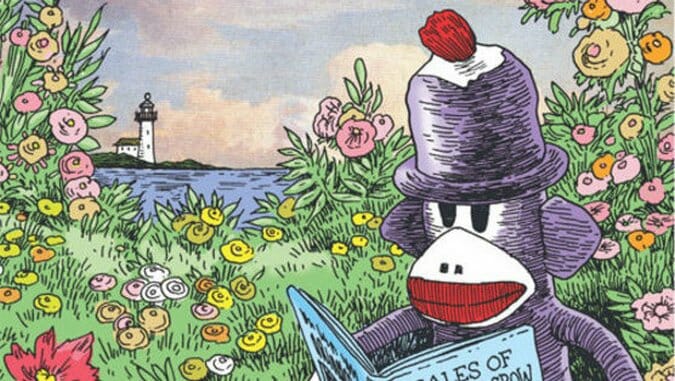 Writer/Artist: Tony Millionaire
Publisher: Fantagraphics
Release Date: March 5, 2014
Considering Dark Horse's frequent role as a republisher of what's appeared elsewhere (either online or in serial format by smaller or no longer extant firms), it's a little funny to see one of its more famous properties given the same loving treatment by another book imprint. At the same time, who better than Fantagraphics to produce this lavish collection of a comic that derives from a world of early-20th-century illustration? The Sock Monkey Treasury includes the 12 original black-and-white Sock Monkey comics as well as "The Inches Incident" (a full-length story, also black-and-white) and two full-color stories ("Uncle Gabby" and "The Glass Doorknob"), each of which is beautiful in its own way.
Although Millionaire's linework is less delicate than that of John Tenniel, most famous for illustrating Alice's Adventures in Wonderland in 1865, it possesses a similar mix of the fanciful and the everyday, always remaining weirdly well-grounded even when the characters sail a piano across the ocean or encounter a group of salamanders crashing an insect's tea party.
The tone is hard to pin down. In some ways, it calls to mind Michael Kupperman's embrace of straightforward silliness, down to the vaguely 19th-century page titles (e.g., "Unintended Consequences," "His Name is Ruin," "Debating the Brigand"), which often provide commentary on the narrative above. But the stories can equally be read as sincere and innocent all-ages entertainment. Perhaps it's the lack of moralizing that gives them contemporary flavor and makes them seem more of a re-envisioning than an homage to the work of cartoonists like Johnny Gruelle.
Millionaire's mix of complex pen-and-ink shading (most prominently displayed on the body of Uncle Gabby the sock monkey) and sparely-rendered background elements is part of what makes his work so appealing. This unique composition governs both realms of panel and full-page layout. It's never unclear where your eye should go, and there's always plenty to look at without feeling accosted by pattern and detail. The softness of Uncle Gabby and his friend Mr. Crow allows for jaunty postures and tempers the subtle melancholy that creeps in at times. One story that ends in self-mutilation almost becomes too dark as Gabby trudges through a wasteland, dragging a pair of scissors, but all is mendable; dolls are, after all, immortal.
Fantagraphics has provided no essays, notes, or context for these stories, just a beautiful presentation in a large, well-bound format with lovely endpapers. That may appear initially disappointing, but on the whole, it's the right approach. These stories are almost unanalyzable; like some of the best works of children's literature, they are better felt and experienced than pulled apart.