While there are a handful of haunting tales to be read this month, particularly Mindy McGinnis' excellent A Madness So Discreet, October is loaded with good books from all Young Adult genres.
We've got some epic sci-fi, dark fantasy and swoon-inducing contemporary reads. There's a little bit of something for everyone this month, from eagerly anticipated sequels to exciting debuts. Let's check them out, and maybe share some of the scarier ones as a Halloween treat.
What? I would have loved books instead of candy as a child. Especially some of these.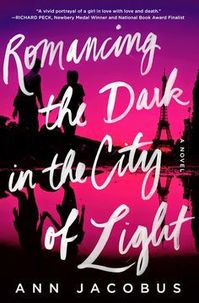 1. Romancing the Dark in the City of Light by Ann Jacobus
Release Date: October 6th from Thomas Dunne Books
Why You'll Love It: Let's give it up for love triangles, everyone! In Ann Jacobus' exciting debut novel, readers are whisked away to Paris along with a self-destructive protagonist who gets swept up in a romance between two boys. One wants her to embrace life. The other wants her to dive into her fatal flaws. The opposites push and pull, and the result is a thriller that's as exciting as it is beautifully written. And don't even get me started on that gorgeous cover; it's a must-have for the bookshelf.
Description: Summer Barnes just moved to Paris to repeat her senior year of high school. After being kicked out of four boarding schools, she has to get on track or she risks losing her hefty inheritance. Summer is convinced that meeting the right guy will solve everything. She meets two. Moony, a classmate, is recovering against all odds from a serious car accident, and he encourages Summer to embrace life despite how hard it can be to make it through even one day. But when Summer meets Kurt, a hot, mysterious older man who she just can't shake, he leads her through the creepy underbelly of the city—and way out of her depth. When Summer's behavior manages to alienate everyone, even Moony, she's forced to decide if a life so difficult is worth living.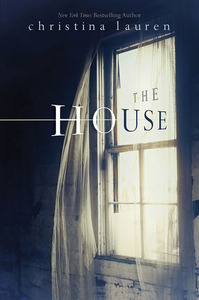 2. The House by Christina Lauren
Release Date: October 6th from Simon & Schuster
Why You'll Love It: You might recognize the name Christina Lauren, but probably not from YA titles. The duo of Christina Hobbs and Lauren Billings have been penning the bestselling Beautiful Bastard series for a while now, producing fun and naughty books that are a delight to read. They made their YA debut last year with Sublime, and are returning to YA again with The House. Utilizing an alternating POV, the book tells the story of an eerie home, and the result is a haunting and unnerving novel that still manages to carry a solid love story throughout. You'll guess as much as you swoon in this exciting book.
Description: Gavin tells Delilah he's hers—completely—but whatever lives inside that house with him disagrees. After seven years tucked away at an East coast boarding school, Delilah Blue returns to her small Kansas hometown to find that not much has changed. Her parents are still uptight and disinterested, her bedroom is exactly the way she left it, and the outcast Gavin Timothy still looks like he's crawled out of one of her dark, twisted drawings. Delilah is instantly smitten. Gavin has always lived in the strange house: an odd building isolated in a stand of trees where the town gives in to mild wilderness. The house is an irresistible lure for Delilah, but the tall fence surrounding it exists for good reason, and Gavin urges Delilah to be careful. Whatever lives with him there isn't human, and isn't afraid of hurting her to keep her away.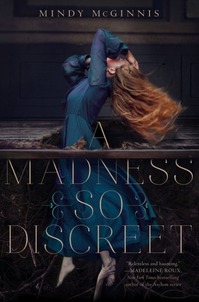 3. A Madness So Discreet by Mindy McGinnis
Release Date: October 6th from Katherine Tegan Books
Why You'll Love It: Mindy McGinnis is one of my favorite authors writing YA. When a copy of her latest arrived on my doorstep earlier this year, it wasn't long before I devoured the stunning historical thriller. A Madness So Discreet takes readers through a terrifying insane asylum and onto the trail of a serial killer. It's exciting and beautifully written, and is hands down my favorite book of the month.
Description: Grace Mae knows madness. She keeps it locked away, along with her voice, trapped deep inside a brilliant mind that cannot forget horrific family secrets. Those secrets, along with the bulge in her belly, land her in a Boston insane asylum. When her voice returns in a burst of violence, Grace is banished to the dark cellars, where her mind is discovered by a visiting doctor who dabbles in the new study of criminal psychology. With her keen eyes and sharp memory, Grace will make the perfect assistant at crime scenes. Escaping from Boston to the safety of an ethical Ohio asylum, Grace finds friendship and hope, hints of a life she should have had. But gruesome nights bring Grace and the doctor into the circle of a killer who stalks young women. Grace, continuing to operate under the cloak of madness, must hunt a murderer while she confronts the demons in her own past.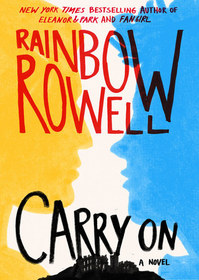 4. Carry On by Rainbow Rowell
Release Date: October 6th from St. Martin's Griffin
Why You'll Love It: Um, because it's a new book by Rainbow Rowell? Though if you need an extra nudge, Carry On follows the story of Simon and Baz from Fangirl. That's right, they're back, and now you get to experience their epic fantasy adventure.
Description: Simon Snow just wants to relax and savor his last year at the Watford School of Magicks, but no one will let him. His girlfriend broke up with him, his best friend is a pest, and his mentor keeps trying to hide him away in the mountains where maybe he'll be safe. Simon can't even enjoy the fact that his roommate and longtime nemesis is missing, because he can't stop worrying about the evil git. Plus there are ghosts. And vampires. And actual evil things trying to shut Simon down. When you're the most powerful magician the world has ever known, you never get to relax and savor anything.?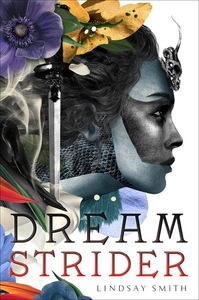 5. Dreamstrider by Lindsay Smith
Release Date: October 6th from Roaring Brook Press
Why You'll Love It: The release of Lindsay Smith's Sekret signaled the arrival of an author who I've followed for years. Smith knows how to write a thriller, and her stories of espionage are all kinds of gripping. And her latest, Dreamstrider, is another book of spies and political intrigue—only it takes place in dreams, not during the Cold War. It's a mashup of genres, bits of fantasy, sci-fi and thriller, all rolled into one fantastic book.
Description: Livia is a dreamstrider. She can inhabit a subject's body while they are sleeping and, for a short time, move around in their skin. She uses her talent to work as a spy for the Barstadt Empire. But her partner, Brandt, has lately become distant, and when Marez comes to join their team from a neighborhing kingdom, he offers Livia the option of a life she had never dared to imagine. Livia knows of no other dreamstriders who have survived the pull of Nightmare. So only she understands the stakes when a plot against the Empire emerges that threatens to consume both the dreaming world and the waking one with misery and rage.?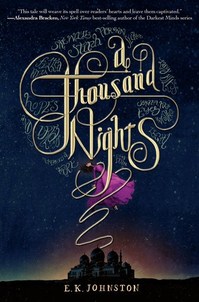 6. A Thousand Nights by E.K. Johnston
Release Date: October 6th from Disney Hyperion
Why You'll Love It: As you can probably guess by the title and the stunning cover, A Thousand Nights takes the One Thousand and One Nights story and mashes in powerful, epic magic. As our brave protagonist tells her story, we learn that her words give her power. If you were a fan of Renee Ahdieh's novel The Wrath and the Dawn, this is definitely a book for you.
Description: Lo-Melkhiin killed 300 girls before he came to her village, looking for a wife. When she sees the dust cloud on the horizon, she knows he has arrived. She knows he will want the loveliest girl: her sister. She vows she will not let her be next, and so she is taken in her sister's place.
Lo-Melkhiin's court is a dangerous palace filled with pretty things: intricate statues with wretched eyes, exquisite threads to weave the most beautiful garments. She sees everything as if for the last time. But the first sun rises and sets, and she is not dead. Night after night, Lo-Melkhiin comes to her and listens to the stories she tells, and day after day she is awoken by the sunrise. Exploring the palace, she begins to unlock years of fear that have tormented and silenced a kingdom. Lo-Melkhiin was not always a cruel ruler. Something went wrong.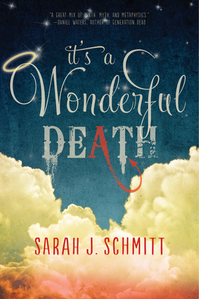 7. It's a Wonderful Death by Sarah J. Schmitt
Release Date: October 6th from Sky Pony Press
Why You'll Love It: There's a cute Grim Reaper in this book, and that's just part of what makes It's a Wonderful Death one of the year's quirkiest reads. The book takes readers on a hilarious and surprisingly heartfelt adventure through the afterlife. I'm sure you've never read anything quite like it.
Description: Seventeen-year-old RJ always gets what she wants. So when her soul is accidentally collected by a distracted Grim Reaper, somebody in the afterlife better figure out a way to send her back from the dead or heads will roll. But in her quest for mortality, she becomes a pawn in a power struggle between an overzealous archangel and Death Himself. The tribunal presents her with two options: she can remain in the lobby, where souls wait to be processed, until her original lifeline expires, or she can replay three moments in her life in an effort to make choices that will result in a future deemed worthy of being saved. It sounds like a no-brainer. She'll take a walk down memory lane. How hard can changing her future be? But with each changing moment, RJ's life begins to unravel, until this self-proclaimed queen bee is a social pariah. She begins to wonder if walking among the living is worth it if she has to spend the next 60 years as an outcast. Too quickly, RJ finds herself back in limbo, her time on Earth once again up for debate.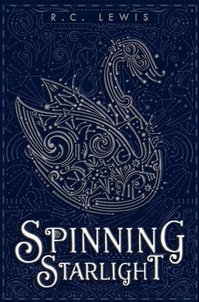 8. Spinning Starlight by R.C. Lewis
Release Date: October 6th from Disney Hyperion
Why You'll Love It: Listen, if it's a YA book and it's a retelling, I want to read it. Such is the case with R.C. Lewis' latest retelling, Spinning Starlight. Unlike her take on the Snow White story, Stitching Snow, she tackles a story that isn't told all that often: Hans Christian Andersen's The Wild Swans, which makes the book a niche—and no-less unique—retelling, at that!?
Description: Sixteen-year-old heiress Liddi Jantzen hates the spotlight. But as the only daughter in the most powerful tech family in the galaxy, it's hard to escape it. So when a group of men show up at her house uninvited, she assumes it's just the usual media-grubs. That is, until shots are fired.
Liddi escapes, only to be pulled into an interplanetary conspiracy more complex than she ever could have imagined. Her older brothers have been caught as well, trapped in the conduits between the planets. And when their captor implants a device in Liddi's vocal cords to monitor her speech, their lives are in her hands: One word and her brothers are dead. Desperate to save her family from a desolate future, Liddi travels to another world, where she meets the one person who might have the skills to help her bring her eight brothers home—a handsome dignitary named Tiav. But without her voice, Liddi must use every bit of her strength and wit to convince Tiav that her mission is true. With the tenuous balance of the planets deeply intertwined with her brothers' survival, just how much is Liddi willing to sacrifice to bring them back?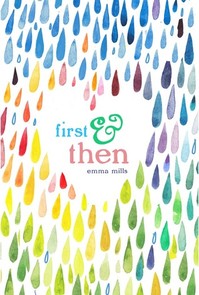 9. First & Then by Emma Mills
Release Date: October 13th from Henry Holt and Co.
Why You'll Love It: Okay, you cannot tell me a book is Friday Night Lights meets Pride & Prejudice. You just can't. It should be against the law. Because it makes me want that book more than anything in the world. Such is the case with Emma Mills' debut, where there's a lot to love in this story of heartache and friendship. You'll absolutely adore it—especially if you're a Jane Austen fan.
Description: Devon Tennyson wouldn't change a thing. She's happy watching Friday night games from the bleachers, silently crushing on best friend Cas, and blissfully ignoring the future after high school. But the universe has other plans. It delivers Devon's cousin Foster, an unrepentant social outlier with a surprising talent for football, and the obnoxiously superior and maddeningly attractive star running back, Ezra, right where she doesn't want them—first into her P.E. class and then into every other aspect of her life.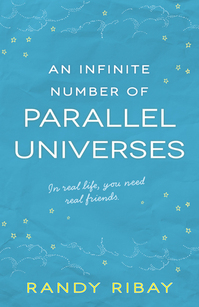 10. An Infinite Number of Parallel Universes by Randy Ribay
Release Date: October 16th from Merit Press
Why You'll Love It: There's a lot going on in Randy Ribay's debut, and that's a good thing. Told in shifting perspectives from all four of the wonderfully memorable characters, An Infinite Number of Parallel Universes packs a geeky, heartfelt punch, and it's as funny as is it heartbreaking. A must for game and comic book lovers, it's a wonderfully geeky read about friendship, family, love, and loss. 
Description: As their senior year approaches, four diverse friends joined by their weekly Dungeons & Dragons game struggle to figure out real life. Archie's trying to cope with the lingering effects of his parents' divorce, Mari's considering an opportunity to contact her biological mother, Dante's working up the courage to come out to his friends, and Sam's clinging to a failing relationship. The four eventually embark on a cross-country road trip in an attempt to solve—or to avoid—their problems.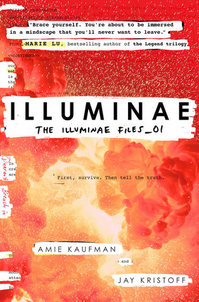 11. Illuminae by Amie Kaufman and Jay Kristoff
Release Date: October 20th from Knopf
Why You'll Love It: This is a fascinating book, and a quick flip through will reveal pages filled with emails, documents with redacted text, military files, instant messages… the list goes on. It's a sci-fi thriller by two rockstars of YA, told through an incredibly unique narrative.
Description: This morning, Kady thought breaking up with Ezra was the hardest thing she'd have to do. This afternoon, her planet was invaded. The year is 2575, and two rival megacorporations are at war over a planet that's little more than an ice-covered speck at the edge of the universe. Too bad nobody thought to warn the people living on it. With enemy fire raining down on them, Kady and Ezra—who are barely even talking to each other—are forced to fight their way onto an evacuating fleet, with an enemy warship in hot pursuit.
But their problems are just getting started. A deadly plague has broken out and is mutating, with terrifying results; the fleet's AI, which should be protecting them, may actually be their enemy; and nobody in charge will say what's really going on. As Kady hacks into a tangled web of data to find the truth, it's clear only one person can help her bring it all to light: the ex-boyfriend she swore she'd never speak to again

?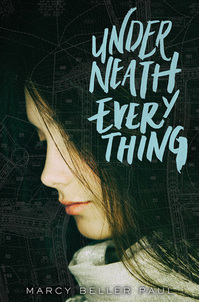 12. Underneath Everything by Marcy Beller Paul
Release Date: October 27th from Balzer + Bray
Why You'll Love It: One of those novels that's painfully relatable in the best way possible, Underneath Everything is about the problems of toxic relationships. It's heavy and unsettling, and one of those stories that should be told more in YA.
Description: Mattie shouldn't be at the bonfire. She should be finding new maps for her collection, hanging out with Kris, and steering clear of almost everyone else, especially Jolene. After all, Mattie and Kris dropped off the social scene the summer after sophomore year for a reason. But now Mattie is a senior, and she's sick of missing things. So here she is. And there's Jolene: Beautiful. Captivating. Just like the stories she wove. Mattie would know; she used to star in them. She and Jolene were best friends. Mattie has the scar on her palm to prove it, and Jolene has everything else, including Hudson.
But when Mattie runs into Hudson and gets a glimpse of what could have been, she decides to take it all back: the boyfriend, the friends, the life she was supposed to live. Problem is, Mattie can't figure out where Jolene ends and she begins. Because there's something Mattie hasn't told anyone—she walked away from Jolene over a year ago, but she never really left.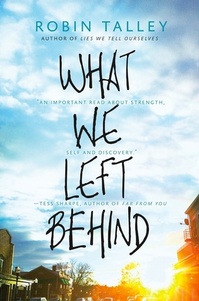 13. What We Left Behind by Robin Talley
Release Date: October 27th from Harlequin Teen
Why You'll Love It: Last but absolutely not least is Robin Talley's highly anticipated second novel. If you haven't picked up Lies We Tell Ourselves, please fix that immediately. Another powerfully emotional read, What We Left Behind focuses on that popular high school power couple (you know them, you had one in your school) and the challenges facing their relationship. It's a great book about friendship, love and gender that I'll be recommending years from now.
Description: Toni and Gretchen are the couple everyone envied in high school. They've been together forever. They never fight. They're deeply, hopelessly in love. When they separate for their first year at college—Toni to Harvard and Gretchen to NYU—they're sure they'll be fine. Where other long-distance relationships have fallen apart, their relationship will surely thrive.
The reality of being apart, however, is a lot different than they expected. As Toni, who identifies as genderqueer, falls in with a group of transgender upperclassmen and immediately finds a sense of belonging that has always been missing, Gretchen struggles to remember who she is outside their relationship. While Toni worries that Gretchen, who is not trans, just won't understand what is going on, Gretchen begins to wonder where she fits in Toni's life. As distance and Toni's shifting gender identity begins to wear on their relationship, the couple must decide—have they grown apart for good, or is love enough to keep them together?