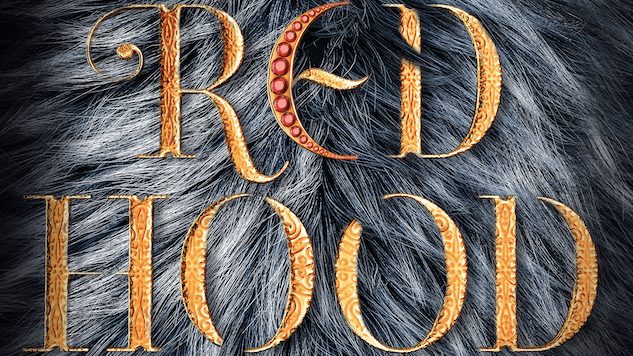 From stories about aliens in love with humanity's music to epics about rage-filled mermaids seeking revenge, February boasts some of 2020's most unique novels. Our 10 favorite new releases include wildly anticipated titles from some of our favorite authors, including Justina Ireland, Sandhya Menon, Becky Albertalli and Aisha Saeed. There's a lot to love this month, so get ready to add these books to your shelves.
(This list includes affiliate links from Bookshop.org. If you click through and purchase a book, both Paste and independent bookstores will receive a small commission.)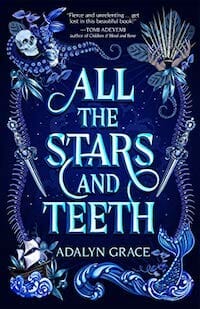 All the Stars and Teeth by Adalyn Grace
Release Date: February 4th from Imprint
Why You'll Love It: A debut we're wildly excited about, All the Stars and Teeth is set in a fantasy world of mermaids, magic, pirates and terrifying monsters. Adalyn Grace is heading out on a major tour with Tomi Adeyemi, so keep an eye out for this bold new voice in YA lit.
For Fans of: Stephanie Garber and Sarah J. Maas
Publisher's Description: As princess of the island kingdom Visidia, Amora Montara has spent her entire life training to be High Animancer—the master of souls. To secure her place as heir to the throne, she must prove her mastery of the monarchy's dangerous soul magic. But when her demonstration goes awry, Amora is forced to flee and strikes a deal with Bastian, a mysterious pirate. A destructive new magic is on the rise, and if Amora is to conquer it, she'll need to face legendary monsters, cross paths with vengeful mermaids and deal with a stow-away she never expected…or risk the fate of Visidia and lose the crown forever.
You can purchase All the Stars and Teeth here.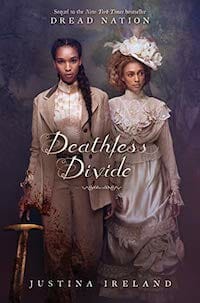 Deathless Divide by Justina Ireland
Release Date: February 4th from Balzer + Bray
Why You'll Love It: Dread Nation by Justina Ireland was Paste's favorite YA novel of 2018, and the long-anticipated sequel is finally here! Set in an alternate history where the zombies rose up during the Civil War, it's an imaginative and thrilling series that digs into history, race and class. (You can read an exclusive excerpt of the first chapter here.)
For Fans of: Sabaa Tahir, Leigh Bardugo, Tomi Adeyemi and Pride & Prejudice & Zombies
Publisher's Description: After the fall of Summerland, Jane McKeene hoped her life would get simpler. But nothing is easy when you're a girl trained in putting down the restless dead, and a devastating loss on the road to a protected village called Nicodemus has Jane questioning everything she thought she knew about surviving in 1880s America. Jane soon finds herself on a dark path of blood and violence that threatens to consume her, but she won't be in it alone. Katherine Deveraux never expected to be allied with Jane, and she realizes that watching Jane's back is more than she bargained for. When they both reach a breaking point, however, it's up to Katherine to keep hope alive—even as she begins to fear that there is no happily-ever-after for girls like her.
You can purchase Deathless Divide here.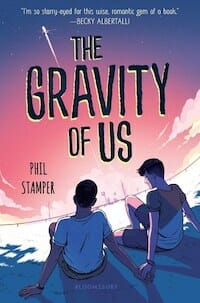 The Gravity of Us by Phil Stamper
Release Date: February 4th from Bloomsbury YA
Why You'll Love It: This beautiful contemporary novel is set in the near future during a daring space race to get to Mars. Blending romance, social media and a dash of sci-fi, it's a swoony and heartfelt story that will stay with you after the final page.
For Fans of: Robin Talley and Shaun David Hutchinson
Publisher's Description: As a successful social media journalist with half a million followers, 17-year-old Cal is used to sharing his life online. But when his pilot father is selected for a highly publicized NASA mission to Mars, Cal and his family relocate from Brooklyn to Houston and are thrust into a media circus. Amidst the chaos, Cal meets sensitive and mysterious Leon, another "Astrokid," and finds himself falling head over heels. But when secrets about the program are uncovered, Cal must find a way to reveal the truth without hurting the people who have become most important to him.
You can purchase The Gravity of Us here.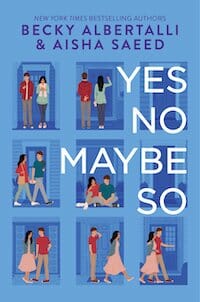 Yes No Maybe So by Becky Albertalli and Aisha Saeed
Release Date: February 4th from Balzer + Bray
Why You'll Love It: Powerhouse author Becky Albertalli (Simon vs. the Homo Sapiens Agenda) and Paste favorite Aisha Saeed (Written in the Stars) have teamed up to write one of 2020's best YA novels. A contemporary story about politics, friendship and resistance, it will uplift you page after page.
For Fans of: Jennifer Marie Thorne, Amy Spalding, Julie Murphy and Meg Medina
Publisher's Description: Jamie Goldberg is cool with volunteering for his local state senate candidate—as long as he's behind the scenes. There's no way he'd ever knock on doors to ask people for their votes…until he meets Maya Rehman. Maya's having the worst Ramadan ever. Her best friend is too busy to hang out, her summer trip is canceled and now her parents are separating. Why her mother thinks the solution to her problems is political canvassing is beyond her. Going door to door isn't exactly glamorous, but maybe it's not the worst thing in the world. After all, the polls are getting closer—and so are Maya and Jamie. Mastering local activism is one thing. Navigating the cross-cultural romance of the century is another thing entirely.
You can purchase Yes No Maybe So here.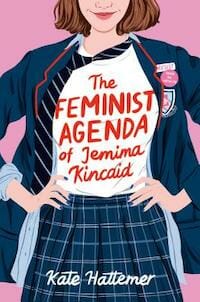 The Feminist Agenda of Jemima Kincaid by Kate Hattemer
Release Date: February 18th from Knopf Books for Young Readers
Why You'll Love It: Kate Hattemer is one of the most underrated YA contemporary authors, and you should be reading her novels. Her debut, The Vigilante Poets of Selwyn Academy, is brilliant, and her latest promises another complex story about friendship, wealth and allyship.
For Fans of: Becky Albertalli, Jennifer Mathieu and Stephanie Perkins.
Publisher's Description: Jemima Kincaid is a feminist, and she thinks you should be one too. Her private school is laden with problematic traditions, but the worst of all is prom. Then Jemima is named to Senior Triumvirate, alongside superstar athlete Andy and popular Gennifer, and the three must organize the event. So Jemima proposes a new structure; they'll do a Last Chance Dance where every student privately submits a list of crushes to a website that pairs them with any mutual matches. Meanwhile, Jemima finds herself embroiled in a secret romance that she craves and hates all at once. But is the new prom system really enough to extinguish the school's raging dumpster fire of toxic masculinity?
You can purchase The Feminist Agenda of Jemima Kincaid here.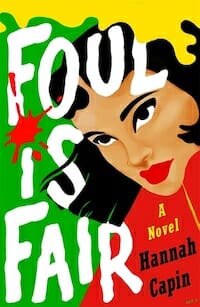 Foul Is Fair by Hannah Capin
Release Date: February 18th from Wednesday Books
Why You'll Love It: Not only is this amazing revenge novel set at a fancy private school, but it's also a reimagining of Macbeth. Promising bloody thrills from Hannah Capin, who writes fantastic retellings (check out The Dead Queens Club inspired by Henry VIII), this book is not to be missed.
For Fans of: Kim Liggett and Kim Savage
Publisher's Description: Elle and her friends Mads, Jenny and Summer rule their glittering LA circle. Until the night of Elle's sweet 16, when they crash a St. Andrew's Prep party. The night the golden boys choose Elle as their next target. Sworn to vengeance, Elle transfers to St. Andrew's. She plots to destroy each boy, one by one. She'll take their power, their lives and their control of the prep school's hierarchy. And she and her coven have the perfect way in: a boy named Mack, whose ambition could turn deadly. Golden boys beware—something wicked this way comes.
You can purchase Foul Is Fair here.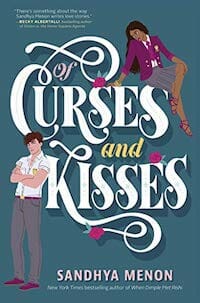 Of Curses and Kisses by Sandhya Menon
Release Date: February 18th from Simon Pulse
Why You'll Love It: A new series from one of the best writers of YA rom-coms? Of course you're going to love it. A contemporary take on Beauty and the Beast at an international boarding school, Sandhya Menon's new novel kicks off her must-read St. Rosetta's Academy series.
For Fans of: Lauren Morrill and Sona Charaipotra
Publisher's Description: For Princess Jaya Rao, nothing is more important than family. When the loathsome Emerson clan steps up their centuries-old feud to target Jaya's little sister, nothing will keep Jaya from exacting her revenge. Then Jaya finds out she'll be attending the same elite boarding school as Grey Emerson, and it feels like the opportunity of a lifetime. But much to Jaya's annoyance, Grey's brooding demeanor and lupine blue eyes have drawn her in.
His Lordship Grey Emerson is a misanthrope. Thanks to an ancient curse by a Rao matriarch, Grey knows he's doomed once he turns 18. Sequestered away in the mountains at St. Rosetta's International Academy, he's lived an isolated existence—until Jaya Rao bursts into his life, but he can't shake the feeling that she's hiding something. Something that might just have to do with the rose-shaped ruby pendant around her neck…
You can purchase Of Curses and Kisses here.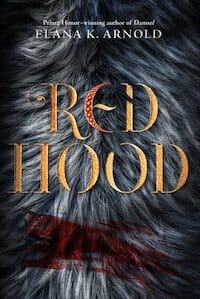 Red Hood by Elana K. Arnold
Release Date: February 25th from Balzer + Bray
Why You'll Love It: When this book was sold, the description alone had us hooked. And now it's finally here! From the author of Damsel, Red Hood offers a new take on werewolves wrapped in a narrative about power and female friendship.
For Fans of: Holly Black
Publisher's Description: Since her grandmother became her caretaker when she was four years old, Bisou Martel has lived a quiet life in a little house in Seattle. She's kept mostly to herself. She's been good. But then comes the night of homecoming, when she finds herself running for her life over roots and between trees, a fury of claws and teeth behind her. A wolf attacks. Bisou fights back. A new moon rises. And with it, questions. About the blood in Bisou's past and on her hands as she stumbles home. About broken boys and vicious wolves. About girls lost in the woods—frightened, but not alone.
You can purchase Red Hood here.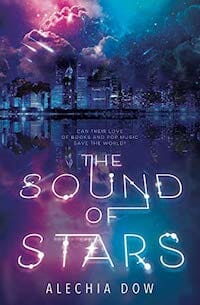 The Sound of Stars by Alechia Dow
Release Date: February 25th from Inkyard Press
Why You'll Love It: We know it's only February, but this could easily be one of the most unique titles of 2020. An exciting debut set in a world where aliens have outlawed humanity's emotions, the novel follows an alien who loves humanity's pop music. The Sound of Stars promises an entirely fresh spin on the sci-fi dystopia.
For Fans of: Laura Pohl and Melissa Landers
Publisher's Description: Two years ago, a misunderstanding between the leaders of Earth and the invading Ilori resulted in the deaths of one-third of the world's population. Deemed dangerously volatile because of their initial reaction to the invasion, humanity's emotional transgressions are now grounds for execution. All art, books and creative expression are illegal, but 17-year-old Janelle "Ellie" Baker breaks the rules by keeping a secret library. When a book goes missing, Ellie is terrified that the Ilori will track it back to her and kill her.
Born in a lab, M0Rr1S was raised to be emotionless. When he finds Ellie's illegal library, he's duty-bound to deliver her for execution. The trouble is, he finds himself drawn to human music and in desperate need of more. M0Rr1S has a lot of secrets, but also a potential solution—thousands of miles away. So the two embark on a wild and dangerous road trip with a bag of books and their favorite albums, all the while making a story and a song of their own that just might save them both.
You can purchase The Sound of Stars here.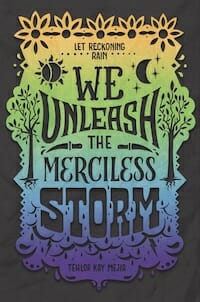 We Unleash the Merciless Storm by Tehlor Kay Mejia
Release Date: February 25th from Katherine Tegen Books
Why You'll Love It: A fierce and thrilling fantasy novel, Tehlor Kay Mejia's We Set the Dark on Fire was a captivating debut exploring love and rebellion. Now the series concludes with the sequel, We Unleash the Merciless Storm, continuing protagonist Carmen Santos' intriguing saga. If you haven't read it yet, skip the spoiler-filled description below—and then treat yourself to both books.
For Fans of: Kendare Blake
Description: Being a part of the resistance group La Voz is an act of devotion and desperation. Carmen Santos is one of La Voz's best soldiers, taken in when she was an orphaned child and trained to be a cunning spy. She spent years undercover at the Medio School for Girls, but now, with her identity exposed and the island on the brink of civil war, Carmen returns to the only real home she's ever known: La Voz's headquarters. There she must reckon with her beloved leader and with the devastating news that her true love might be the target of an assassination plot. Will Carmen break with her community and save the girl who stole her heart—or fully embrace the ruthless rebel she was always meant to be?
You can purchase We Unleash the Merciless Storm here.