From Pasta Maker to Chinese BBQ Master, Las Vegas' Hyper-Specific Chefs Create Refined Skills
Photo by Bryan Steffy/Getty
Business
Features
Chefs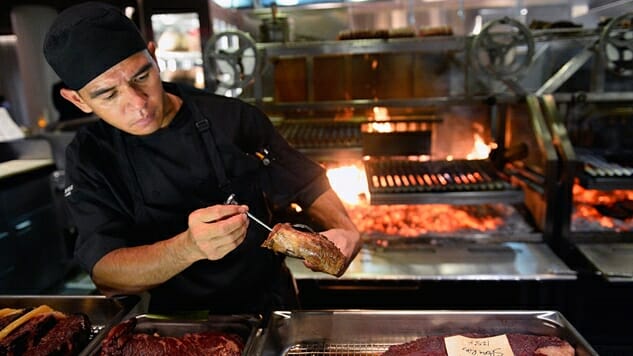 Regardless of the day of the week, when Juventino "Sweet Baby Tino" Jimenez reports to work at Portofino, he has one thing on his mind: making pasta. Though technically a prep cook at the Italian restaurant in Las Vegas' Mirage resort, Jimenez's task is to make all the fresh pasta offered on the menu. In fact, the restaurant's executive chef, Michael LaPlaca, knows Jimenez as the master pasta maker.
Unsurprisingly, Jimenez is not the only highly specialized chef working behind the scenes of Las Vegas' dynamic dining scene. With a record-breaking 42.9 million visitors in 2016, Las Vegas continues to be a hot destination for travelers—and all those people need to eat. According to the Nevada Restaurant Association, a whopping 214,000 people work in food service at dining establishments ranging from grab-and-go fast food joints to three-star Michelin restaurants. The association does not breakdown statistics according to front- and back-of-the-house positions, but regardless, based on 2016 census bureau data, that means one out of every 14 people in the state works in food service.
A lot of back-of-the-house positions are generalists—cooks and chefs who fill many roles in any given week or even in a single shift. But many executive chefs have committed to creating a guest experience as memorable as any other form of Las Vegas entertainment, and to do that, they employ and hone the skills of hyper-specific chefs who focus on only one thing in the kitchen.
"Las Vegas is a city with high expectations, so we have to deliver with every plate we send out," LaPlaca says. "As with any city or chef, we are always looking for the highest quality. Fresh ingredients are important to any recipe, but finding the best hands to create the best end product is key."
The consistency of high-quality products is one of the top reasons why executive chefs hire and train for specific skills. In many cases, such as Jimenez's, chefs start out as line cooks who find that they have a particular culinary interest and talent. "To uphold the high standards we have at Portofino and make me a better chef, (LaPlaca) personally taught me how to make dough, roll and shape it, and how to understand when it is made correctly," Jimenez says. "This is the first time I felt like I belonged in the kitchen, and I have been doing this ever since."
At the Noodle Shop in Mandalay Bay, Ou Shelong is the Chinese BBQ master cook, and he has spent the majority of his 67 years perfecting his craft. Shelong is responsible for all of the BBQ items in the restaurant, including preparation of the BBQ duck, soy chicken, and BBQ pork as well as all the marinades and sauces that accompany the BBQ items. He started his career in a small hotel kitchen and then worked his way up the culinary ladder; in a Chinese kitchen, a BBQ cook is considered the highest level of the hierarchy.
Since starting work at Mandalay Bay in 1999, he has continued to refine his skills, which include obtaining knowledge of meat structures and fat content, ensuring the perfect flavor and appropriate tenderness of every dish. "I take pride each and every day to produce only perfect BBQ for our guests," Shelong says, but his job today also includes training those who will eventually fill his shoes. "At this point in my career I enjoy taking the time to mentor our trainees, and we both learn from each other."
For restaurant guests looking at a diverse menu, it may seem a bit redundant or even boring for the one person cooking one specific dish in the kitchen day in and day out, yet in the strive for perfection also comes the opportunity to make an even better meal. "If I thought I was the best then I would not have the motivation to get better," Jimenez says. "I am always trying to become a better chef by experimenting with new techniques, but there will always be room to improve and learn more."