The Truth behind the Chocolate Industry Will Leave a Bitter Taste in Your Mouth
Your Chocolate Was Probably Made by Child Slavery, but a Dutch Company Aims to Change That
Photo by Chris Hondros/Getty
Business
Features
Chocolate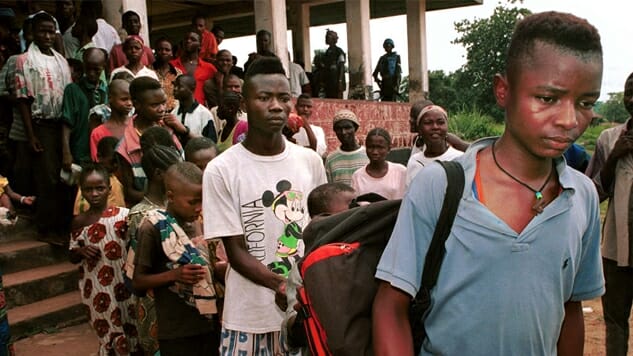 In our modern-day society, it's hard to believe that child slavery still exists, and furthermore, that many people unintentionally help perpetuate this archaic and inhumane practice. I'm certainly a culprit, along with anyone else who's indulged in a Hershey's bar or a gold foil-wrapped Ferrero Rocher chocolate in their lifetime.
The two biggest producers in the world—Ivory Coast and Ghana—account for roughly 60-70 percent of the global cocoa supply. According to Tulane University's 2013/2014 survey of child labor in this area, over 2.3 million children were working in cocoa production and 2 million children were involved in hazardous work in cocoa production in Côte d'Ivoire and Ghana combined. Even more troubling is the fact that the total number of children subject to child labor saw a 21 percent increase over the previous survey from five years earlier. As of 2015, over 90 percent of the estimated 2.3 million children working in Ghana on the cocoa plantations are working as slaves.
In 2002, a chilling documentary titled Slavery: A Global Investigation, brought national attention to the chocolate industry's usage of child slaves, igniting outrage among consumers and activists alike. From routine beatings to inhumane living conditions, the film offers a rare look into the lives of former child slaves on the Ivory Coast.
After in-depth investigations on the conditions of child workers, the news made its way to Congress, which led to legislation asking the Federal Drug Administration to introduce "slave-free" labeling for chocolate products sold in the United States. However, just before the bill made it to a vote, the chocolate industry—Hershey, Nestle, and Mars included—made a promise to self-regulate and implement voluntary standards to ensure chocolate produced without the "worst forms of child labor," (defined according to the International Labor Organization's Convention) by July 2005. This agreement, known as the Engel-Harkin Protocol, was signed in September 2001.
Here's the real kicker: the chocolate industry has yet to make any significant strides to end child slavery, and the problem has arguably gotten worse. While the future of the chocolate industry's commitment to producing slave-free chocolate may seem bleak, there is hope. Amsterdam-based Tony's Chocolonely is on a mission to change the industry by making 100 percent slave-free the norm in the chocolate industry.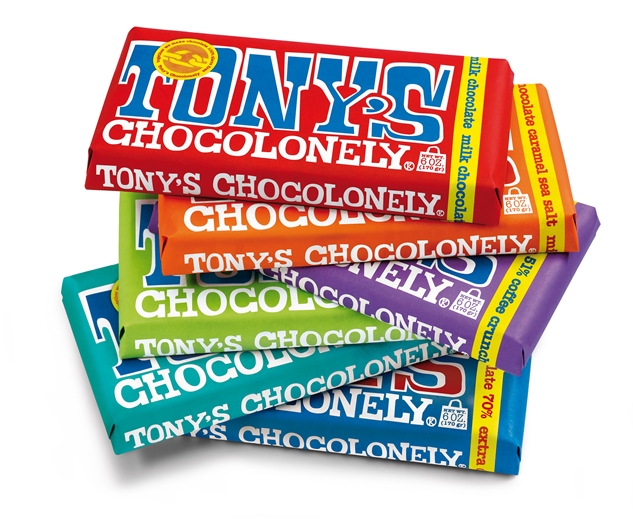 Photo by Tony's Chocolonely
Upon discovering that the world's largest chocolate companies were buying cocoa from plantations using child slavery, Dutch journalist Teun van de Keuken ('Tony') decided to take matters into his own hands. After eating 12 chocolate bars, he subsequently turned himself into the police as a 'chocolate criminal,' citing that he had bought illegally manufactured chocolate products. After pushback from the courts and other key players in the industry, he sought out four boys who had worked as slaves on a cocoa farm in Ivory Coast to testify against him. Though Tony never got convicted, Tony's Chocolonely brand was born, and in 2005 the first 5,000 Fairtrade, 100 percent slave-free chocolate bars were produced.
When you unwrap the chunky six-ounce bars, you immediately notice something unique: an unequally divided slab of chocolate illustrating the inequality in the chocolate industry. With bright red wrapping bringing attention to Teun's (Tony's) lonely (Chocolonely) mission, this brand grew to be the largest Dutch chocolate company in less than ten years and recently entered the U.S. with the launch of their chocolate in Portland, Ore. in fall 2016.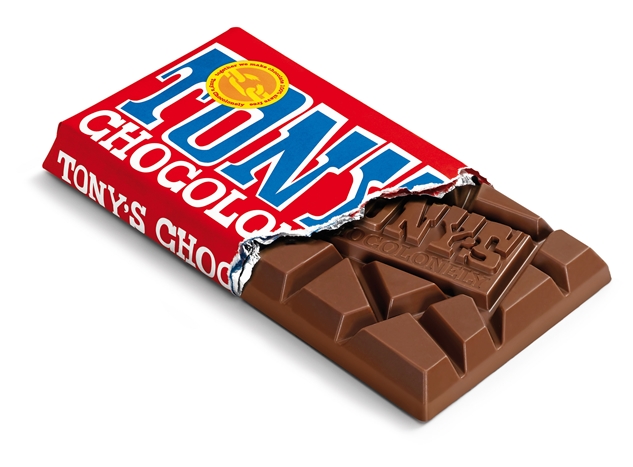 Photo by Tony's Chocolonely
Despite being a chocolate company founded as a tool in the march towards slave-free chocolate, it has been met with widespread demand. It is proving that there is a way for large chocolate manufacturers to source ethical—slave-free—cocoa, and run a commercially successful business. Tony's Chocolonley plans to build distribution across the U.S. further and expects to be available through distributors in all states by April.
"As far as we know, we are the only company that uses fully traceable beans from Ghana and Ivory Coast," Explained Maudi Admiraal, Tony's Chocolonely's American Brand Builder, in response to the difficulties of producing slave-free chocolate bars. "Most of the initiatives from other companies invest in programs that improve the productivity of farmers, but these farmers do not necessarily deliver beans to the companies that finance these programs. We think traceability is a very important—if not the most important—step because it makes the company directly responsible for the farmers and their families. If you don't know who you buy your beans from, it becomes a black box instead of real people you're doing business with, which makes it more likely to feel less responsible for that part of the supply chain."
Tony's strives for a completely transparent and traceable bean-to-bar process through direct, long-term relationships with cocoa farmers and other supply chain partners. This is no easy feat. In addition to agreeing to better prices for the farmers and providing business and agricultural training to increase productivity on the cocoa farms, one percent of Tony's Chocolonely net revenue is donated to its Chocolonely Foundation—supporting projects to eradicate slavery in the cocoa chain.
"One of the most difficult parts is to explain all that we do to consumers and to create awareness about the issues in the chocolate industry, while at the same time being a chocolate maker that wants to make incredibly tasty chocolate," said Admiraal. "We do not claim to be 100 percent slave-free because we simply cannot guarantee that slavery does not happen at all at the plantations where we source our cacao from. That being said, we do everything within our power to make sure that there's no slavery involved… our goal goes further than just our own chocolate; we want to make the whole chocolate industry slave-free."
Tony's takes pride in disrupting the industry and standing up for the less fortunate. "First, we create awareness around the problem of inequality and slavery in the chocolate industry. Second, we lead by example and show that it is possible to make chocolate differently," continued Admiraal in regards to ways to positively influence larger companies like Hershey or Nestle to end using child slaves. "And last but not least, we want to inspire other chocolate companies (like Nestle and Hershey) to take action, and we are actively looking for partners to follow our model."
Consumers must be knowledgeable of which companies use slaves and which ones don't. Though certification can help to make better choices, it doesn't provide any additional action or investment. Moreover, it's not a guarantee against child labor, nor does it ensure that farmers will escape poverty. "It's an accomplishment to be proud of, but it's not the end goal," adds Admiraal. "It does contribute to better conditions for farmers, but in addition to certification, a lot more has to happen. Companies need to accept accountability and not hide behind excuses and/or their certification."