Tesla Now Worth More Than Ford After Record-Breaking Quarter
Photo by Sean Gallup/Getty
Business
News
Tesla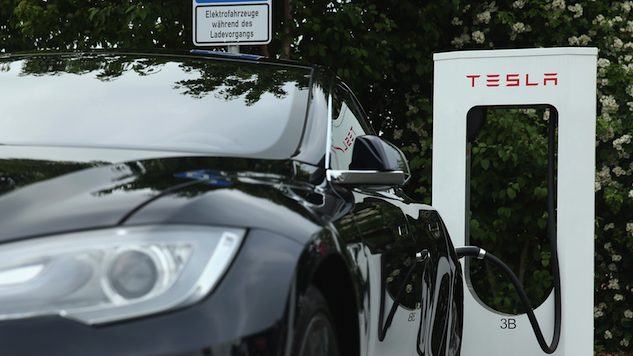 Tesla, the electric vehicle manufacturer led by the enigmatic Elon Musk, is now worth more than Ford after a record-breaking quarter. After delivering 25,000 vehicles in their first quarter this year, Tesla has a market cap of $47 billion, while Ford has a market cap of $45 billion, per Recode.
This achievement is notable not least of all because of Tesla's relatively recent entry into the vehicle market. Tesla is just 14 years old as a company, while Ford, a vehicle manufacturing veteran, lays claim to a 113-year history. While Tesla exceeded market analysts predictions, Ford's sales dropped 7.2 percent year over year. Last March, things were looking up when Ford sold 255,000 vehicles. This March, they've sold about 237,000 vehicles—quite the drop. Meanwhile, Tesla is making record-breaking deliveries, albeit in much smaller qualities.
To be clear, Tesla is still much smaller than Ford, and brings in much less annual revenue. In 2016, the electric vehicle makers brought in about $7 billion, which looks like chump change next to Ford's $152 billion. However, Tesla's successful quarter is a good sign that their ambitious future projects are headed for a wider audience. The company is currently preparing to launch production of their first mass-marketed vehicle, the Model 3. Tesla is also aiming to deliver 500,000 cars by 2018, and plans to open at least three more Gigafactories later this year.
In any case, Tesla's success indicates that consumers continue to be interested in (somewhat) affordable electric vehicles with semi-autonomous features. Check out Paste's 5 Reasons You Should Reserve a Tesla Model 3" to learn more about the forthcoming car.