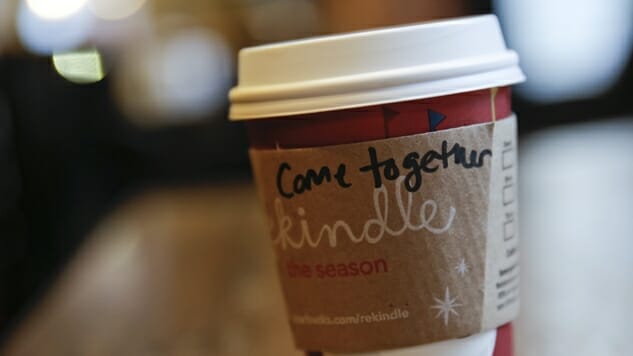 If you've ever been to Starbucks for a latte, cappuccino, frappuccino or just a drip, you know what it's like when the barista calls out your name to hand you your drink — and your name is spelled completely wrong.
If you're Rebecca, it might be written Rebekah. Larry? Maybe they thought you spelled it Larie. And even some of the most obvious of names – such as Sam – might be spelled Camm.
Starbucks does admit they have a policy in place to ask for names, but nothing in their rules specifically insist the baristas do this.
"Writing names on cups is a fun tradition born out of the relationship and interaction between our partners (employees) and customers. And we have never asked or directed any of our partners to misspell names of our customers for any reason," says a spokesperson from Starbucks.
However, there's nothing anyone is doing at Starbucks is doing to stop this behavior – which is reaping quite a benefit from the quirky tradition – a tradition that has some thinking is a conspiracy to drive organic marketing.
Eater.com explains that by creating a unique experience for each customer – which is known in marketing as experiential marketing – Starbucks earns quite a bit of free media. Many of those who get a drink with a wonky spelling of their name take a picture of it, then share it all of their social platforms including Twitter, Facebook, Snapchat, Instagram, and Tumblr – just to name a few.
From a marketing standpoint, this is a sound argument; after all, Starbucks has recently ramped up their digital game in the last few years, with a focus on hiring to create a mass media center that can be both proactive and reactive across all channels. It would be in their best interest to see a dramatic increase in organic content from customers that mention their brand, which could be used by Starbucks itself to further promote the brand or leverage influencers for more similar content (such as via partnerships).
Considering the likelihood that Starbucks is intentionally driving experiential marketing, there's a lot that other businesses can learn from Starbucks' simple approach to creating a unique experience for every customer, every time. In late 2016, Netflix got on board with the idea during the launch of Gilmore Girls; in cities all around the country, Netflix took over coffee shops and rebranded them as the famous Luke's Diner. Fans stood in line for a "Luke's coffee" and to take a picture in a replica of Luke's Diner. It was an easy way for Netflix to create thousands (if not millions) of organic user generated social posts promoting the Gilmore Girls revival, but that marketing was free for Netflix – and undoubtedly earned a few extra viewers.
As a business owner, you need to think about ways to create a unique experience for your customers that they will want to share via social on their terms. We're not talking photo booths or a hired photographer – today we are all our photographers. You can recreate the experiential marketing model in your business. Adding a personal note to a reserved table is one way of creating this experience in a restaurant; or if you're a business offering personal services, a gorgeous room is something always shareable.
Every business offers unique services, so how you create a unique experience depends on what you do. The easiest way to start driving that free organic traffic from social is by knowing what sets you apart; or if you can go above and beyond your current service to impress your customers on a visual level enough for them to want to share it.
While it may seem annoying to have people constantly taking pictures in a store, just remember – those pictures are free marketing for you and your brand. Without lifting a finger, hundreds of people will see, in real time, what is essentially an ad for your business. And if something so simple as that works for Starbucks, it can undoubtedly work for any business regardless of size or location.