6 Things We Took Away from the Bored to Death Reunion at SF Sketchfest
photo by Jakub Mosur
Comedy
Features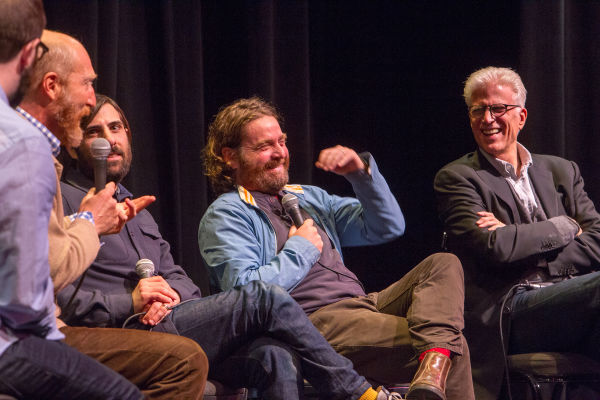 It's been a little over two years since the premature cancellation of Jonathan Ames' eccentric HBO detective comedy Bored to Death. Following a Brooklyn writer (Jason Schwartzman) who pretends to be a private detective, the show quickly gained a cult following because of the its quirky sensibility, offbeat humor, roster of special guest stars and its impressive cast—Schwartzman, Zach Galifianakis and Ted Danson. Thanks to SF Sketchfest, hardcore fans were treated to a Bored to Death reunion that featured Ames as well as the show's three stars.
Moderated by Martin Gero, a producer and writer of the show, the four talked about how the show was "the best experience" for them and provided tons of laughs for the crowd. Not surprisingly, Galifianakis was the funniest, giving insight on Ames' inability to detect sarcasm and riffing back and forth with his co-stars. At one point, he joked that Danson got the role on the show through the Make-a-Wish Foundation. Other than that false bit of information we did learn a couple of other things during this reunion.
1. Ames is Almost Done Writing the Bored to Death Screenplay
If you're looking for proof that the movie isn't just an idea floating around in the Hollywood stratosphere, look no further. Ames says that he is working on a script. A 120-page script to be exact —and he's written 96 of those 120 pages. Those 24 pages can't come fast enough.
2. Ted Danson was Originally Supposed to Have a Much Smaller Role
Imagine what Bored to Death would be like without the character of tokin' Manhattanite magazine editor George Christopher. It wouldn't be the same, huh? Played by Danson, the role (which Ames refers to as a "lost wizard") was originally small, but as the series went on, the chemistry between him and Galifianakis and Schwartzman was so good that he became a permanent and popular fixture.
3. Inappropriate Bubble Baths and Full-Frontal Nudity
The crowd was treated to some deleted scenes from the show—both included the groping or grabbing of penises. One explored Ray's gloriously inappropriate relationship with an older woman by the name of Belinda (Olympia Dukakis). The clip showed Belinda giving Ray a nice thorough bath…and I mean THOROUGH. According to Ames, the relationship between Galifianakis and Dukakis reflected their romance on the show, but less inappropriate and more flirty with, according to Galifianakis, plenty of "Greek moonshine."
In the second clip shamelessly shared by Ames, Ray catches a man named Irwin (played by Ames) naked in his girlfriend's bed. Ray chases Irwin around the room only to end in a "cock grab" that was a hot topic of email discussion between HBO execs and Ames.
4. "Have a very Becker New Year!"
During the holiday season, Schwartzman and Galifianakis both received a Christmas card from Danson that had a picture of him and his wife Mary Steenburgen. It was beautiful and festive, but Schwartzman thought that the panel was the perfect time to ask Danson if it was intentional to include the word "Cheers" on the card. After a beat, Galifianakis joked that it also said "Have a very Becker New Year!" As awesome as that would have been, Danson said the "Cheers" comment was not intentional.
5. The Show's Green-Friendly Nature Still Resonates with Fans
It's no secret that pot plays a major role in the series. Some may argue that it's the show's fourth character. Ames says that he still receives vaporizers and other marijuana paraphernalia from fans, while Jason Schwartzman says people will just give him pot while he's walking on the street—which he ends up giving to Ames.
6. Galifianakis is Lobbying for Chris Hemsworth to Star as Ray
Galifianakis made a big announcement during the panel: he has decided to not star in the movie. He's lobbying for the actor from Thor to play the role of Ray. We are assuming he's talking about Chris Hemsworth. The resemblance is uncanny.
More From Sketchfest:
Catching Up With the Creators of SF Sketchfest
Catching Up With Natasha Leggero
In Attendance at SF Sketchfest: Napoleon Dynamite, Iron Comic and Natasha Leggero