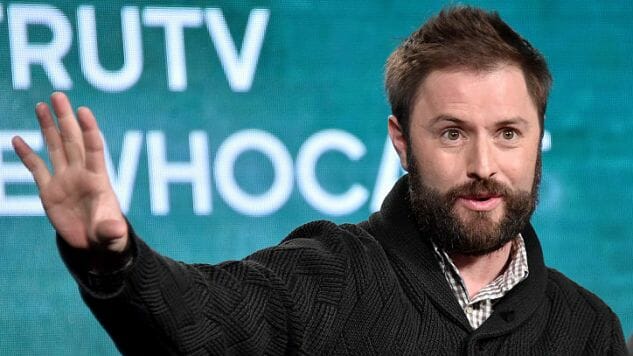 Adam Cayton-Holland is one of those comics that we're lucky to get once per generation. His voice, his presence, and his perspective transcend what exists in the scene around him. He's funny, but he's also funny in spite (or building upon) a life story and a series of experiences that could make for more than one biopic film. And those life experiences never even make it into his stand-up sets. Being a fan of Cayton-Holland is not just being a fan of a comedian, it's about being a friend to a human being who has empathy in droves, but would be the last person to admit it. He creates a tug-of-war that results in the kind of artist-performer that, even if you don't know everything about him, you can tell just by being in the room that you're a part of something bigger. Not just his story, but a bigger story about a place that we are all occupying. He's a comedian who is of the moment and whose material subtly reminds you to pay attention to the moment because it is fleeting.
He also talks a lot about birds. No one else gives a shit about birds. But Cayton-Holland likes birds. It's fine.
Cayton-Holland is a member of the three man comedy team The Grawlix (named for the characters used to replace profanity in f%&!g profanity) who write and star in the truTV comedy Those Who Can't alongside Ben Roy and Andrew Orvedahl. Formed in 2010, the team ran one of the best comedy mainstages in the country. They heightened the profiles of hundreds of alternative comics over the years, and now reap what they sowed in the closest thing alternative comedy has to a mainstream sitcom right now. They're doing Master Class level work on a network still finding its comedy sealegs.
Cayton-Holland taped his latest half-hour with Comedy Central, and then was contractually obligated to release an album under their imprint. The result, Performs His Signature Bits, comes out on Friday, March 23, and is a welcome collection of both highlights and deep cuts from the last two years of his work. It's also the product that will finally breach the mainstream in the way he deserves. (Listen to a track from the album here.)
In addition to his album and sitcom, Cayton-Holland has a busy year ahead of him. He's doing a tour of breweries throughout the US, which seems like a pretty brilliant way to check out some of the top craft breweries popping up around the country. And during a summer hiatus on Those Who Can't he's publishing a book about his complicated relationship with his younger sister, who sadly took her own life in 2012.
The topic at hand, though, is his new album. Paste recently sat down with Cayton-Holland to discuss Performs His Signature Bits, bad people and, of course, birds.
Paste: What's the preferential background noise in an album recording: bocce balls or someone in the audience with a weird laugh? [Note: His album was recorded at Union Hall in NYC, where Bocce Ball is played above the stage no matter who is performing.]
Adam Cayton-Holland: I'll take a weird laugh any day. Laughter is such a joyous, weird thing. Even if it fucks up your album you should celebrate it. There's a guy in Denver named Dave who shouts. When I perform there I acknowledge that he has a weird laugh at the start of the show. Then we move on.
Paste: Who is your dream corporate sponsor?
Cayton-Holland: Pellegrino. I drink so much of it I think I'm a good representative.
Paste: Are you worried you've been boxed in as the avian comedian?
Cayton-Holland: You can't box in an avian comedian. He just spreads his wings, friend. This is not a pigeonhole. I'm doing the Colorado Audubon Society's big event for the second time this April.
Paste: Has your favorite bird changed in the last few years?
Cayton-Holland: It differs. I'm a psychopath so I get bird tattoos. I have five bird tattoos. But I don't have them anywhere visible, they're on my chest and back and stuff. It's like Red Dragon when I take my shirt off. I go birding with old men experts these days. I just got a broadtailed hummingbird on my tricep. He's just a great little guy; he's a Rocky Mountain hummingbird. That's probably my fave.
Paste: How do you get a beer named after you?
Cayton-Holland: There's a brewery in Denver called Ratio. They were in a band in the '90s. They have punk rock beers, including like a Domestica beer for Cursive. They did a beer release for me, so I got to go in and consult on what the beer should taste like. I got to give notes and I've been very into sours. I thought we could make an IPA less hoppy by making it more tart and they leaned into that.
Paste: What's currently happening with Those Who Can't?
Cayton-Holland: For the first time in three years, we're actually airing in the fall. So I have the spring and summer free. The three of us are working on shows and movies. And I get back to Denver as fast as I can when we're done.
Paste: I got to see you on Lovett Or Leave It in the last month. What set you up to guest on America's most important political shout show?
Cayton-Holland: Those guys are so smart. Lovett did this bit about Trump's hair. You could see him landing that plane. He has the benefit of performing for only highly-intelligent liberals, which most comedians don't have that specificity of audience.
Paste: I've been a series of recent interviews, asking comics how their touring made changes to their final recorded material. How do you think touring in the last year changed what you were committing to tape?
Cayton-Holland: I find leaning into Trump a little hacky. It's so obvious and it's so all of the time. But… there is still a responsibility to let people in the audience know what you're furious about. And I'm sure the right will call me a snowflake cuck, but it is important to let people know. I think it is important at the end of the show to let people know where you stand and maybe they rethink a thing or two? But we're in an era of shout comedy where "Fuck Trump" is the new "Who is drinking?" People are racing towards these ends, in a hacky way. My one Trump joke is that people tell me you have to happy that Trump is in office cause "Man, you can't write this shit!" To which I respond: "Yeah, comedy comes in booms and busts. And universally comedians agree that the best year for comedy was early nineteen-forties Berlin. Everyone was so excited to perform in that climate!" You can see that I'm comparing Trump to Hitler but I'm not just shouting "Can you believe this dude's haircut?"
Paste: This summer you have your brewery tour and you're publishing a book about your sister. Does it feel weird to know that you're going to do a book tour where you'll keep pulling the Band-Air off on that horrifically complicated emotional situation?
Cayton-Holland: Yeah…. It does. We'll see how that goes personally and psychologically for me. I've been to a lot of therapy in the last six years. That's even more reason why the book coming out is cathartic for me? I'm eager for the book to come out because it will help people. But it will also be a nice tribute to my little sister who was pretty amazing. So I'm eager for people to fall in love with her and then have their hearts broken. I'm good at that. At crying and then wiping the tears away and then going to tell jokes.
Paste: Do you have any general tips for mental health? How to keep it together and positive in this day and age?
Cayton-Holland: Buddhism teaches us that suffering is the human state. But that can make you cold and unfeeling. So for me I recognize that everyone is suffering. And then you focus on the small daily miracles. Anyway, man, just go look at all the birds.
---
Brock Wilbur is a writer and comedian from Los Angeles who lives with his wife Vivian Kane and their cat, Cat. He is the co-author (with Nathan Rabin) of the forthcoming book Postal for the Boss Fight Books series.