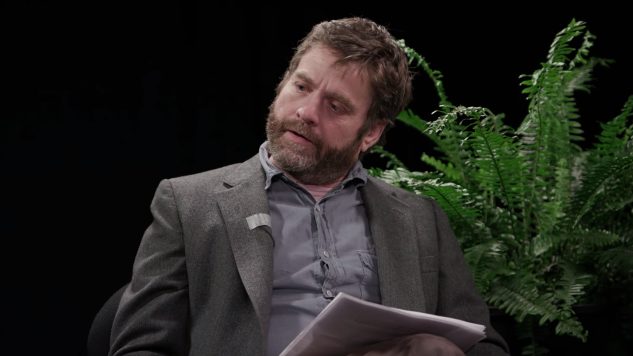 Production is already underway on a secret Between Two Ferns with Zach Galifianakis movie for Netflix, per THR.
Co-creator Scott Aukerman, who directed many of the show's segments, is helming the movie, which once again features Galifianakis as the host of a decidedly low-budget talk show. The feature looks as though it will keep the format of the original series, and all-star guests reportedly include Peter Dinklage, David Letterman, Keanu Reeves, and Galifianakis' The Hangover co-stars Ed Helms and Bradley Cooper.
The infamous online talk show appeared sporadically on Funny or Die from 2008 to 2014, and featured Galifianakis conducting deliberately uncomfortable interviews with celebrity guests including Justin Bieber, Jon Hamm and Brad Pitt. The show returned in 2016 for a segment with then-presidential candidate Hillary Clinton, as well as a viral Funny or Die installment with Jerry Seinfeld and Cardi B earlier this year.
It's still unclear when to expect the feature-length Between Two Ferns on Netflix. Still, fans should brace themselves for the awkwardness ahead.