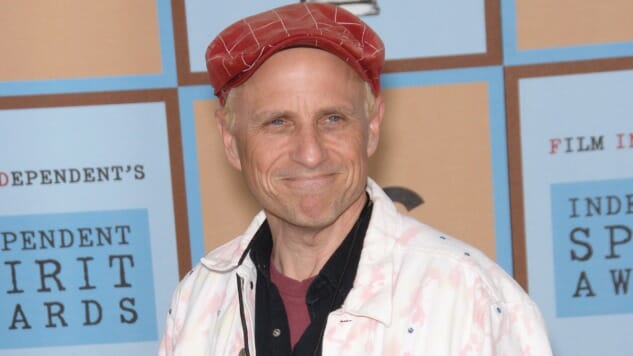 Paste doesn't just own the world's largest collection of live music recordings. Our archives are deep with stand-up from some of the best comedians of all time. Every Tuesday and Thursday we'll be sharing classic comedy from legends like George Carlin, Jerry Seinfeld, Eddie Murphy and more.
Bobcat Goldthwait's known for his voice. So is Bono, the guy who sings in whatever band that is. (Indeed, his nickname comes from the Latin "Bono Vox," which roughly translated means "good-singin' kinda guy.") Bobcat Goldthwait's malleable pipes might do a better Bono than Bono himself, though, as this clip from May 23, 1989, makes us think.
Bobcat was riding high in '89. That Police Academy money was still rolling in, and he was coming off the impeccable 1988 twofer of Hot to Trot (where he got to work not just with peak Dabney Coleman but also a talking horse) and Scrooged. His unforgettable turn as the Adrenal Gland in EPCOT's dearly missed Cranium Command attraction was mere months away from opening. His Chrysalis Records comedy album debut, Meat Bob, came out the year before, and he was in the early stages of prepping his impressive directorial debut, Shakes the Clown. It was during this wave of professional triumph that Goldthwait took the stage of the Warfield Theatre that May, ripping off a half-hour of sterling stand-up that culminated in the supposedly off-the-cuff Bono impersonation you can hear above. It proves that, had he wanted, Bobcat easily could've pursued a career as a Bono impersonator who specializes in Village People songs.
Check out the clip above and then go catch up on Goldthwait's body of work as a movie director. His last four movies have an average Rotten Tomatoes score of 82%. The dude's a legitimate heir to John Waters and maybe the best director of black comedy going today. He also directs all kinds of stand-up specials for other comedians like Patton Oswalt and Marc Maron, and directed almost 300 episodes of Jimmy Kimmel Live over a span of three years. Don't write him off as some kind of goofy pop culture totem from the '80s, like an American Yahoo Serious, or whatever; Goldthwait's still as vital a creative force within the world of comedy as he's ever been.