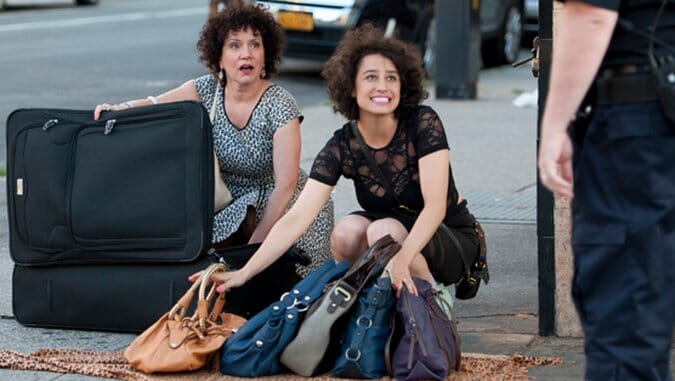 My first thought after watching "Knockoffs" was, "Is this the best episode of Broad City yet?" followed closely by, "How have I never noticed Ilana is a 20-something Susie Essman?"
Essman, of course, is best known for playing the proudly profane Susie Green on Curb Your Enthusiasm and casting her as Ilana's mother—visiting the city for Grandma Esther's shiva—was an inspired decision. The role didn't exactly expand Essman's comic repertoire, but given how skilled she is at turning phrases like "tri-state area dirtbag" and "four-eyed fuck" into foul-mouthed poetry, I sure didn't mind.
This week's other main subplot was just as strong, and just the sort of thing Broad City is singularly excellent at. I'll admit, I still haven't seen the infamous analingus episode of Girls, but Abbi's pegging dilemma was one of the most honest representations of millennial sex I've seen on TV: adventurous and ridiculous while also no big deal.
It also tidily concluded the recurring Jeremy storyline, which I started getting tired of almost immediately after it was introduced last year. "Your crush on Jeremy was holding you back," says Ilana at the end of "Knockoffs," "and now you're free," surely speaking for the show's writers to some degree.
The only thing that didn't really work for me last night was the whole "blindfolded and shoved in a van" process Ilana and her mom went through to get counterfeit bags. Broad City has employed these pseudo-surreal sequences in the past (most notably in last season's "Working Girls") and they've always felt kind of off, like a friend adding dumb exaggerations to improve a boring story.
I still don't know if "Knockoffs" is my favorite episode of Broad City, but it's certainly up there, and it's going to take a number of repeat viewings of both it and "Destination Wedding" before I know for sure. Until then, like Bob Balaban's Arthur Wexler, my mind is open.