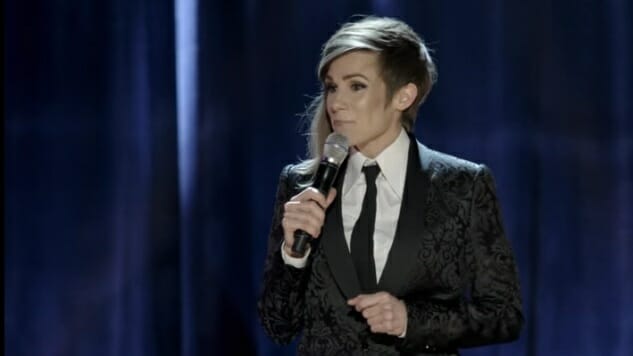 When Cameron Esposito decided to tape Marriage Material, her first televised special, two days before her wedding, she knew it wouldn't be easy.
"Was it a bad idea? Yes," she admits.
For the special, which debuts on NBC's Seeso platform on March 24, Esposito first secured permission from her fiancé, now wife, Rhea Butcher, who understood her desire to capture a moment she saw as a culminating event not only in her comedy career, but in her life as a gay woman. From the outset, stand-up has always offered Esposito a form of protection to be her true self.
"I really didn't have a lot of safety in my coming out process," she says, "so it was really a way of getting safety in numbers by just standing up on stage and being so out about it that there wasn't really anything anybody could say."
Esposito's rise as a comic has come on the strength of her material, which manages to mine comedy from vibrant observations on our often contradictory society and her personal recollections of growing up as a gay woman. Appearances on The Late, Late Show with Craig Ferguson, Conan, Comedy Central's Drunk History, and a long-running column for The AV Club have all served to help place Esposito at the forefront of the stand-up comedy scene. In some ways, the timing of Marriage Material is just the latest example in Esposito's life of her work as a comic and her personal lesbian identity crossing paths.
When Esposito matriculated to a conservative Catholic college in Massachusetts, she learned that sexual orientation wasn't covered under their non-discrimination policy, meaning the institution had the right to kick out gay students or fire gay faculty if they so desired. By the time she was a senior, Esposito was at the steps of the State House watching the first married couples emerge after Massachusetts became the first state to legalize same sex marriage. Thus Marriage Material is Esposito's effort to document a moment in time that she says may never happen again.
"To be a gay person is to now live in a completely different country than we used to. I had a moment to capture what it feels like right now for somebody who is gay and about to get married, and in a decade, that might not feel the same. It just felt like a really important thing to record."
While the special does draw significantly on Esposito's experiences as a gay woman, the material spans a multitude of topics, including gun control and a hilarious take down of the inane stigma that female comics shouldn't discuss their menstrual cycle on stage.
That bit was first incubated at "Put Your Hands Together," the weekly live podcast show Esposito hosts with Butcher at the Upright Citizen's Brigade Theatre in Los Angeles. At that point the joke was in its nascent form, but once Esposito had honed it on stage she allowed the show's photographer to shoot a video, which was subsequently uploaded to the internet.
"That bit went viral. I can't believe I have to say that—I'm so sorry I have to say that—but it did."
Landing on sites like Upworthy, the video attracted many viewers, which meant that when Esposito decided to bring the bit to a taping of The Meltdown with Jonah and Kumail for Comedy Central, she knew she needed something to heighten the joke. She decided to buy jelly donuts for the audience, which she later had dispersed in mock-concern that the crowd might be growing hungry from the long shoot.
"The bit ends with a joke about period blood looking like the filling of jelly donuts. When it got to the point where I was telling that joke, it was to an entire audience of people who had jelly donuts all over their face, which is actually one of the greatest things I've ever done in my life."
Having now recorded the bit again for Marriage Material, Esposito acknowledges that while some viewers will be hearing it for the first time, others may experience it "as more of a 'Greatest Hits' sort of thing." She says this situation is in part the result of the impact new media has had on stand-up comedy, where comedians have to function in a sense like their own network or channel.
"I really think people listen to comics as if they're bands now," she says.
Esposito feels that while it's important to have an hour of material that people haven't seen, comics have to weigh it against being too precious with their material. She sees a value in leaking jokes if it subsequently gets different eyeballs on them, especially in a time where platforms like Twitter, Youtube and podcasting can play such a profound role in elevating a comedian's profile.
"I do think it's just one more piece of proof that it's very different to be a comic now than it used to be."
In some ways, Esposito's current career as a comedian is unparalleled, chiefly because of the overlap her personal and professional lives share in the form of her wife, Rhea Butcher. Not only do Esposito and Butcher host "Put Your Hand Together" and frequently tour together, but they are now developing Take My Wife, a sitcom series for Seeso about two female comics who are in a relationship ("It was kind of a stretch to come up with premise," jokes Esposito).
Scheduled to debut later this year, Esposito and Butcher are in the middle of writing it now, with most of the episodes already out the door. While there are kernels of truth taken from their own lives, she emphasizes that the show's intention is to distill those truths and put them into a different matrix. Wanting to keep some things private is an understandable position to take, given the amount of personal insight Esposito and Butcher regularly share with their audiences.
Asked if it's stressful having her career and her spouse so closely linked to one another, she calls it "the worst decision."
"Basically, we have a family business, and it's so hard working with a partner on a family business, because at the end of the day, this is how you're going to survive."
While Esposito is sincere in her concerns, it's also readily apparent that her relationship with Butcher is a driving force of her work as a comic. After all, there wouldn't necessarily have been a moment to capture (or a perfect name for the special) if not for the wedding that followed the taping of Marriage Material. Esposito says part of what initially drew her to Butcher is how uniquely able she was to relate to Esposito's own experiences.
"We're both in the same field, but we're outliers in that field just by virtue of both being women and both being gay. Our experience is kind of insular, except that we both have it. I feel very lucky to have her in my life."