Watch the Trailer for Jordan Klepper's Daily Show Spin-off The Opposition
Images via Comedy Central
Comedy
Video
Comedy Central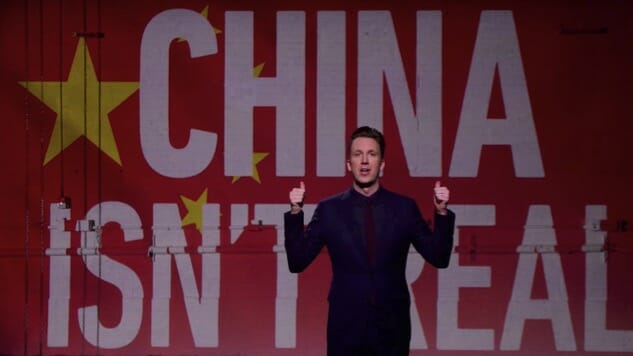 Comedy Central is trying again to fill in that essential post-Daily Show 11:30 slot. After The Nightly Show with Larry Wilmore struggled to maintain an audience, the network is trying again with a different Daily Show alum. Comedy Central has released the first trailer for The Opposition, in which Jordan Klepper imitates and mocks alt-right media personalities.
Similar to how Stephen Colbert comically emulated conservative pundits such as Bill O'Reilly for The Colbert Report, Klepper looks to do the same with unhinged, ranting "alternative media" conspiracy theorists such as Alex Jones. In this flashy and visually stimulating video, Klepper spouts out nonsense such as "IMPEACH HILLARY" and "CHINA DOESN'T EXIST." Buzzwords appear in giant letters as Klepper's conspiracy theorist persona meanders on verbally, making completely baseless claims.
This far-right realm is somewhat of an area of expertise for Klepper. During his time for The Daily Show, under both Jon Stewart and current host Trevor Noah, Klepper filmed multiple remote segments during the 2016 campaign during which he interacted with Donald Trump supporters. In June, Comedy Central aired his one-hour special, Jordan Klepper Solves Guns, in which he tackled the gun control debate head-on.
Jordan Klepper will begin to take on the "poisonous mainstream media" establishment when The Opposition premieres Sept. 25 on Comedy Central. Watch the trailer above, and read our recent interview with Klepper here.