Conan O'Brien Interviewed His Assistant after Kumail Nanjiani Canceled on Him
Images via Team Coco/Youtube
Comedy
News
Conan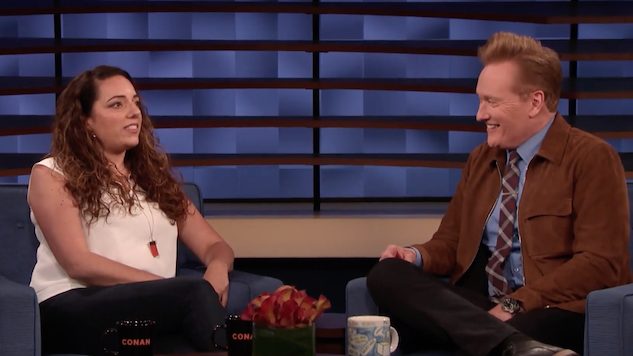 Comedians and late-night hosts always have to be able to do things on the spot, and Thursday night, Conan O'Brien showed his flexibility when actor Kumail Nanjiani canceled his guest spot on Conan last minute.
"I'm not sure what kind of program we have tonight," O'Brien said during the opening of his show. "We have a little bit of an unusual situation going on with our show and that is that tonight were supposed to be having Kumail Nanjiani on the show."
Due to a conflict error with the set of Silicon Valley, Nanjiani's agents canceled his guest spot on Conan just 30 minutes before taping the episodes. The actor did appear at the end of the episode via a pre-recorded clip, where he apologized for not being there. Nanjiani's Silicon Valley co-star Thomas Middleditch also appears in the clip, saying it was his fault for Nanjiani's absence because he didn't know his lines.
Thinking on the fly because Conan usually only has one guest for the night, O'Brien brought none other than his assistant Sona Movsesian to the stage. Movsesian has appeared on multiple episodes of the show, as well as O'Brien's travel specials and his podcast, Conan O'Brien Needs a Friend.
"That's kind of like how my job is just regularly. No one tells me anything," Movsesian said when admitting she didn't know she's be interviewed on the episode.
The two also talked about whether or not Movsesian has enjoyed working for O'Brien. "I've been working for over 10 years, so obviously I like it. But there are times when I want to poison your food or where I really think about ways to kill you slowly," the assistant said.
Movsesian also took her time to give her earthquake-filled pitch on why Los Angeles homeowners should sell their houses to her. "Los Angeles is a ticking time bomb. Any minute we can be in the ocean, so people should get out of here and sell me their house," Movsesian said.
Other than Movsesian's interview, O'Brien also plugged "a struggling little movie" called The Lion King, instead of showing the planned clips of Nanjiani's forthcoming film Stuber.
Watch the clips from Thursday's episode of Conan below.