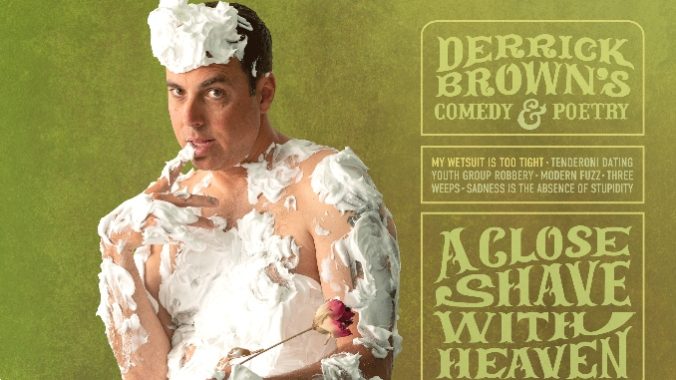 Making fun of poetry feels like punching down; sincerity and contrived word choice are just such easy targets. And so a comedian who dares to marry his love of poetry and stand-up cuts a contradictory and intriguing figure. 
Enter Derrick Brown, the performer who's opened for Kyle Kinane, David Cross, Eugene Mirman, Kurt Braunohler, and others with his singular combination of poetry and comedy. Derrick has written 10 books and is now releasing his debut comedy-poetry album, A Close Shave with Heaven, via Eugene Mirman's PGF Records.
Brown takes to the Boston stage accompanied by twinkling piano, courtesy of Amanda Rafkin, and this musical choice sets the tone for an LP that clearly would be at home on the airwaves of NPR. And yet Brown keeps from being pretentious; he is consistently self-deprecating and reminds us to "Stay stupid, everybody!" The ivories aren't abused here either—smatterings of piano may be used to accentuate some jokes, but the instrument is by no means a crutch. 
Over the course of A Close Shave with Heaven, Brown reveals himself to be something of a romantic, recalling past relationships and emphasizing the importance of pursuing love in all its forms ("Is this a feelings show? Yeah, it might be," he admits at one point). Brown's lust for life is one of the most compelling aspects of the album, and most effectively communicated through his rich poetry. Between more traditional jokes—often wistfully delivered one-liners or silly personal vignettes—Brown recites poems that are both rife with evocative language and irreverent humor. I still can't get over his hilarious and apt description of erect nipples in his "sexy poem." Brown somehow manages to not take the art form too seriously (on the subject of making fun of poets he says, "Maybe we deserve it") but also crafts verses with precision and love. Brown's not taking any cheap shots here, instead expertly balancing the strange bedfellows of poetry and stand-up. 
Brown mines some comedy gold in a poem examining modern dating mores, imagining a scene where he's rushing off to save his romantic partner but has no idea how to refer to her when a cop pulls him over. He adds color with little details, making a siren whoop and putting on a policeman's self-important drawl. In fact, his impressions throughout A Close Shave with Heaven are the goofy accents needed to tip the scales in comedy's favor. Some particular highlights include his Jack Russell voice and a brief but effective Arnold Schwarzenegger impersonation.
Brown is also obviously not afraid to get vulnerable with his audience. The trope of the depressed, tortured stand-up is oft-repeated for a reason, and Brown delves into his own grief in a way that's somehow sad and funny and ultimately insightful, all so he can show us "how the sausage is made." 
More than anything, though, A Close Shave with Heaven leaves the listener with a newfound exuberance for the world around them. Brown is a poet, a comedian, and, for those moments we listen to him, the wry voice of hope.
A Close Shave with Heaven is out via PGF Records on September 14th.
---
Clare Martin is a cemetery enthusiast and Paste's assistant comedy editor. Go harass her on Twitter @theclaremartin.